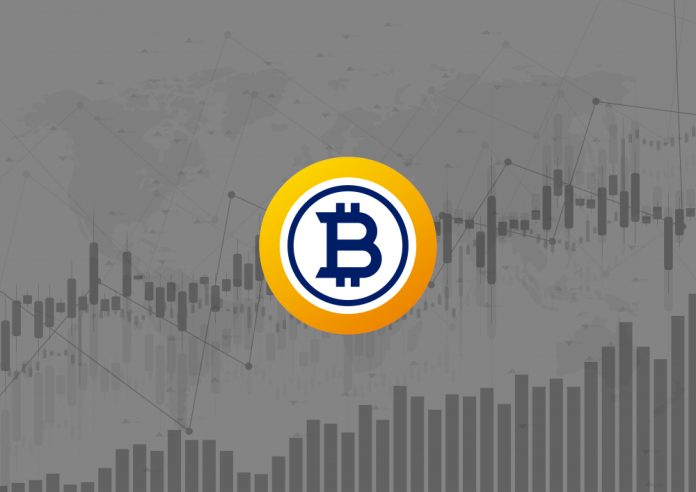 With more and more currencies noting small to medium-sized gains over the past few days, the market is starting to look a lot more healthy. Bitcoin Gold is noting a steep price increase as of right now, even though it will struggle to return to the $450 level in the near future.
What Is Bitcoin Gold (BTG)?
Bitcoin Gold is a fork of Bitcoin which materialized in October of 2017. BTG's motto is: "Make Bitcoin Decentralized Again." One thing that sets Bitcoin Gold apart from Bitcoin is how BTG adopted a difference mining algorithm, which is supposedly ASIC resistant.
According to the official Bitcoin Gold website: "Bitcoin Gold decentralizes mining by adopting a PoW algorithm, Equihash-BTG, which cannot be run on the specialty equipment used for Bitcoin mining (ASIC miners.) This gives ordinary users a fair opportunity to mine with common GPUs."
Bitcoin Gold Price Increase Piques Interest
Bitcoin Gold's market has been in hibernation ever since February of 2018. After suffering from not one, but two 51% attacks in quick succession, it would appear community interest in Bitcoin Gold has all but tapered off. Even so, the altcoin notes a very strong price gain over the past 24 hours, pushing its value back to $23.47. A solid increase, even though it may not necessarily remain in place.
It is interesting to note how the recent Bitcoin Gold price increase is happening despite a very low trading volume. With just $12.5m in trades, demand for BTG is not what it used to be several months ago. Most of this volume originates from Bithumb, which is not ideal.
At the same time, there is one development which may effectively catapult Bitcoin Gold to the forefront. WeiDex, a relatively unknown decentralized exchange project, is collaborating with the Bitcoin Gold developers to build a new cross-chain transaction technology between BTG and Ethereum. It is evident a lot of projects want to bridge the gap between its currency and Ethereum, with Bitcoin Gold simply being the latest one to do so.
#weiDex #BTG #cross-chain
WeiDex are very pleased to announce a new strategic partnership with Bitcoin Gold, which will see the organizations partner to develop the technology required for cross-chain transactions between BTG and Ethereum on the weiDex exchange platform.

— Hunji JFB? (@parkjihoonq) September 27, 2018
Speculators and traders have relatively high expectations when it comes to the Bitcoin Gold price. Coinkilavuz is confident the next Bitcoin Gold price target is $24.7, although it could go as high as $26.879 again. If the target is not reached, future momentum will hinge on whether or not BTG can remain above $21.336. Falling below that level will result in a major Bitcoin Gold price drop, though it is unclear how low the value will go in the process.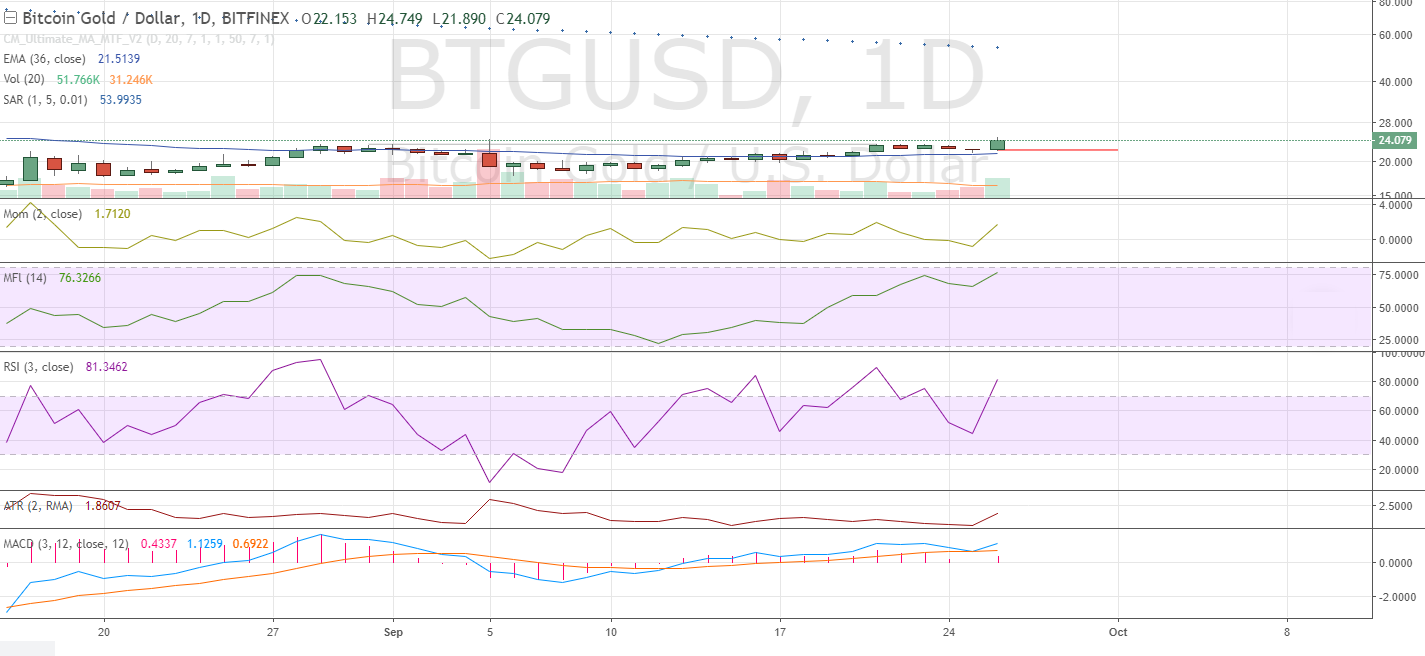 Trader Ale206 sees things in a similar manner. A further small increase in Bitcoin Gold's value is not out of the question by any means, but it remains a matter of time until a correction presents itself. This trader also relies on a green Marubozu indicator, which is not something one sees every day in the cryptocurrency world. Promising signs do not necessarily result in a Bitcoin Gold price increase, but it paints an interesting picture regardless.
Nothing is ever guaranteed in the world of cryptocurrency. Unless Bitcoin rises in value, it seems unlikely any of the altcoins will see positive momentum. For now, all stars are aligning for medium-sized gains across top altcoins, but Bitcoin Gold has such a low trading volume to sustain any real long-term growth. An interesting coin to keep an eye on, though, as it shows the cryptocurrency markets may see some positive momentum over the coming days.
Bitcoin Gold charts by Tradingview
Disclaimer: The above is for entertainment and education purposes only. This is not trading or investment advice. Please do your own research before investing or trading any cryptocurrency.
Image(s): Shutterstock.com