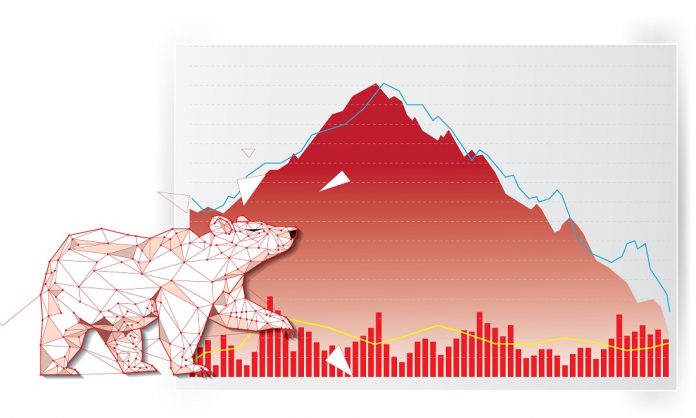 This immense wave of bearish pressure continues to wreak havoc among all cryptocurrencies as of right now. It appears this downtrend is only growing worse as more time progresses, Even the Bitcoin price is on very thin ice right now, as the support levels are falling one after another. Sustaining the $5,200 level may be more challenging than initially assumed.
Bitcoin Price Isn't Improving Just yet
It is painfully evident the current overall cryptocurrency market trend is anything but pleasant to keep an eye on. With all of the top markets down by 5% or more, things will not necessarily improve over the course of the weekend. Bitcoin is leading this negative trend, as it too is bleeding value at a rather alarming rate.
Over the past 24 hours, the Bitcoin price deficit has only grown worse. With a 5.22% loss, one BTC is now valued at just $5,239. It is not the value traders and enthusiasts had envisioned after what appeared to be a very solid week. The push to $6,000 has been postponed, by the look of things, although this market can always rebound when people least expect it.
Not too many people are holding out hope to see a Bitcoin ETF getting approved. In fact, those chances are slim to none. Looking forward to the VanEck SolidX Bitcoin Trust is something one could certainly do at this time. However, that decision won't come before late October of 2019. Bringing Bitcoin to retail investors remains an ongoing struggle which is very difficult to resolve.
Even so, some solutions already exist in this regard. Grayscale thinks now is a very good time to promote their own business, as it makes investing in BTC a lot more straightforward. The downside is how investors are never in control over their investment, which may or may not be appealing to potential clients.
Want to invest in #bitcoin without the headache of buying, storing and selling it? https://t.co/MzyotgNFLJ

— Grayscale (@GrayscaleInvest) April 26, 2019
For those who keep a close eye on the current Bitcoin chart, it quickly becomes apparent things are not looking very smooth. Crypto Chad expected a scalp to $5,300 but that option seems out of the window right now. However, he also expects a potential price jump to $6,000 soon, which will not happen anytime soon either. A further downtrend seems to be the only logical course of action.
Also watching this trend line, could get a little scalp to 5300 if we break it. Short squeeze could be imminent with the short:long ratio on bitfinex and funding on bitmex so high, and with low liquidity to 6k $BTC it wouldn't surprise me #bitcoin #crypto #analysis $eth $ltc $xrp pic.twitter.com/XlzVzOjrjA

— Crypto Chad (@CryptoAnaIysis) April 26, 2019
For the time being, it is somewhat difficult to make sense of this bearish trend. There is no real reason for these price declines, yet it seems unlikely the markets will shift into a higher gear over the course of the weekend. At the same time, unpredictability has been a selling point for Bitcoin and other currencies as well.
---
Disclaimer: This is not trading or investment advice. The above article is for entertainment and education purposes only. Please do your own research before purchasing or investing into any cryptocurrency.
Image(s): Shutterstock.com