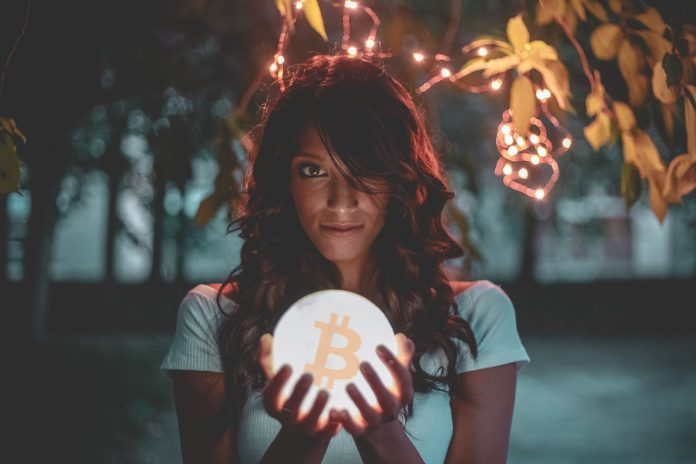 These are exciting times for cryptocurrency enthusiasts. Bitcoin's price has been on a massive rally the past month rising by over 33% in just May alone. Most traders agree that the bear market is over because the bullish momentum has been in place since the beginning of the year. After briefly peaking at $8,300 earlier today, Bitcoin is currently trading at $8,045 on Bitstamp. In this article I will attempt to answer the two following questions: What does the future hold for BTC, and is it worth buying some coins right now?
Before we can talk about what the future holds for Bitcoin's price, let's go over a few potential reasons for Bitcoin's recent price hike. In two different articles (5 reasons for Bitcoin's recent price increase, and 4 more reasons why Bitcoin price is going up), we went over 9 reasons that could be contributing to the recent price hike:
Bitcoin is still scarce
FOMO is still a thing
Market trends come into play
FUD has little to no impact
Bitcoin dominance index is rising
Bitcoin is following the path of least resistance
Altcoins continue to underperform compared to BTC
New trend: Buy the news rather than sell the news
Bitfinex and Tether could be influencing the market
Note: For more info on any of the above reasons refer to the articles linked above.
The common denominator for all of the above reasons is the fact that the money is flowing into Bitcoin specifically. Not only because it's the grandfather of all the cryptocurrencies, but also because it has the most market activity. While altcoin are also experiencing price gains, they are still underperforming compared to BTC.
It's no secret the institutional money is flowing into the crypto space. If you put yourself into a retail investor's shoes, you will most likely lean towards purchasing Bitcoin rather than some rinky dinky altcoin that has only been around for a relatively short amount of time. This leads me to the first question we set to answer in this article: What does the future hold for Bitcoin?
My prediction is that Bitcoin's price will at the very least test the $9,000 level in the short term  (2-3 days). After that, hopefully BTC can establish support at that level and attempt to undertake the $10,000 wall. Cryptocurrency loves round numbers and no number is more round and emotional than $10k. Moreover, at the time of writing the market has positioned itself quite well for another rise in price which I will explain in the technical analysis section below:
Bitcoin Price Technical Analysis For Today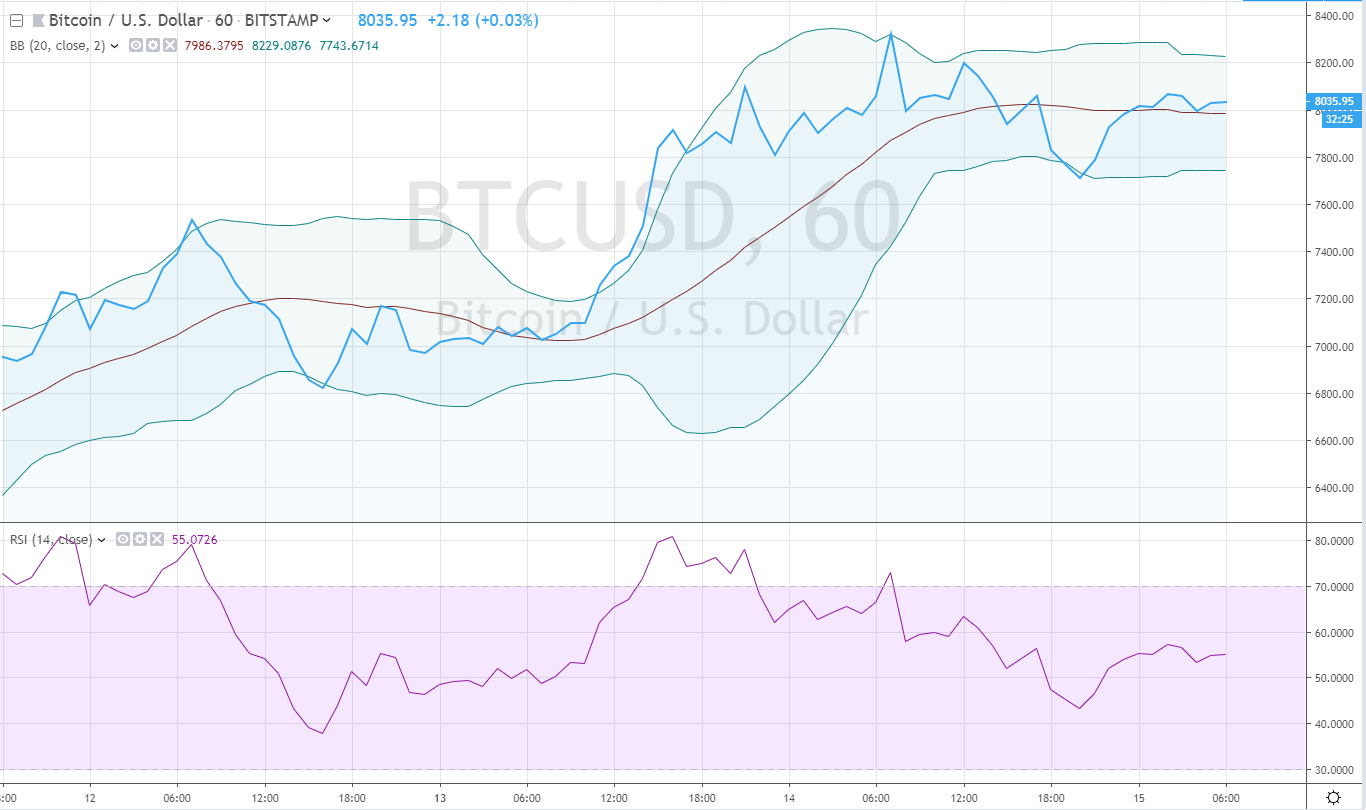 Relative Strength Index – The current RSI is at a healthy 54 points, that means the market is neither overbought nor oversold. Looking at the trend in context – bullish – we can assume that the market is ready for another move up.
Bollinger Bands – It seems that the recent Bitcoin price action has been respecting Bollinger Bands quite a bit, we can see the peak at $8,300 earlier today lines up perfectly with the upper band. Moreover, we have also seen a dip to $7,723 a few hours ago which also lined up perfectly with the lower band.
Both the RSI and BBs suggest that Bitcoin's price can go either way. However, looking at the current trend, we can conclude that another move up for Bitcoin and a test of $8,200 is not out of the question. On the other hand, in case the market turns bearish in the short term, we can expect a drop to $7,800 before a rebound.
This brings me to the next question I wanted to answer in this article: Is it worth buying Bitcoin right now? Note: This is definitely not financial advice and is simply my personal opinion.
While it is a bit risky to buy Bitcoin right now, in my opinion the chances of BTC dropping back down to $6,000 or even $6,500 are slim to none. If you want to stay safe placing a buy order in the $7,500-$7,800 range would not be the worst idea as the crypto can dip down to that level slightly. At the same time, if Bitcoin experiences another run upwards to the $9,000 level (which I personally expect), then the chance of buying in at the high $7,000 level in the near future is extremely low.
To conclude, in my opinion it's definitely worth buying a few coins right now. Even if Bitcoin's price takes some hits in the short term, at the current rate BTC/USD will most likely at the very least hit $9,000 at which point you could take profits and wait for the next move.
Also Read: Top 4 Ways to Long Bitcoin in 2019
---
Disclaimer: This is not trading or investment advice. The above article is for entertainment and education purposes only. Please do your own research before purchasing or investing into any cryptocurrency.