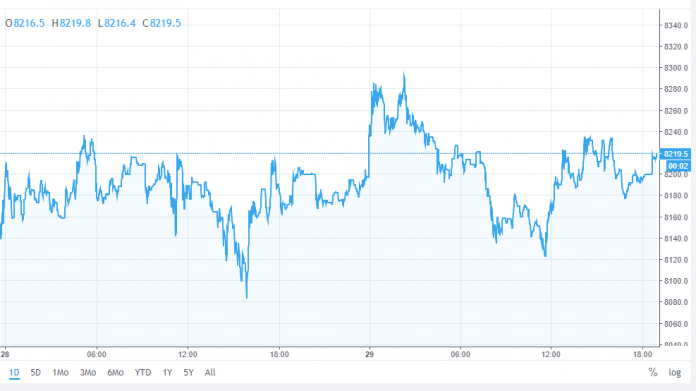 At press time, the father of cryptocurrency is up by roughly $20 from yesterday and is now trading for $8,195. Bitcoin has been on the verge of a dramatic comeback over the past few days, and though the currency is "standing still" for the time being, we can be grateful that it had the strength and the stamina to rise to its present position.
Things weren't as easy or as stellar-looking in early July. Bitcoin's future appeared dark and dreary; the coin repeatedly found itself dropping further until it eventually reached $5,800 – a number lower than anything bitcoin had struck over the past several months.
But then, amazing things began to occur. News stemmed from the Securities and Exchange Commission (SEC) that the organization was considering a new bitcoin ETF from VanEck SolidX, and that the company's respective application was now available for public comment. This suggested that the body was gaining an open mind when it came to bitcoin and cryptocurrency, as the company had previously submitted a similar application last year and experienced almost instantaneous rejection.
This time, the outcome was different, and bitcoin suddenly found itself attracting the attention of institutional investors. In addition, U.S. digital exchange Coinbase announced it was considering five more digital currencies for placement on its trading platform, thereby giving investors more opportunities to trade. This also had a positive effect on the bitcoin price, and enthusiasts saw the present figure jump over $400 in less than 30 minutes. From there, bitcoin continued its ascension on the financial ladder, spiking to $7,500, and working its way towards $8,000, which it eventually hit.
What's even more important is that bitcoin has shown strength not only in its present support, but in its ability to tackle resistance. While bitcoin's bull run has slowed down a bit in recent days, the price also hasn't dropped. Furthermore, the SEC later made the choice to postpone any decision-making when it came to five specific bitcoin ETFs, while outright rejecting an application submitted by the Winklevoss Twins of the Gemini Exchange in New York.
Many were convinced these factors would have negative effects on the father of crypto; that institutional investors would be deterred, and things would come crashing down. Ultimately, this didn't happen. Bitcoin dug its heels into the dirt and stood its ground. Impressively, bitcoin managed to solidify its position even further by showing both enthusiasts and well-experienced traders alike that it had what it took to defeat any serious obstacles and resistance that was heading its way.
Most analysts remain confident that the bitcoin bull run will continue throughout the coming weeks, and that bitcoin will end the year at around $10K or $11K.
Image(s): Shutterstock.com