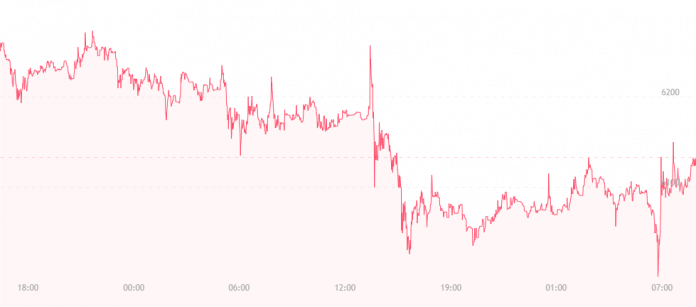 At press time, the father of cryptocurrencies is hovering just over $6,000, marking a $200 drop from yesterday's main trading position. The currency has been very up-and-down over the past few days, falling to $6,100, then spiking to $6,300 before incurring its present losses.
It is unclear when – or even if – the present bear market will come to an end. Most major forms of cryptocurrency continue to slump deeper into the red, and small, yet noticeable drops are happening almost daily. Figures like John McAfee, Brian Kelly and other bitcoin bulls continue to try their best to calm the crowds, but we can't deny that the bears are having their way.
Chief trader Jordan Hiscott believes the worst isn't over for bitcoin, and that the currency may wind up hitting the $5,000 mark by the end of summer:
"The ability to trade and get access to both positions and funds hugely affects the perception of the stability of crypto assets. This is important, as not having the backing of governments, unlike fiat currencies, makes crypto vulnerable, which is evident in today's fall in the value of bitcoin."
Hiscott suggests that Japan's growing regulatory circle and the consistent exchange hacks over the last few weeks will have massive influence on bitcoin's price this summer. Furthermore, it appears critical support lies at the $6,000 position, though the currency could fall as low as $5,777 after that.
At the same time, many remain confident in bitcoin's future, and feel its current price slumps are being blown out of proportion. Director of legal and business affairs at Circle Claire Wells claims that a rise in the bitcoin price over the coming months is "inevitable" thanks to impending regulation.
"We are seeing slightly less volatility right now," she explained boldly. "Prices are down and trading is down, but I think the price will increase again over the next few months, and I think a lot of people are waiting to hear how regulation is thinking about it. I wouldn't necessarily want to put a price tag on a currency frontrunner, but I do think we will see an increase in value, and I think that's inevitable."
In addition, Fundstrat's Tom Lee is also remaining bullish, though he seems to be playing the role of "evangelist" at this stage along with Roger Ver. Lee has consistently remained positive about the currency's future, but has remained relatively silent on the issues that still block mainstream adoption.
"We believe the regulatory picture is now improving, best evidenced by Coinbase and Circle running towards regulation," he exclaimed in a June interview. "We are basing this on the notion that Coinbase and Circle would only take these actions if such was the case."
The biggest problem is that bitcoin is part of a developing space where there are few to no straight answers; where figures are split right down the middle, and where currencies showing bearish behavior have as much chance of spiking to the top as they do continuing their journeys into oblivion.
Image(s): Shutterstock.com