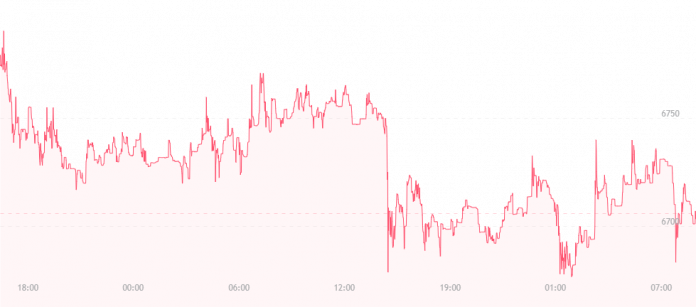 At press time, the father of cryptocurrencies is holding its ground at $6,700, a price it managed to reach during yesterday's early morning hours. After much speculation about whether bitcoin would be able to jump past $6,600, resistance was finally broken, and many analysts are wondering when bitcoin will strike $7,000.
According to one source, bitcoin is facing significant resistance at both $6,800 and $6,900. While the bulls have managed to push the currency beyond the $6,600 position it stood at for so long, they lack the momentum necessary to take it any further in the short-term. Granted buyers can garner more influence over sellers for the time being, we are likely to see bitcoin hit $6,800 in the coming weeks, thereby getting closer to the $7,000 mark so many analysts are hoping for.
The good news, however, is that support presently sits at $6,600, and we're not likely to witness declines beyond $6,500 anytime soon.
Other news suggests that China is perfectly "content" with its present cryptocurrency ban. New report data shows that the yuan is utilized in less than one percent of the global cryptocurrency trades. China banned cryptocurrency trades and initial coin offerings (ICOs) last September when the yuan dominated the digital asset scene, and accounted for roughly 90 percent of the world's digital trades.
Credit analyst Zhang Yifeng of the Zhonchao Credit Card Industry Development Company states, "The timely moves by regulators have effectively fended off the impact of sharp ups and downs in virtual currency prices, and led the global regulatory trend."
Additional comments also came by way of Guo Dazhi, research director at the Zhongguancun Internet Finance Institute. He explains that the ban's effects indicate "that the policy has been very successful. It is within expectations that the yuan's share in global bitcoin transactions would drop after China announced the ban."
China has ruled the crypto scene over the last ten months with an iron fist, enforcing a zero-tolerance attitude particularly towards ICOs. Regulators have also boosted their efforts in limiting access to foreign digital currency exchanges, and the People's Bank of China says it is enforcing a "zero-risk" exit for roughly 88 cryptocurrency exchanges and 85 ICO trading platforms.
However, several Chinese officials have taken their money overseas to exchanges in countries like Singapore, and aren't allowing regulators to have their way. Over the past year, Singapore has emerged as a global bitcoin hotspot, and may be home to hundreds, if not thousands, of token investment funds dominated by Chinese nationals.
Singapore even assisted in the establishment of Chen Xianhu, a local agency designed to assist Chinese citizens invest their money in outside exchanges.
Image(s): Shutterstock.com