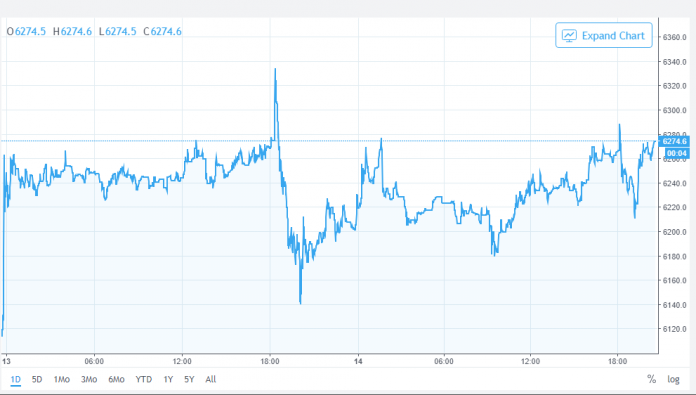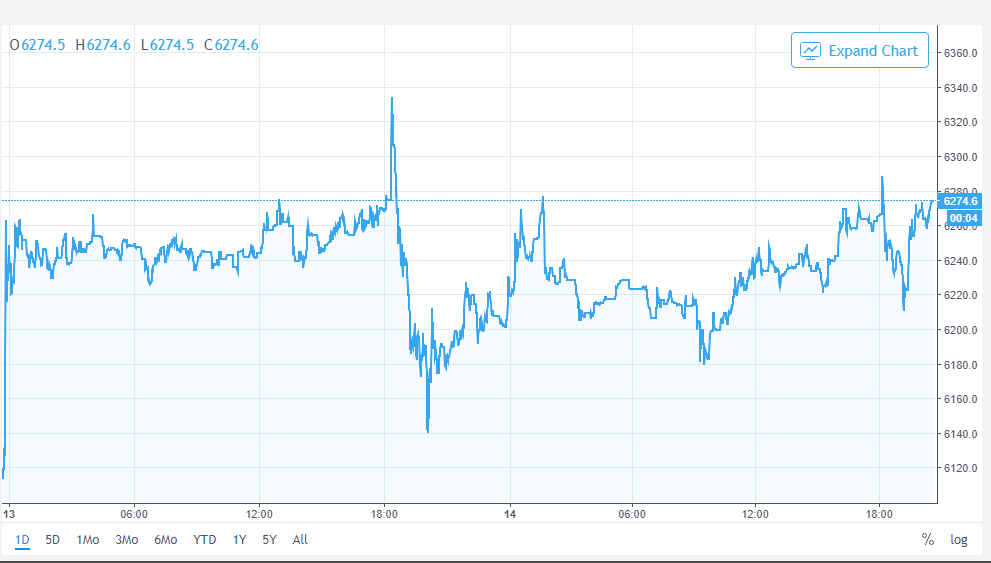 At press time, the number one cryptocurrency in the world remains at $6,200. The coin has stayed in this position for more than 24 hours, giving us plausible evidence that perhaps things are beginning to settle…
Unfortunately, one source is suggesting that another fall to $6,000 – or perhaps even less – may occur in the coming week. Downward trends are beginning to form on bitcoin's technical charts, which could potentially take the father of crypto down to $5,900. Support is hovering in the $6,100 range, however, which means that if the bulls can retain their present hold on the financial reins, the currency could find itself face-to-face with $6,300, which is where it stood just 48 hours ago.
Another source agrees with this sentiment, explaining:
"BTC could attack the $6,400 mark, but further gains are ruled out for now as the descending (bearish) 5-day MA and 10-day MA are located at $6,366 and $6,500 respectively. That said, if BTC manages to close (as per UTC) today above 10-day MA, the doors would open for a retest of Monday's high of $6,820. Bearish scenario: a failure to produce a significant move higher despite the bullish price RSI divergence and the falling wedge breakout would shift risk in favor of a drop to a recent low of $5,755. The downside move could gather pace if BTC fails to hold above $6,080 (previous day's high) over the weekend."
Contrary to these statements, another platform claims that the bitcoin price could see itself spiking quickly. As reported on Yahoo! Finance, the piece in question introduces readers to what's known as the Monte Carlo simulation, in which the bitcoin's past behavior is monitored and analyzed, and compared to what it's doing now. It's somewhat easy to assume that bitcoin will repeat behavior granted the similarities are there, and build price simulations based on what is viewed.
The number of simulations in this case that show bitcoin striking the $10,000 mark or beyond are far greater than those that do not. Granted the simulations are correct, we can expect bitcoin to move into the five-figure range by the end of the year.
In other news, the battle for mining dominance continues throughout the crypto arena, and regulators in the Big Apple have reset the power rate structure for crypto miners, making it considerably cheaper. New York – despite a high cost of living – offers some of the least expensive power rates in the United States of $0.039 per kilowatt hour. This is significantly less than the national average of $0.13 per kilowatt hour.
This could potentially bring about a new wave of miners, making bitcoin more "fashionable" and desired and thereby boost the price even further.
Image(s): Shutterstock.com