At press time, bitcoin has undergone no change since falling to $6,500 yesterday. It's been a week of ups and downs for sure, and despite the low price, it's a little refreshing to see bitcoin stay put for the time being.
One source mentions bitcoin is at its lowest point since last February, and that new resistance sits at the $6,800 mark. While this presents a $300 window for the currency, it's unlikely we'll see bitcoin strike $6,800 before the week is out.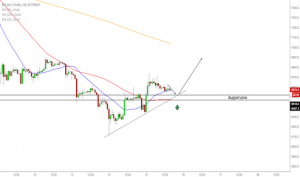 At the same time, however, the price doesn't seem to be deterring major companies and investors. For example, Walmart has recently taken out a patent for the development of an electrical grid that will use bitcoin and other cryptocurrencies. The application is dated two days ago – June 14 – by the U.S. Patent and Trademark Office, and it is good news to know the currency is not losing its popularity.
In addition, bitcoin is getting praise and support from an unlikely source – former Star Trek actor William Shatner. The entertainment figure currently serves as a spokesman for Solar Alliance, based in Vancouver. The company – which has predominantly concentrated on alternative energy projects in the solar space – recently announced plans to convert an abandoned Illinois factory into a solar-powered bitcoin mining operation.
Shatner – who in the past has called bitcoin a "cyber snob currency" – is suddenly changing his tune, and says he's proud to be part of the digital currency revolution. He also says, "utilizing solar arrays to power [mining operations] makes social and economic sense."
"The concept [behind cryptocurrency] is strange, and yet when you begin to grasp it, it makes sense," he explained.
The facility is 165,000 square feet in Murphysboro, Illinois. CEO Jason Bak states he's excited about the prospects of using solar energy, which could potentially lessen the amount of electricity bitcoin mining really uses and decrease environmental concerns.
Lastly, the report released by University of Texas finance professor John Griffin – which alleges that bitcoin was potentially tied to Tether and thereby manipulated price-wise by way of an alternate currency – is being labeled as "underwhelming" by Bloomberg. An article recently published by the news platform suggests that the paper is riddled with inconsistencies, and that there is no correlation between Griffin's document and recent press coverage in terms of quantification.
In addition, Bloomberg suggests that Griffin's report is based more on "practical significance," rather than "statistical significance." For instance, the source points out that Griffin has only 20 data points to support the claim of 72 additional bitcoins, and he fits them by using a model with six parameters. Bloomberg then points out that the "usual role of thumb is you want 30 observations per parameter to rely on the results," and that various data and complexity issues are not even considered for the given equation.
It's unclear at this stage whether manipulation took place or not, but we can rest assured, at least, that the currency is managing to keep its position in the spotlight, and draw further attention to its goals and benefits.
Charts by TradingView
Image(s): Shutterstock.com