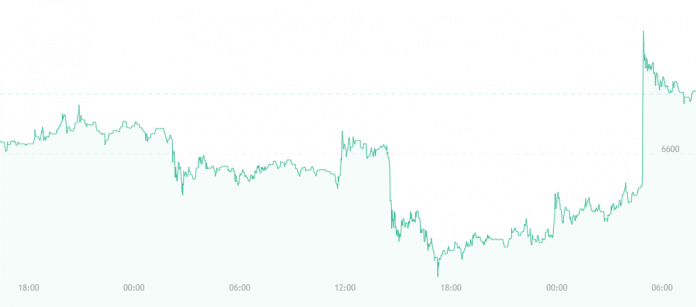 At press time, the father of cryptocurrencies is back up to the $6,600 mark it had reached just 48 hours ago. During yesterday afternoon, bitcoin had seemingly fallen back down to $6,500, and was trading for about $100 less than where it stood previously.
However, as it's still semi-vulnerable to volatility, the currency has spiked again to $6,600, and trends are appearing bullish in the short-term. The big question now is whether bitcoin can reach $7,000 in the coming weeks.
One source suggests resistance lies at $6,700, though a swing high of roughly $6,781 may occur. This level may also introduce buyers to higher selling activity, and a break above this mark could signal the coming of $7,000, though bitcoin remains open to bearish behavior, and a swing low of $5,772 is a constant danger.
Right now, immediate support sits at $6,448, and most of the technical indicators show that bitcoin is gaining strength and momentum in the medium term, so advocates and traders alike should witness further spikes in the immediate future.
In yesterday's piece, we discussed a newfound attitude towards crypto amongst European Union members. A new report is out that describes bitcoin and its crypto-cousins as "relatively safe, transparent and quick," and the offers tout digital assets as the very things that will bring innovation to the financial sector.
Unfortunately, not everyone agrees, and the Bank of Finland has released its own report offering a rather negative view on cryptocurrencies. Head author Aleksi Grim, who works as the head of the Digital Central Bank in the financial stability and statistics department, argues that the technology behind crypto works more as accounting software that one could find in any CPA firm. The blockchain, he states, is primarily used to record transactions and keep track of financial information, and prevents crypto from qualifying as money.
"For all intents and purposes, that ledger is a centralized ledger," he explains. "The fact that there are multiple synchronized copies of it, distributed across a network, is irrelevant, as each one has the same data."
One of the primary problems with crypto, the paper states, is that it is not used widely enough as a medium of exchange, and therefore cannot be considered legit currency. It states that most people who get involved in crypto are more interested in investing in them, rather than using them to pay for goods and services. Would this change, however, if the currency gained mainstream adoption?
The report is a scathing review of sorts, but it doesn't necessarily serve an educational purpose. Unlike the European Union report we discussed in yesterday's piece, this document simply repeats a lot of information used in the past to argue against crypto.
Image(s): Shutterstock.com