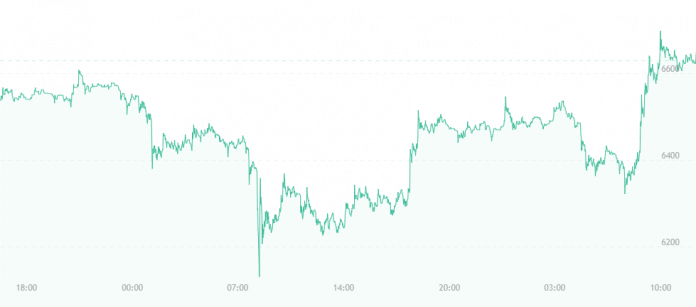 At press time, the father of cryptocurrencies has shot up by over $400, and is now trading for $6,650. After many analysts stated that the $5,000 range was imminent, it appears bitcoin has impressed (and surprised) us once again by halting its descent earlier than expected. Whether it shoots back up to the $7,000 range in the coming days is hard to predict, but for now, investors and traders alike can relax in the short-term, and revel in the idea that bitcoin knows how to pick itself up and move forward.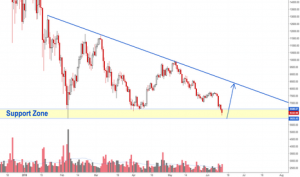 The currency's price rose along with Ethereum's after the Securities and Exchange Commission's (SEC) director of corporate finance William Hinman announced to audiences at the Yahoo Finance All Market Summit in San Francisco that both currencies would not classify as securities due to their decentralized natures, thus making them invulnerable to SEC regulations and laws.
Hinman commented that bitcoin is, and always would be, a commodity, and is thus subject to regulation from the Commodity Futures Trading Commission (CFTC) due to its stance as a "fiat replacing" currency.
The cryptocurrency community praised the decisions, and felt assured in how both bitcoin and ether were meant to be seen and governed. Figures like SEC chairman Jay Clayton have not always been clear regarding which currencies the organization has sought to single out, though bitcoin has always been listed as a commodity. The primary concern lied with Ethereum, and how it would be classified in the future, but a spike for Ethereum has ultimately led to a spike for bitcoin, and traders aren't complaining.
According to Fundstrat's Tom Lee, the reason behind the recent bitcoin sell-off is no longer a mystery. The financial analysts recently published a new report explaining that since the launch of CBOE bitcoin futures in December, prices have consistently fallen leading up to their expiration(s).
"Bitcoin sees dramatic price changes around CBOE futures expiration," Lee explains in the document. "This was something flagged by Justin Saslaw at Raptor Group. We compiled some of the data and this, indeed, seems to be true. Overall, bitcoin has fallen about 18 percent in the ten days prior to CBOE contract expiration."
He further explains that the CBOE bitcoin futures contract ended last Wednesday, which may have caused prices to hit such a low point.
"A broader observation is there is significant volatility around these expirations," the document continues. "On average, the price recovered by day six [following expiration]."
One source suggests that the bitcoin drop may be over in the short-term, but that bearish trends could continue to hammer the market in the coming months. It says that one thing investors really need to keep their eyes on is international regulatory maneuvers, which according to finance ministers at the last G20 Summit in March, would arise in July in the form of published recommendations on the issue.
In other words, come July, traders can potentially look forward to solidified decisions regarding how the world – not just individual countries – should examine, monitor and control digital currencies.
Charts by TradingView
Image(s): Shutterstock.com