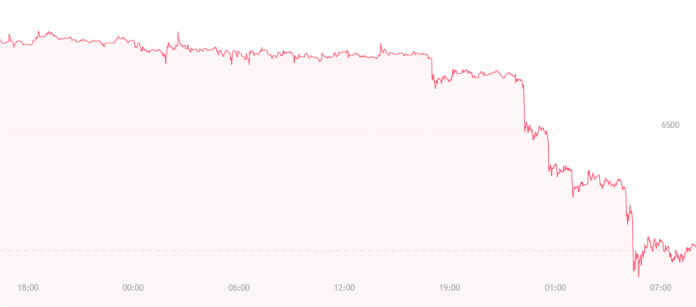 At press time, bitcoin has shrunk down to $6,100 – the lowest it's been in nearly four months. All the talk of bitcoin developing newfound resistance appears to be moot; the coin remains as vulnerable as ever, and traders should brace themselves for bitcoin to strike the $5,000 range next.
The problems seem to be stemming from Asia: India and Japan, to be exact. In India, the country's largest exchange Zebpay is asking its customers to withdraw any Indian Rupee (INR) funds they may have stored on the company platform. While they state that crypto-to-crypto trades will continue, they cannot guarantee that INR trading can continue, thanks in part to newfound regulations set by India's Reserve Bank back in April.
RBI's rules state that banks can no longer assist or work with companies that deal in virtual currencies. Thus, as Zebpay cannot guarantee the trading of fiat in the future, it is asking all customers to remove relative funds so they do not miss out or lose money.
"As a responsible corporation, we regard customer protection and market integrity as our primary objectives," the company announced. "However, please note that if Zebpay bank accounts are disrupted, rupee deposits and withdrawals will become impossible. This will cause discontinuation of crypto trades based on rupees, or at least cause significant price movements. This is something you should keep in mind if you choose to hold rupees in your Zebpay account."
Several hundred miles away, Japan's Financial Services Agency (FSA) is asking cryptocurrency exchanges to beef up their security measures to prevent money laundering and similar crimes. The order has led bitFlyer – Japan's largest cryptocurrency exchange – to suspend the creation of new accounts so it can take the time necessary to make requested improvements and implement new tactics that would reduce the chances of terrorist funding.
In a statement, bitFlyer representatives said:
"Our management and all employees are united in our understanding of how serious these issues are, as well as how serious we are in responding to them going forward. To maximize our efforts towards building a suitable service and improving on the issues identified, we have suspended account creation for new customers of our own volition."
The FSA issued the same request to roughly five other cryptocurrency exchanges after noticing weaknesses in their infrastructures as well.
Some, like CEO and founder of BKCM Brian Kelly, feel that the order is for the best, as incidents like the Coinrail and Bithumb hacks have become far too common in recent weeks.
"In the long term, it builds a better ecosystem and makes sure this is a legitimate asset class," he explained. "This is part of making sure exchanges are up to snuff."
Unfortunately, the order has led to an eight percent dip in bitcoin's price, which means another period of adjustment is ahead of us. The pattern is always the same; companies make changes or improvements to their platforms, while we sit and wait for the subsequent price drop to heal itself. It's annoying, but all we can do is wait and remain patient.
Image(s): Shutterstock.com