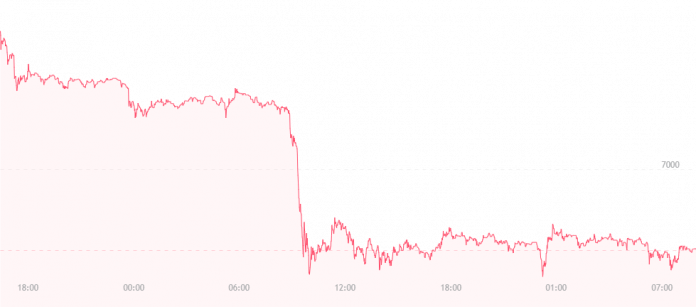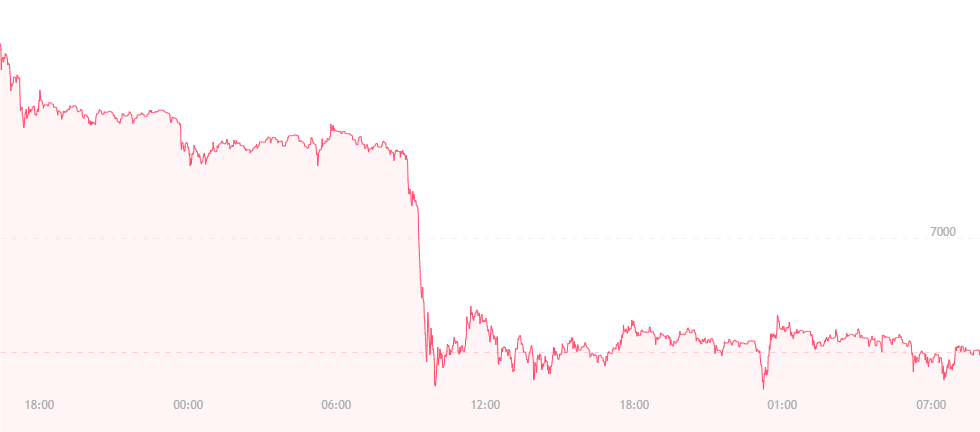 At press time, nothing has changed regarding the bitcoin price. The father of cryptocurrencies is sitting at $6,700 – a price it has held for roughly 24 hours, and recovery doesn't appear imminent anytime soon.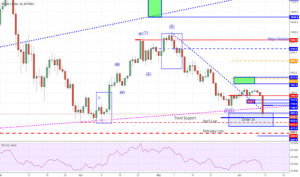 The mega-drop that hit the asset during yesterday's morning hours stem from two likely sources. The first is the hack of South Korean digital exchange Coinrail, which is not one of the country's largest cryptocurrency platforms, but still ranks amongst the top 90 across the globe.
During the morning of June 10, Coinrail executives released the following statement on the company's website:
"Seventy percent of total coin and token reserves have been confirmed to be safely stored and moved to a cold wallet [not connected to the internet]. Two-thirds of stolen cryptocurrencies were withdrawn or frozen in partnership with related exchanges and coin companies. For the rest, we are looking at it with an investigative agency, related exchanges and coin developers."
Coinrail alleged that most of the cryptocurrencies it was housing were placed in a secure wallet. Unfortunately, the thieves still managed to get away with over $40 million worth of assorted tokens, and bitcoin – along with several other forms of cryptocurrency such as Ethereum, Ripple, bitcoin cash and EOS – all lost approximately five percent or more of their respective values.
The next big hit came by way of the Commodity Futures Trading Commission (CFTC). The organization is now opening a probe into bitcoin price manipulation, and is asking four major exchanges for bitcoin futures trading data from January 2018 and on. The exchanges – which at press time are Coinbase, itBit, Kraken and Bitstamp – are refusing to cooperate with the request, explaining that submitting such information would hurt their customers' privacy.
Following the announcement, bitcoin tanked hard, falling from $7,300 to $6,700 in just 30 minutes, and all major digital assets are trapped in the red.
Securities and Exchange Commission (SEC) chairman Jay Clayton also warned against the selling and trading of any unregulated cryptocurrencies:
"I caution against promoting or touting the offer and sale of coins without first determining whether the securities laws apply to those actions. Selling securities generally requires a license, and experience shows that excessive touting in thinly-traded and volatile markets can be an indicator of 'scalping,' pump-and-dump, and other manipulations and frauds."
At press time, bitcoin is now being hit with another negative move as computer king Apple recently announced at the Worldwide Developer Conference that all iPads and iPhones could no longer be used to mine cryptocurrencies. As stated by Apple Insider, the new rule explains that "apps, including any third-party advertisements displayed within them, may not run unrelated background processes, such as cryptocurrency mining."
The move comes after a wave of recent backlash against bitcoin by major internet companies such as Facebook, Google and Twitter, all of which have recently banned crypto and ICO-related advertisements on their platforms. As bitcoin's price continues to plummet, it is continuing to garner mistrust from major institutional players, and Apple is just the latest mega-player to strike against the digital asset space.
Charts by TradingView
Image(s): Shutterstock.com