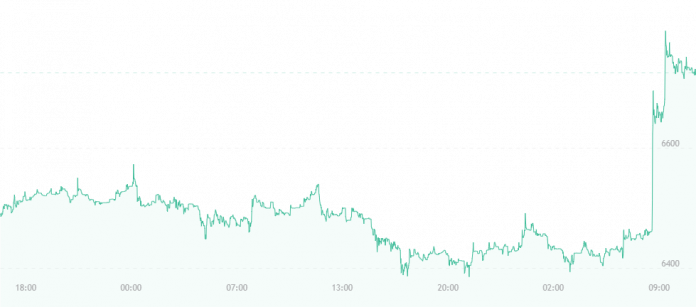 At press time, the father of cryptocurrencies is sitting at $6,700, roughly $200 higher than where it has been over the last 72 hours. This is a positive sign that perhaps the effects of both the Coinrail hack and the CFTC subpoenas are wearing off, and bitcoin is once again headed for the top, though it is probably too early to say whether recovery is in our midst.
Interestingly, both stock and bitcoin prices began tracking one another during bitcoin's burst in fame last December, though it would appear as though bitcoin's sudden drop isn't affecting normal stock prices. For the most part, stock returns seem to be enjoying a bullish run, with investors witnessing increases of roughly four percent since the beginning of the year.
Research firm Datatrek explains, "Since investors have only one brain to process risk, they will make similar decisions about cryptocurrencies and stocks when they see price volatility in the latter." What this means is that investors will often switch their earnings from one source to another (i.e. crypto to stocks and vice versa) when they notice that one isn't doing particularly well to lessen their losses.
Since May, the bond both entities have shared has seemingly dissipated, and while not gone completely, it is certainly weaker than it was six months ago. "Bitcoin attracted a huge amount of speculative capital early, and that capital is getting bled out," says Boris Schlossberg, managing director of FX strategy at BK Asset Management.
He states that over time, the correlation between the two is likely to disappear altogether, and should bitcoin strike the $5,000 mark, the world will witness a separation between true hodlers and investors looking to make a little money here and there.
It is possible, however, that bitcoin and cryptocurrencies are more of an influence on standard or traditional banks, nowadays. Jim Cramer – a financial analyst and longtime crypto skeptic – is now claiming that the traditional finance arena is facing the pressure when it comes to digital assets. Following his words and change in stance, the bitcoin price incurred its present rise, and the idea that a bullish twist is coming from a well-known bear is somewhat ironic.
In addition, major news stems from the seizure of bitcoin from BitGrail accounts by Italian authorities. The exchange's website recently read, "On June 5, 2018, pursuant to the Tribunal of Florence orders, the bitcoins contained in the company's wallets were seized and brought under control of the judicial authorities pending further court decisions in the prebankruptcy proceeding."
It is believed that the currency could face new resistance at $6,755 – slightly less than where it currently stands. Granted bitcoin can surpass this level, it may encounter barricades at $6,975 and $7,200 respectively. The good news is that support sits at $6,495, which means that if bitcoin drops further, those drops aren't likely to be as drastic as they were last week.
In the long run, it can be said that the currency is incurring a major breakout, and that the price is probably going to continue garnering strength over the next seven days.
Charts by TradingView
Image(s): Shutterstock.com