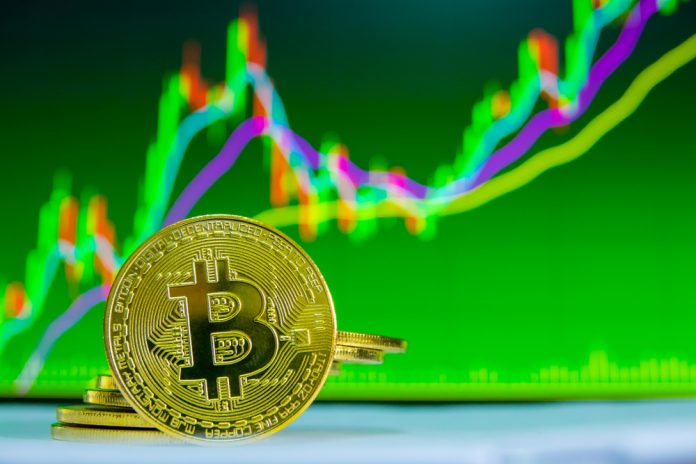 Well, well, well… It looks like the father of crypto might be getting some of its edge back. After weeks of meandering through the $3,400 range, bitcoin is back up to $,3600, marking a $200 spike during a time when price swells were considered a thing of the past. While present resistance sits at $3,800, it's plausible that bitcoin could strike that chord by the end of the month.
However, Nigel Green – CEO of U.K. consulting firm DeVere Group – is warning investors to stay calm and not give into their excitement just yet. He explains that major resistance still stands at $4,000, and until bitcoin crosses that point, we can't be too sure about what the immediate future holds.
Chart by alanmasters
He invites investors to remain cautious and warns them of the present circumstances:
"It was a relatively sudden jump, and of course, positive news for those holding bitcoin. However, the price only reached the top of the trading range and investors should not be popping champagne corks just yet."
Interestingly, one the main reasons behind bitcoin's sudden spike could be Venezuela. When it comes to cryptocurrency, Venezuela is a country that's been prominently featured in several news headlines. The nation is facing poverty like it never has before. It's currency, the bolivar, has tanked heavily thanks to rising inflation, and food shortages are becoming an everyday occurrence.
To assist in the nation's rising poverty levels, regulators introduced a cryptocurrency known as the petro, which has been stirring controversy since it first arrived one year ago in February 2018. Allegedly backed by the country's many oil reserves, the currency's whitepaper makes no official mention of this claim. In addition, President Nicolas Maduro has stated that petro sales garnered billions during the token's first initial coin offering (ICO), though this has also been called into question.
Following these statements and the uncertain air surrounding the petro, U.S. President Donald Trump has officially banned petro-trading in America.
Now, it appears many native Venezuelans are turning to bitcoin for their financial needs. In fact, despite the ongoing price slumps, one source says that bitcoin trading has reached an "all-time high."
Per cryptocurrency researcher Matt Odell, the number of bitcoins being traded in an average week is around 2,454. Given bitcoin's price at the time of writing, this is equivalent to more than $8 million worth of bitcoins traded over a seven-day period.
In addition, it appears these figures might stand higher granted one accounted for bitcoin's 40 percent price premium. Thus, it could be fair to say that bitcoin has a more solidified spot in Venezuela's digital economy.
Image(s): Shutterstock.com