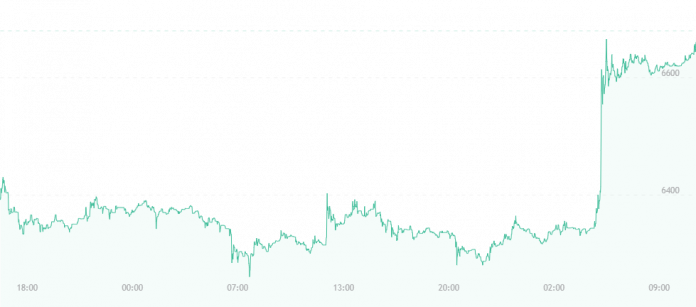 At press time, the father of cryptocurrencies is continuing its long-awaited price jumps and has moved past $6,600. That is about $300 higher than where it stood yesterday afternoon.
After a long period of up-and-downs, bitcoin finally seems to be on a path of recovery. The currency has ultimately shot up by more than $800 in just a matter of days, and if it can keep this momentum going, the bears may finally play witness to the demise of their long-held control.
Financial and technology firm Autonomous NEXT says that a heavy wave of initial coin offerings (ICOs) is the reason behind bitcoin's recent problems and price falls.
"ICOs were the reason the crypto prices shot to the moon last year, and they are also (part of) the reason why we are now seeing a prolonged weak market," the organization reported.
Researchers say the companies that initially raised crypto funds are now selling undistributed ether and related altcoins to pay their employees. This, in turn, is negatively affecting the crypto market and bringing things to a crashing halt.
But Matt Greenspan – analyst for e-Toro – explains that several positive things are happening in the bitcoin space, and that the currency is beginning to reverse itself.
"The most obvious is the break above the downward channel that we've been tracking," he states. "The price has managed to sustain above $6,250 all weekend, but has yet to show if the breakout is real or false. The second is a double bottom that can be seen, as the price reached the lowest point of the year ($5,780) on two separate occasions. However, it thankfully didn't go any lower."
Overall, the cryptocurrency market has managed to recover more than $20 billion in lost value over the weekend. At the time of this writing, the market cap stands at roughly $257 billion. In addition, bitcoin is not alone in its recent ascension. Other cryptocurrencies are beginning to normalize alongside it, such as Ethereum, which is presently trading for over $450 for the first time in several days. Bitcoin cash is also holding at the $740 mark, while Ripple's XRP is close to 50 cents.
Fred Schebesta – co-founder of the personal finance firm Finder – is confident that the bulls are re-entering the picture, as it is not just bitcoin that has experienced improvement.
"While the total volume [traded] has dropped once again, this is the first week in a month that over half of the coins have increased," he commented. "With 51 percent of coins increasing in price, we may be seeing an end to the recent bearish trend."
Image(s): Shutterstock.com