At press time, the father of cryptocurrencies is standing its ground at $7,600. The coin has undergone no change over the last 24 hours, suggesting that present support levels are holding up, but that resistance at $7,600 is proving difficult to overpower.
One source states that bitcoin is "gathering steam" to move up, and is taking "multiple supports from lower levels." On the technical charts, an ascending trendline has formed, insinuating that bitcoin will indeed exhibit further bullish behavior in the coming weeks, though this could potentially be in the short-term. The source mentions that bitcoin will ultimately encounter further resistance at $7,700 and $7,775 respectively.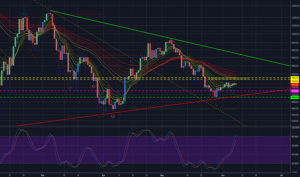 In addition, it appears the uncertainty surrounding regulatory efforts in the future is taking a toll on bitcoin's respective trading. Forbes reports that bitcoin trading has ultimately decreased; that volumes have been reduced, thus potentially increasing volatility.
Several analysts acknowledge the change in the bitcoin arena, but say that the behaviors exhibited do not specifically pertain to bitcoin, and are running rampant across the general crypto space.
"It seems a lot of activity has been suppressed," says Marshall Swatt, founder and president of the Swatt Exchange. He emphasizes that bitcoin is not the only entity in trouble, and that several cryptocurrencies have experienced decreases in respective trading.
Digital currency trader and investor Marius Rupsys explains that people are simply looking for stronger regulatory clarity before they step deeper into the cryptocurrency arena, which he believes may be coming sooner than anticipated. He states that SEC chairman Jay Clayton's recent affirmation that bitcoin is not a security is very positive, and he praises the agency's decision to appoint a crypto czar, saying it will lead to stronger developments and trust amongst both traders and financial authorities.
"This gives confidence that the SEC is being open in presenting their position regarding crypto assets," he explains. "I view this as very positive news."
In the meantime, several technical analysts appear to be of one mind regarding where bitcoin will fall in the coming months. Current sentiment is that a breakout is at hand, though when and how it will occur remains unconfirmed.
Jon Pearlstone, publisher of the Crypto-Patterns newsletter, explains that a tight range in the bitcoin price typically results in further volatility, and that the currency has just as much chance of moving up as it does down.
"In the current set up, a clean breakout above the $8,400 level with strong volume should bring another test of the $10,000 level," he states. "But if the price breaks down hard through $7,000, it's likely we'll see a test of the 2018 lows at the $6,000 level."
David Johnson – CEO of the cryptocurrency tasking platform Latium – seems to agree.
"The clarity provided by the SEC is certainly a positive for bitcoin, and should provide more overall buying support," he claims. "Bitcoin has been consolidating for the last two weeks and, in my opinion, is moving towards a breakout. Currently, $7K is a major support level, and if broken, we could see $6.6K very quickly. A sustained price above $8K should signal a move to $9K shortly thereafter."
Charts by TradingView
Image(s): Shutterstock.com