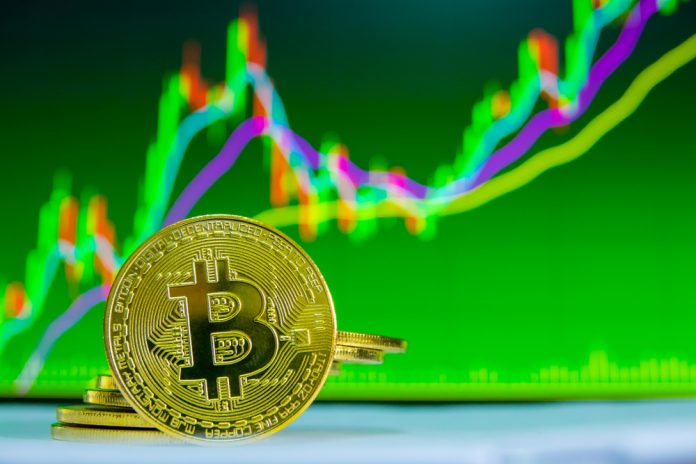 At press time, the father of cryptocurrency is trading for just shy of $5,200. This is massive news for enthusiasts everywhere, who were likely concerned that the currency's drop into $3,600 territory last November may have been permanent – or at least lasted an extremely long time.
Luckily, it appears the bulls are once again taking the financial reins, and experts are weighing in on where the daddy of all digital assets could go.
Chart by alanmasters
Bitcoin has been stuck in a rut for well over a year. In many ways, it's still trapped in that rut, but this is the first time in a while we've seen it start to dig itself out. Bitcoin reached new heights in December of 2017 when it rose to $20,000. From there, 2018 proved to be a dismal year for most digital currencies as bitcoin and all its crypto-cousins began sinking.
By the summer, bitcoin was trading for just over $6,000. It seemingly stayed there for about five months until Thanksgiving rolled along. From there, the currency slunk into the mid-$3,000 range and wasn't looking back.
That behavior has seemingly come to an end. While bitcoin is nowhere near the $20,000 mark it once held, the currency has potentially grabbed a thick rung in the financial ladder and is refusing to let go. Bitcoin struck the $5,000-line early last week, and it hasn't faltered since.
Based on certain historical patterns, professional crypto trader and chartist Peter Brandt believes bitcoin could spike to $50,000 by the year 2021. In a recent interview, he comments:
We saw sequential ten up and down moves in the bear market, and we've almost identically formed that same sort of pattern. After the 2015 low in bitcoin, we saw the market then developed into a parabolic advance. Based on those analog studies, I think crypto now will go back into a parabolic bull market.
Entrepreneur and hedge fund manager Tim Draper also doubled down on his $250,000 prediction for bitcoin in the year 2022. He also went so far as to comment that Jamie Dimon – the CEO and Chairman of JPMorgan Chase – was "paranoid," and that his attempts to make JPM Coin were nothing but a mild attempt to acknowledge, last minute, that cryptocurrencies are taking over the financial space.
Discussing Morgan, Draper states:
That guy; first he says that bitcoin is a scam. Then, he gets all paranoid. Then, he lines up all the banks against it, then he says credit cards, my credit cards cannot be used to buy bitcoin, and then he decides he's going to do his own coin. I mean, that was so ridiculous. That's typical. It's like the seven stages of… They go through denial, then they go to acceptance, so he's at acceptance.
Bitcoin Charts by TradingView
Image(s): Shutterstock.com