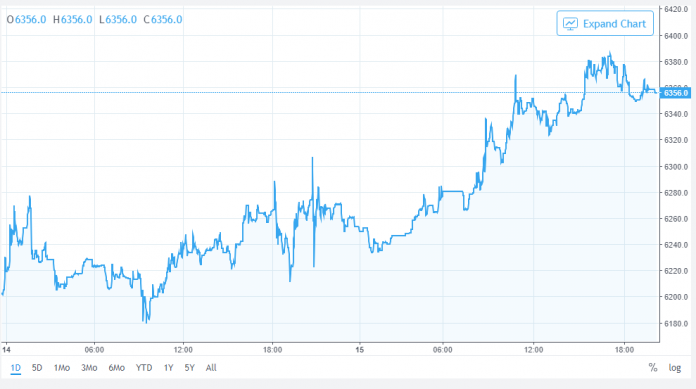 At press time, the number one cryptocurrency in the world by market cap is up approximately $100 from yesterday, and is now trading for around $6,350. A rise is always welcome news amongst crypto-enthusiasts, though it's unclear if bitcoin is on a path towards recovery or not.
And yet, bitcoin is presently being viewed through a negative lens, as reports have emerged suggesting Russian spies may have used the currency to potentially interfere in the 2016 presidential election. The spies in question are being accused of using bitcoin to pay registration fees on the site dcleaks.com, which posted emails stolen from Hillary Clinton's server. In addition, the platform used to host dcleaks.com was also supposedly paid for with bitcoin.
U.S. officials claim, "To facilitate the purchase of infrastructure used in their hacking activity – including hacking into the computers of U.S. persons and entities involved in the 2016 U.S. presidential election and releasing the stolen documents – the defendants conspired to launch the equivalent of more than $95,000 through a web of transactions structured to capitalize on the perceived anonymity of cryptocurrencies such as bitcoin."
12 Russian operatives are now being accused of interfering in the election through what prosecutors are calling a "sophisticated hacking scheme." Again, bitcoin and cryptocurrency are under fire for being the "currency of choice" in an alleged criminal underworld.
Jonathan Levin – co-founder of Chainalysis – explains, "This is the first clear example in court documents of cryptocurrency being used to purchase capabilities that could be leveraged in attacks on national security. The fact that cryptocurrencies are global and real-time means that you might only find out about these things after the fact. We need to think about the responsibilities that we all have in a world where payments move seamlessly across borders in the blink of an eye."
Many institutions took an interest in bitcoin last year when the price reached $19,000. These establishments later sought to move the currency away from what The New York Times calls "unsavory associations," though it appears there's still room for improvement.
The indictment of the spies reads that while traditional currencies were also used in their activities, they "principally used bitcoin when purchasing servers, registering domains, and otherwise making payments in furtherance of hacking activity." Also, bitcoin "allowed the conspirators to avoid direct relations with traditional financial institutions, allowing them to evade greater scrutiny of their identities and sources of funds."
Several steps were allegedly taking to hide the bitcoin transactions, including purchasing the currency on supposed peer-to-peer exchanges. The spies are also being accused of mining the coins themselves.
Image(s): Shutterstock.com