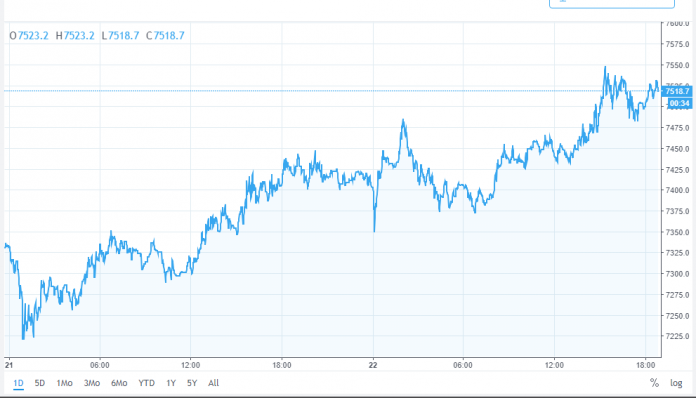 At press time, the father of crypto is back up to $7,500. This is a hugely positive sign that bitcoin is regaining traction in the monetary market and moving up the financial ladder.
24 hours ago, bitcoin had slumped slightly to $7,400. While $100 is never a huge deal, it made many wonder if the sudden jump beyond the $7,000 mark – a position that many analysts had been waiting for – was a fluke, and bitcoin was still being subjected to sell-offs and bear activity. It appears this isn't the case, as not only has bitcoin reached its previous mark, but most technical experts are of the sentiment that bitcoin will remain bullish for some time.
One source suggests that resistance currently sits at the $7,600 and $7,700 marks in the immediate future, and that if bitcoin is going to remain on top, it must cross the $10,000 line. Otherwise, the recent ascensions will become null and void.
However, other platforms are less skeptical, with one going so far as to suggest bitcoin is on the verge of hitting the $8,500 mark. It is said that if bitcoin can spike beyond $7,600 in the short-term, the next big turn will be $8,500, implying that bitcoin will add $900 to its price rather quickly.
The source also claims that the currency will likely strike the $7,600 point rather shortly, allowing bitcoin to move towards $8,000 and then $8,500. It does mention, however, that if bitcoin cannot stay above $7,240, the price may fall.
Another source also remains bullish on bitcoin but says the price jumps are likely to occur in shorter spurts than the previous article suggests. It says that the currency could first spike to the $7,800 range before immediately rushing into $8,000. From there, whales could potentially enter the mix and purchase more coins, thereby shoving bitcoin into even higher figures.
Everyone is unanimous that bitcoin will remain strong for some time. We're likely to continue witnessing price hikes, and the currency may very well end the year in the five-figure range, though it's still unclear what the year-end price will be. While it may still be too early to think of such things, one must consider that July is almost over, which leaves only five months left in the year.
Is that enough for bitcoin to reach points like $25,000, which Fundstrat head Tom Lee has been touting as bitcoin's end-of-year mark for so long? Could it spike even further, to reach the $60,000 that CEO of BitMEX Arthur Hayes has been so adamant about? Five months isn't a long time, though bitcoin has shown it doesn't always follow the rules of finance, meaning many doors are likely to remain open.
Image(s): Shutterstock.com