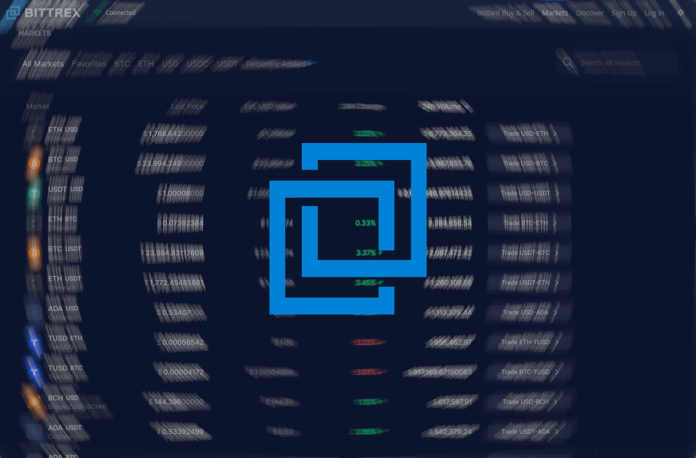 REVIEW OVERVIEW

Ease of use
Reliability
Reputation
Features

SUMMARY

Bittrex is one of the leading exchanges for US users with an easy-to-use UI and a highly reliable platform. It has a good reputation as it's been on the market for several years, but when it comes to features, it does lack compared to some newer exchanges, which offer a much more robust ecosystem. If you're looking for a simple, reliable, and trustworthy exchange as a US user, we recommend checking out Bittrex.
What Is Bittrex
Bittrex Global is a cryptocurrency exchange that targets traders who already have a significant amount of experience in the industry. They started their business in 2011 and were based in Seattle, which is situated in the state of Washington in the United States; however, they have since moved their activities to Lichtenstein, which is located in Europe. They provide users access to over 250 digital assets through their powerful cryptocurrency trading engine, which has an intuitive user interface, various trading pairings, and simplified navigation.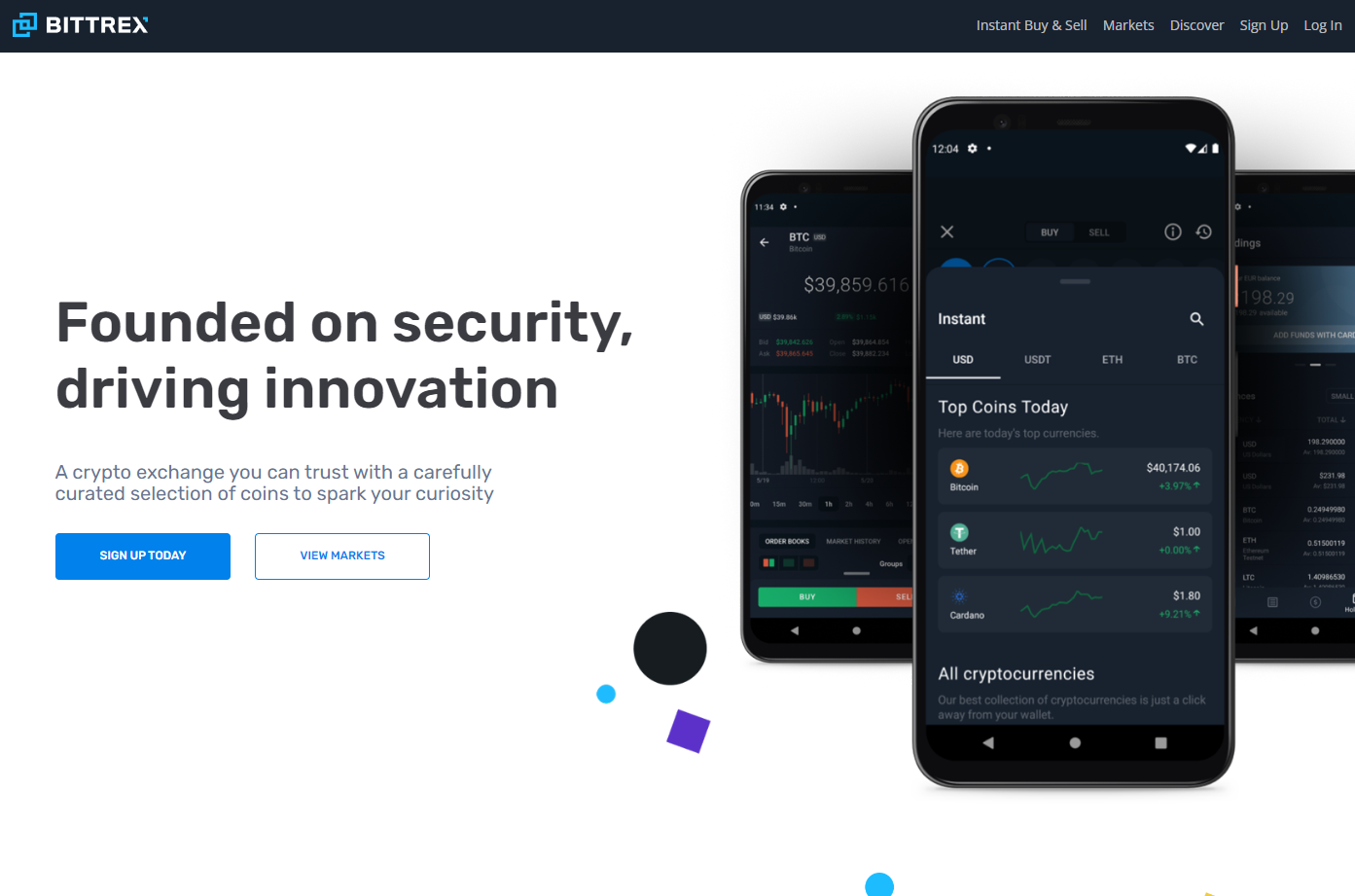 Bittrex also provides its customers with a collection of API keys, which may be included in trading bots to facilitate the processing of automated cryptocurrency transactions. One of the many compelling reasons to purchase this product is that it was established by individuals who previously held positions at Microsoft and Amazon. Bittrex is one of the most popular cryptocurrency exchanges available today. It provides users with a wide selection of cryptocurrencies and a range of straightforward options for getting started with cryptocurrency trading.
Key Features of Bittrex
Buy Crypto
The Instant Buy functionality that Bittrex provides is primarily responsible for the platform's user-friendliness when it comes to the purchase of cryptocurrency. Instant Buy enables investors to buy several of the biggest cryptocurrencies using a debit card. You won't be able to notice any costs at the beginning of this procedure; nevertheless, they will be shown in the form of a spread just before you submit your purchase.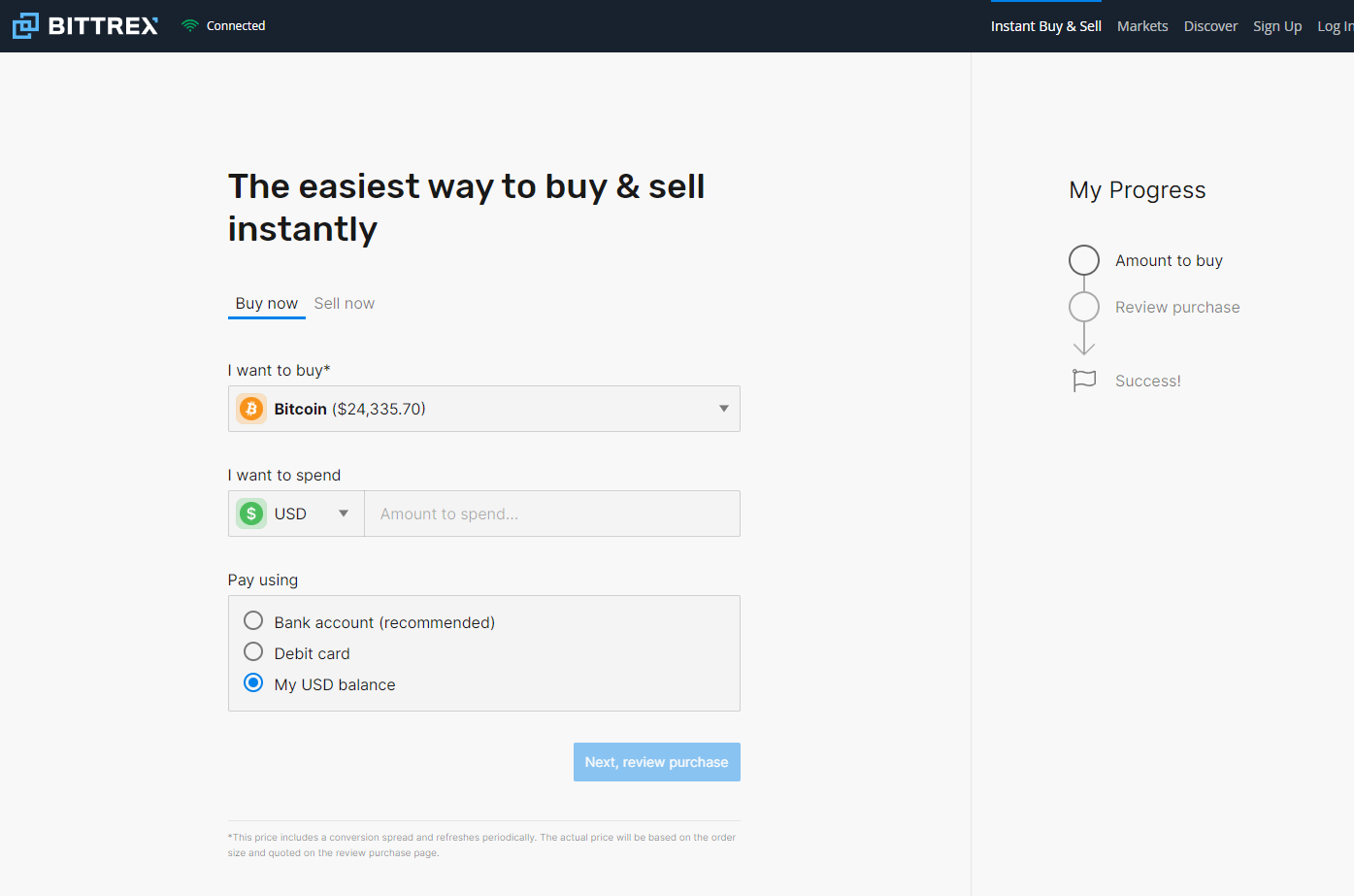 Primarily if you use a debit card to finance your purchase, this will almost always result in a substantially higher overall cost than would have been the case if you had just utilized Bittrex's trading site. Because debit transactions incur an extra cost of 3 percent in addition to any fees your bank may charge, most investors would be best served by loading their accounts with free ACH transfers and rapidly learning how to operate a trading platform.
Is It Safe to Use Bittrex
It is generally agreed upon that Bittrex is one of the most trustworthy cryptocurrency exchanges now offered for trade on the market. They are one of just a handful of big exchanges that has never experienced any form of a security breach, which makes them one of the rarest. They store between 80 and 90 percent of their cash offline and use a multi-stage wallet mechanism to maximize their protection level.
They follow all of the requirements established for Know Your Customer (KYC) and Anti-Money Laundering (AML), and they check the IP addresses of user logins in case there is any suspicious activity. Any withdrawals and all uses of API keys are required to use two-factor authentication (2FA). You may be subject to rigorous withdrawal limits if you do not set up two-factor authentication. These limitations may be lifted in the future.
Trading on Bittrex
Bittrex allows trading, rapid buy and sells transactions, and services connected to automated trading. On the platform made available by the exchange, the conduct of standard spot trading is permitted to take place. Despite this, Bittrex does not provide any opportunities for trading using margin.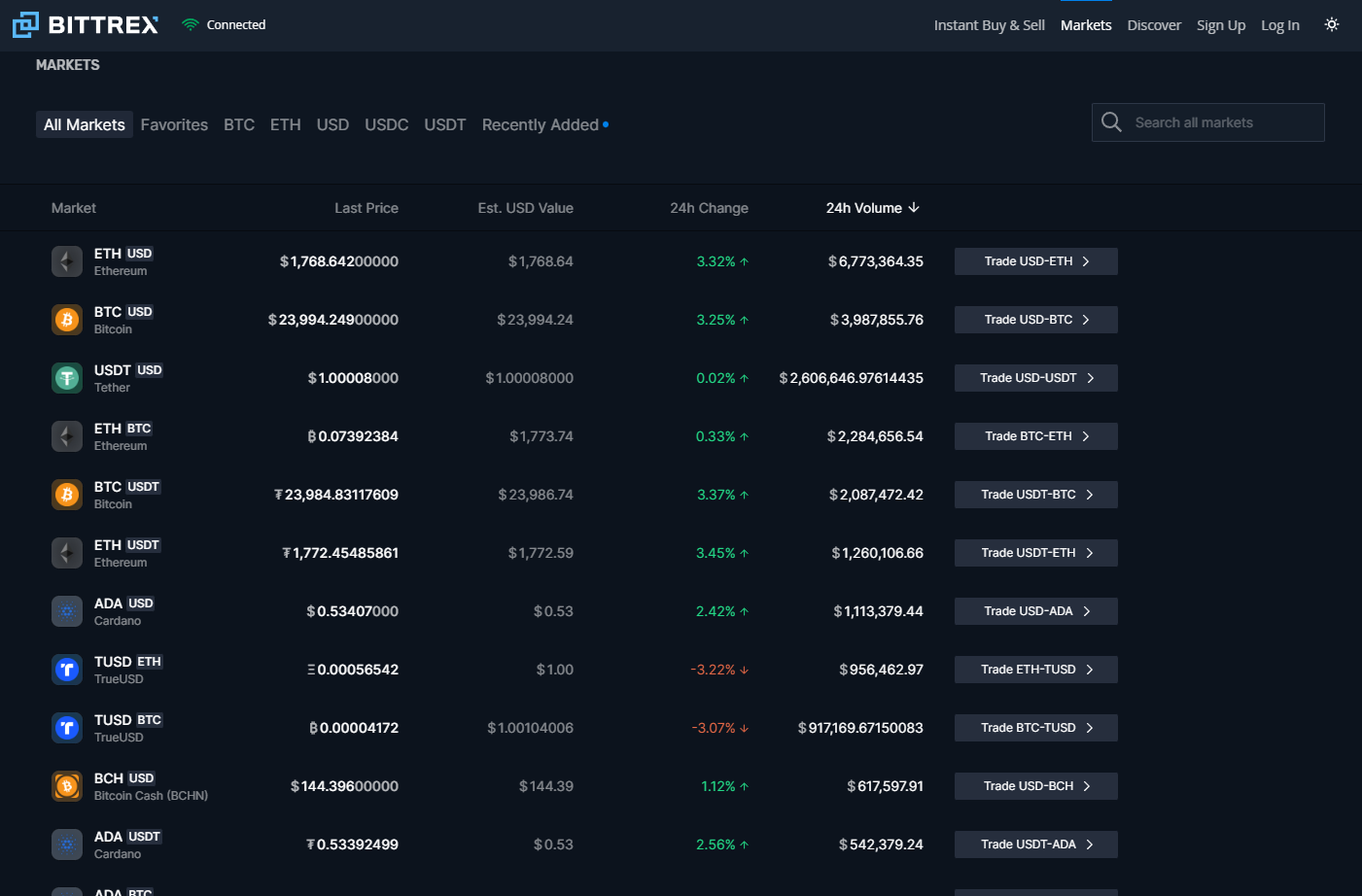 At the moment, Bitcoin and Ethereum may be used on around 680 different markets. Users of Bittrex who are interested in engaging in cryptocurrency trading have access to more than 300 trading pairs to choose from. In addition, the platform provides sophisticated charting capabilities, live order books, and several other order types. This include orders such as limit, stop OCO, and trails. Because of these qualities, it can be an excellent choice for more experienced traders.
Earning
On its platform, the cryptocurrency exchange known as Bittrex does not provide any services connected to farming or lending. On the other side, customers can stake Cardano (ADA) for various rewards. Customers who stake ADA on the platform are entitled to a return of 5.5 percent of their initial investment. Individuals who can fulfill the conditions may earn Bittrex credits via another method: trading on the Bittrex site. When sufficient credits are obtained through the completion of authorized transactions, those credits may be used to reduce or eliminate the trading costs associated with purchasing additional cryptocurrencies.
Promotions and Referral Cards
Customers are given referral cards, which they are free to use to persuade their loved ones and friends to participate in the trade. Bittrex provides its users with a 10 percent return on the trading fees paid by friends who joined the site via the use of their personal referral code. Whether the incentives are distributed in fiat money or cryptocurrency depends on the currency the invitee opted to use when paying their trading fees on Bittrex.
Final Thoughts
Bittrex has an unparalleled reputation in the industry, and its security measures are second to none. In addition, the Bittrex exchange gives customers access to the broadest range of cryptocurrency trading options. One of the most appealing aspects of this company is the absence of any fees associated with making deposits or withdrawals. Consequently, the outstanding features and support that Bittrex offers to its users may prove to be of enormous use to them throughout their ventures into trading.
This cryptocurrency trading exchange can brag that it has never been the target of a hack since it was formed initially since it was constructed from the ground up with excellent security in mind from the very beginning. Another component that adds to Bittrex's overall appeal is the platform's user-friendliness in terms of its capabilities and UI.
Disclosure: This is not trading or investment advice. Always do your research before buying any cryptocurrency or using any exchange.
Follow us on Twitter @nulltxnews to stay updated with the latest Crypto, NFT, AI, Cybersecurity, Distributed Computing, and Metaverse news!