Lyon Nov 1, 2018 – iExec has announced the release of the iExec End-to-end Trusted Execution framework, the first scalable solution for businesses to bring security to blockchain-based computing using Intel® SGX. Working in partnership with Scontain UG, the iExec solution is the first ever complete toolkit, including SDK developer tools and technical documentation, for businesses to easily employ Intel® SGX enclaves to ensure the end-to-end protection of any blockchain products.
The importance of end-to-end security on decentralized and distributed networks
iExec has pioneered the building of a blockchain-enabled decentralized cloud network to support blockchain projects and power their applications. In May 2018, iExec released their Marketplace for trading cloud computing resources as a commodity. This decentralized infrastructure is only made possible by blockchain, however, there is a technology that is arguably equally as important for this proposal to be successful, the iExec End-to-end Trusted Execution.
Blockchain-based applications and computing are neither owned or controlled by one specific entity but rather powered by a distributed network of multiple machines or 'nodes'. The distributed nature of decentralized cloud computing networks presents a challenge to guarantee security. This is because the owner of the host node might be able to access private user data or tamper with the application code running on their machine. For decentralized blockchain-based clouds, iExec End-to-end Trusted Execution has been found to be the only promising solution to protect user and application data.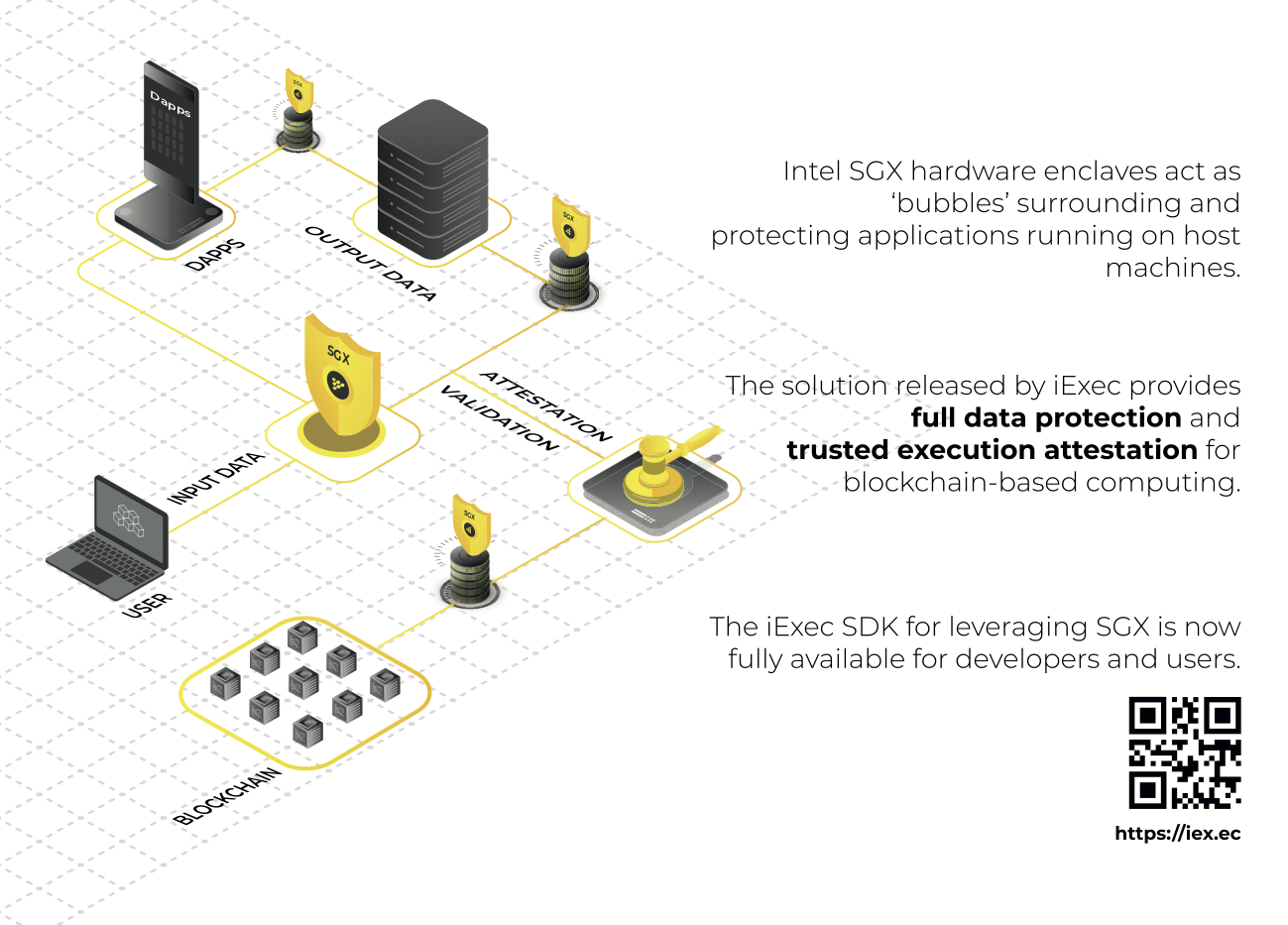 What is Intel® SGX?
Intel® SGX (Intel® Software Guard Extensions), is a set of CPU instruction codes that enable the execution of specifically selected pieces of code and data in protected areas called hardware enclaves. Simply, while you have an application running on a host machine, Intel® SGX enclaves essentially act as a bubble or a safe, isolating and protecting the application from the host machine. In this way, even the root privilege administrator of the host machine is not able to penetrate this bubble to access and tamper with the application.
The iExec End-to-end Trusted Execution
iExec have partnered with Scontain UG, utilizing their SCONE framework (Secure Linux Containers with Intel® SGX) to provide the first-ever end-to-end solution for integrating Intel® SGX. This is the first full solution of its kind and is intended to be used as an industry reference to enhance the overall security of decentralized computing. This new framework, combining Intel® SGX and Blockchain, allows for an unmatched level of trust. 'End-to-end' privacy is ensured, meaning that, although Decentralized Applications (Dapps) and execution/data are processed on decentralized nodes, they can never be inspected by anyone else but the end user. The iExec approach specifically allows Blockchain to work with Intel® SGX in order to: protect the user's input and output data as well as the application embedded data. It also provides blockchain level validation that the computation was executed within an enclave. iExec showcased this new solution at the Devcon4 conference, one of the most important gatherings for Ethereum blockchain developers and researchers.
Having already released their decentralized marketplace for trading cloud resources as a commodity, iExec is working towards 'iExec V3' where the buying and selling of data-sets will also be possible on the platform. iExec offers developers toolkits for building decentralized applications to be powered by their decentralized cloud network. And now, having identified the need for trusted execution as an essential component of any distributed and decentralized business use case, the iExec End-to-end Trusted Execution Software Development Kit (SDK) and user manual are now fully available for developers to use.
About iExec
Since April 2017, iExec has pioneered blockchain-based decentralized cloud computing. The company based in Lyon, France released the first ever decentralized marketplace for trading cloud computing power in May 2018. iExec uses the blockchain to organize a market network where everyone can monetize their servers, applications, and data-sets. On the iExec platform, decentralized applications built on the blockchain will be able to access the computing resources they need for their execution. iExec provides all the resources and support needed for developers to get started building their decentralized applications. iExec is active in the research field of Trusted Computing. iExec chairs the Trusted Computing Working Group within the EEA (Enterprise Ethereum Alliance) to define EEA specifications. iExec is also a member of the IEEE (Institute of Electrical and Electronics Engineers) and OpenFog Consortium.
Press contact: [email protected]
---
This is a sponsored article and does not necessarily reflect the opinions or views held by any employees of NullTX. This is not investment, trading, or gambling advice. Always conduct your own independent research.
Image(s): Shutterstock.com