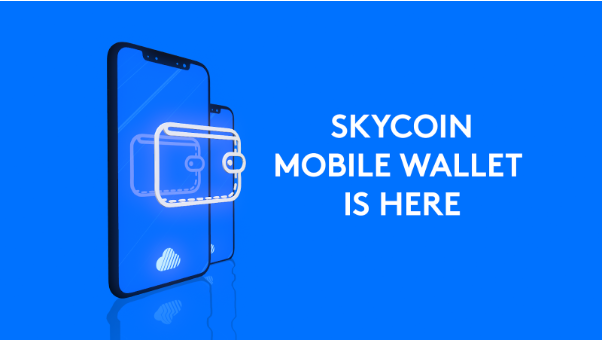 Skycoin has unveiled its first official mobile wallet for Android devices. The mobile wallet is currently ready to be rolled out for public adoption, enabling all Skycoin Platform users maximize their experience on the go. Skycoin's dedication to delivering a truly decentralized ecosystem in accordance with Satoshi Nakamoto's vision has shaped it into one of the world's most advanced  blockchain platforms, thanks to the committed team members who were also early contributors to the top two cryptocurrency—Bitcoin and Ethereum.
Disclosure: This is a Sponsored Article
Wallets are essential to organising, storing, and spending funds. These wallets have become the basis of sustaining a democratic structured and decentralized monetary system – the essence of the blockchain. With these at the fore of its design and development, Skycoin's mobile wallet has been integrated with all featured required to  support the goal of the platform as a flexible, secure, infinitely scalable, and ISP independent network running on blockchain.
What  can the Skycoin wallet do?
Skycoin wallet users can either create a new wallet and or load an existing wallet to start leveraging its capabilities. Using the integrated QR-code scanner and address generator, users can send to other wallet addresses or generate new ones to receive funds right off the bat. The wallet's advanced features enable users select specific UTXO (unspent outputs) for disbursing Skycoin. They can also quickly access an overview of their transactional history on the fly.
For users creating their wallet for the first time on their device, Skycoin has implemented a hardware encryption mechanism for wallet seeds, ensuring they never leave the device unless backed up or exported by the user. Users will also be able to select the node they wish to operate through for added security and control, creating a security-conscious ecosystem.
Skycoin features
Skycoin is building a vibrant community structured on an ecosystem of innovative breakthroughs and cutting-edge development in the blockchain industry. These includes:
Skywire

–

Skywire

is a mesh network of thousands of interconnected nodes that works as a  blockchain-based internet service without the traditional centralized protocols, ensuring stability, speed and increased security for all.

Obelisk

– is Skycoin algorithms of consensus for a web of trust.  This web is the backbone for distributed influence over the network, where every node has other nodes subscribed to it. Each node is appointed under a personal blockchain working as a "public broadcasting channel" – a public record for all node action.

Fiber

–

Skycoin's

Fiber network is the underlying technology for a customizable and infinitely scalable network. Creating a low cost fee for transactions, higher quality in speed and literary eliminating where Bitcoin and Ethereum blockchain fell short.  

Skycoin

tailored a new consensus protocol (Obelisk) to suit their line of decentralized users.
It's no small task trying to fulfill Satoshi's true vision, but when you are Skycoin, the sky is never the end. Just the beginning.
Learn about more exciting developments with the links below or download wallet here: https://www.skycoin.net/downloads/ (only Android v6.0 "Marshmallow" and above)
Image(s): Shutterstock.com