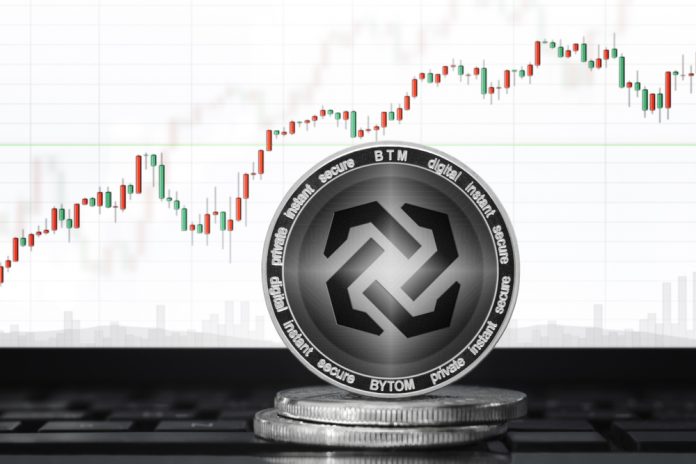 Altcoins are slowly hitting their stride again after a tremendously bearish 2018. Most markets lost anywhere from 50% to 90% in value. Recovering those losses is difficult, but some coins appear to be better off than others. In the case of Bytom, it would appear the current price trend may remain in place for a while longer After surpassing $0.2, anything seems possible for this altcoin.
Bytom Price Momentum Intensifies
It is quite impressive to note how some altcoins can effectively buck the overall sideways trading trend. In the case of Bytom, the current gains continue to pile up, which is effectively pushing its value and market cap quite high. These gains are quite impressive overall, especially when considering how all other cryptocurrencies are far less amusing to watch.
Over the past 24 hours, there has been a noteworthy 16% gain in Bytecom's USD value. Combined with a similar gain over Bitcoin, one BTM is now valued at $0.21 or 3,326 Satoshi. A very peculiar trend, primarily because no one appears to be actively discussing Bytom right now. Even so, competition on the market is always a good thing.
Looking across Bytom discussions on social media, there is not exactly much variety to take note of. A new weekly report has been issued, which documents some interesting developments taking place behind the scenes. That is a sign of a growing ecosystem, even though one has to wonder what the future will hold in this department.
thanks ~

— BYTOM BLOCKCHAIN (@Bytom_Official) October 19, 2018
Traders and speculators are also quite keen on this altcoin as of right now. Bytom has noted a rapid long period, according to CoinAlert. Even though this does not necessarily warrant an extended uptrend whatsoever, there is still a good chance the current gains will remain in place for some time to come.
#BTM – Rapid Long Period increase 1h: 6.0% V: 53.1M$

Subscribers have been notified 1 hour ago via https://t.co/mfcT6cyBbr & App. #blockchain #cryptocurrency #altcoins #coinalert $BTM $BTC $ETH $XRP $BCH $LTC $EOS $NEO $TRX $IOTA $XVG pic.twitter.com/gNnNSX7fIr

— Coinalert.live (@coinalert_live) October 20, 2018
CryptoStickers sees things in an even more positive light. They claim the Bytom market has officially entered bullish territory, even though some of the gains were wiped out in the past two hours. Although it is commendable to see so many people get excited over one specific market, steep uptrends usually lead to very lengthy corrections.
The bull market is in effect! #Bytom $BTM just went up 19.25% in the past day! Your coins are now worth $0.22 each – Promote your coin with a sticker! https://t.co/xNdiVc03X1 $btc $eth #blockchain #stickers #bitcoin #ethereum

— CryptoStickers (@StuckOnCrypto) October 20, 2018
Based on the current market sentiment, it would appear this current push might extend throughout the entire weekend. Whether or not $0.2 can be turned into key support, is a very different matter altogether. Plenty of holders will take profit, especially now that the trading volume has surpassed $50m. Even so, the Bytom price is interesting to keep an eye on.
Image(s): Shutterstock.com