Canada's red flags a warning to the industry.
We take a look at e-growing and JuicyFields to find out how and why. 
As far as warning flags go, a surprising source has been raising many of them that others in the industry should take note of. Canada was promising to be a leader in legislation, cultivation and patient care and access throughout the industry but bureaucracy, bad manufacturing practices and lack of care have made Canada an unwilling example on how not to implement a successful cannabis strategy.
Recreational cannabis has been legal and available since 2018, yet two years on billions have been wiped off the values of the top Cannabis companies and why is the Canadian cannabis community still sourcing their much loved bud from the black market?
Key factors in answering this lie within quality and cost. A high percentage of people asked both online and within Government available data suggest that the quality of legally available weed is not up to standard in comparison with the blackmarket. Add this to the fact that government cannabis is more expensive, it's clear to see why the market and the money has stayed where it is respected.
This is not to place blame on those cultivators and sellors who are doing their best among unsupportive legislation, high taxes and harsh rules for distribution and advertising. Although that is no excuse for selling dry, mouldy, bug ridden buds; it is a reason to keep in mind.
The billions that have vanished like smoke in the wind solely comes down to overpromising, mismanagement and bad practices. Too many startups received funding or went public either too soon or with the wrong infrastructure and operations in place. The devastating returns of many products and batches originating from Canada over the past years continues. From failing GMP standards and benchmarks to tens of thousands of products being recalled due to being contaminated from yeast, mold or bacteria.
However, this is not to say that this is what will happen elsewhere. The EU and LATAM have varying strategies at various stages of legalisation in both recreational and medicinal markets. The medicinal sector is by far the most advanced with an agreed framework for standards and an infrastructure for distribution.
While researching I came across several successful 'Cannabiz' methods but one that garnered most attention was the 'Crowdgrowing' model. Seemingly introduced by the company JuicyFields, it's a revolutionary way of bringing cultivation and investing in cannabis together, allowing entry points to those normally prohibited from doing so.
Crowdgrowing allows anyone from around the world to enter the medicinal marijuana market with just access to the Internet required. Via JuicyFields platform supporters, or e-growers as they are called, help fund licensed, legitimate, community based, medicinal cannabis cultivators and extractors. They then receive a share of the profits once the projects or the harvests are completed and the cultivators and extractors have sold their produce.
What struck me here was the simplicity of the model. Give money to those already in the system and are scalable, receive back once projects or contracts are completed. 
The beauty of this is that although they are community or start up projects they are all licensed and conform to EU GMP and GCAP standards and the infrastructure to support them.
JuicyFields applies strict quality standards for cultivating only medicinal cannabis at the licenced greenhouses around the world and by providing users of the platform the benefit after the plants are harvested and sold.
With headquarters in Europe and partners' facilities in countries with cannabis-friendly legislation, JuicyFields has expanded vastly over 12 months by partnering with more strategic companies and with agricultural, legal, sales and scientific experts in all spheres.
Partnering agreements rather than simple acquisition has led to JuicyField's operations to cover more than 150,000 sqm of land with minimal expense to the company. Marijuana harvested totaled in excess of 37 tonnes of medicinal marijuana in the first quarters of 2021 alone, with them stating more growth to come continuously.
According to founder and CEO, Alan Ganse, the growth has only just begun and the company's "major goal is to be listed in the TOP 5 cannabis producers by 2025 along with such giants as Curaleaf, Trulieve Cannabis, Canopy Growth and Green Thumb Industry. We aim to produce not less than 379 tonnes of cannabis and become the number one brand among psychoactive medical and recreational cannabis products."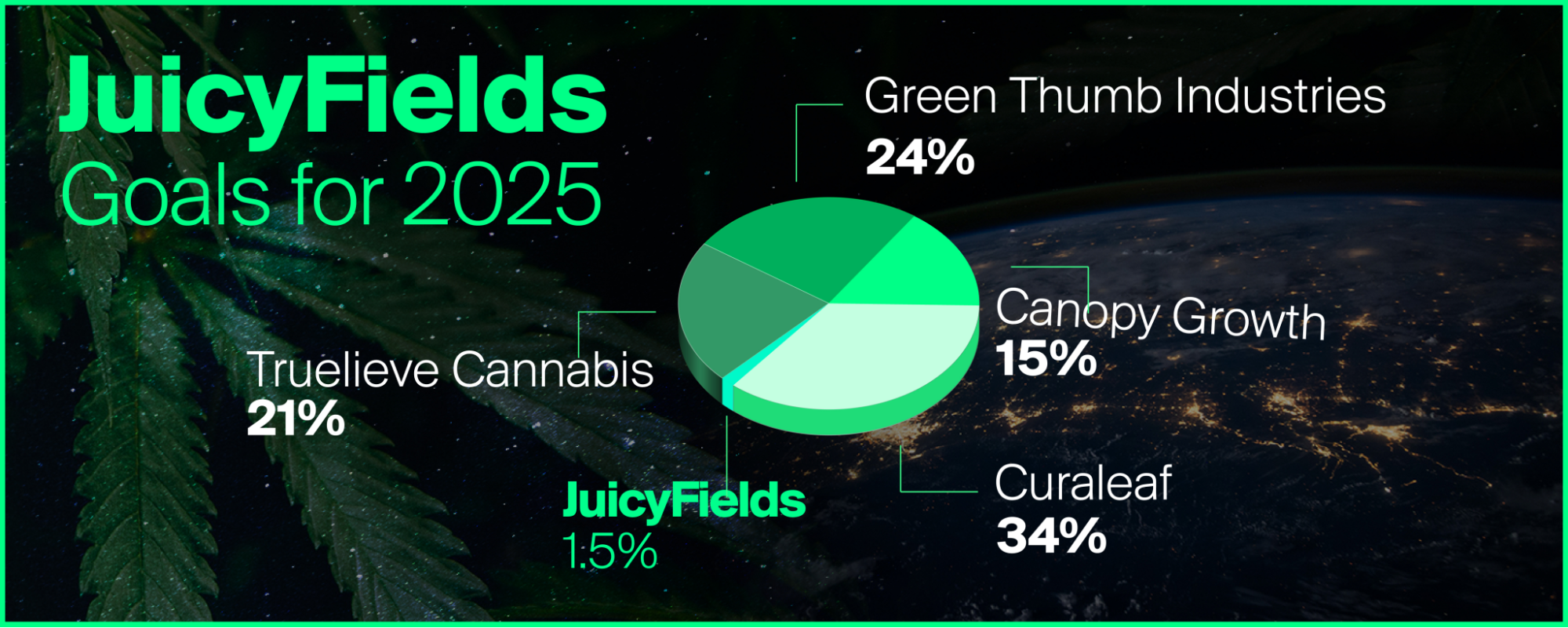 A bold statement to be sure, but with their ever increasing number of users and e-growers and the content produced to keep in touch with their community it would be hard not to be enthusiastic regarding this stated growth. When we compare this model to that of Canada's recreational model there are striking differences.
As of today, the Canadian market is saturated with low prices and poor quality produced bud, a large part of which is being pushed onto patients.
A flood of licenses issued by the government has opened the doors for entrepreneurs, cultivators and patients and yet, left them without quality standards, regulations and audit control. Even the overly regulated medicinal market is suffering with rejections of products and closures of facilities have been reported all over. In 2018, 129 medical cannabis sales and cultivation licenses were given out by Health Canada versus 540 licenses issued in 2020 and yet the black market prevails.

The black market understands their industry, they have been at the forefront for years and with these years comes experience in many forms from cultivation to market desires and needs.
What the legitimate market failed to account for is the value of experience and knowledge of both the product and the market. Most growers know about the reality and pitfalls of drying, curing and storage, avoiding loss through mold and bugs and the hundreds of other factors affecting a good crop. Most dealers know the clients wants and needs and trends and adhere to them. All of them were very much aware that someone or some product that was equal or better was waiting on the sidelines for the chance to take their slice of the market.
Quite simply the legitimate market has years of experience and knowledge to catch up on, the intimate details of cultivating, distributing and understanding your market do not come overnight with theory and statistics, they come from relationships, partnerships and real world experience.
Assessing what has just been uncovered above it is clear to see that the success here not only lies in having a unique and sturdy business model but the fact that companies like JuicyFields, whether knowingly or not, are building the bridges between the black market and the legitimate one, connecting people, something that's safe to say that Canada has neglected and is now uncomfortably and anxiously coming down from its high. 
Image(s): Shutterstock.com