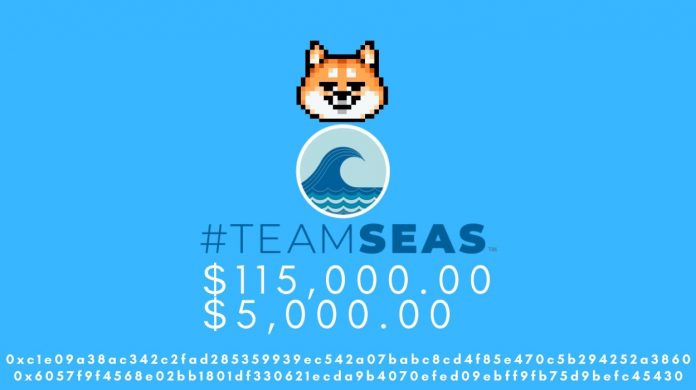 In yesterday's tweet, the Dogs of Elon team announced that they have donated $120,000 Mr. Beast's charity #TeamSeas. This comes amid an earlier donation of $20,000 to the Binance Charity.
Our Dogs Of Elon team is very happy because they were able to donate $ 120,000 dollars in total for #TEAMSEAS !!!
A few days ago we donated $ 20,000 to Binance Charity, and now we have continued with #TEAMSEAS.#dogsofelon @elonmusk @MrBeast https://t.co/v2FB4wF5wK
TX DESCRPT👇 pic.twitter.com/r68tVqxNJt

— Dogs Of Elon (@dogsofelon) October 30, 2021
What Is #TeamSeas?
#TeamSeas is a charity led by Mr Beast and Mark Rober – a Former NASA and Apple engineer. The charity is dedicated to cleaning up 30 million pounds of trash from oceans, beaches and rivers by January 1st, 2022.
At the time of writing, #TeamSeas already removed over 4.3 million pounds of trash from our environment.
Dogs of Elon $120,000 Donation
Dogs of Elon donated to #TeamSeas by using a platform called The Giving Block, the #1 crypto donation solution which provides a way for nonprofits and charities to fundraise Bitcoin and other cryptocurrencies.
The donation was done via an Ethereum transaction coming directly for the $DOE Deployer address.
Such a thoughtful donation from a relatively new crypto project is a great way to spread positivity and support our irreplaceable planet! Moreover, this further speaks to the credibility and potential of Dogs of Elon as a solid project whose team has their skin in the game.
If you want to support Dogs of Elon, you can still get your share of $DOE via their presale that ends in 9 days.
At the time of writing, you can purchase a minimum of 300 $DOE for 0.004 ETH which is roughly $17 at the time of writing.
If you want to find out more about Dogs of Elon, make sure to check out our article What Is Dogs of Elon?
Image(s): Shutterstock.com