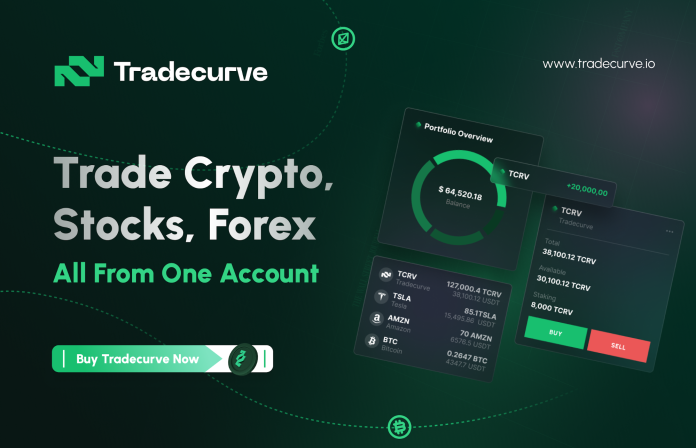 Centralized exchanges (CEX) have long been the go-to platform for cryptocurrency traders, offering a convenient way to buy and sell digital assets. However, recent events have highlighted the potential vulnerabilities of these exchanges and raised concerns about their future.
From security breaches to regulatory crackdowns, centralized exchanges are facing mounting challenges. But as these exchanges continue facing troubles, one hybrid exchange currently in its presale run has seen great success – Tradecurve (TCRV). Let's take a closer look and find out why it has been the main point of discussion recently.
Summary
Centralized exchanges continue losing traction 

After Bittrex, Hotbit announced its closure 

Tradecurve (TCRV) presale could be a top gainer in 2023
Centralized exchanges continue falling
At the beginning of May, the U.S. Securities and Exchange Commission (SEC) accused Bittrex and its co-founderWilliam Shihara, of running an unregistered national securities exchange, broker, and clearing agency, prompting regulatory concerns that led to Bittrex's closure and its subsequent Chapter 11 bankruptcy. Bittrex also stated the bankruptcy does not affect Bittrex Global, the exchange's overseas subsidiary.
And now, another CEX has fallen as Hotbit announced that it would close all operations on May 22nd at UTC 04:00. The Hotbit team pointed to three reasons as to why it had to close, including market uncertainty, deterioration of the operational environment after the fall of FTX and a switch of the market trend.
The team also thinks that centralized exchanges are getting increasingly complicated, with unclear, difficult-to-comply-with regulations that may push way more CEXs to go a different route – decentralization. With two significant CEXs falling in just a month, users now look at decentralized platforms as a replacement. And Tradecurve (TCRV) appears to be the perfect one.

Tradecurve (TCRV) set to take over the entire online trading market
As users slowly shift away from CEXs due to the issues we mentioned above, Tradecurve will solve the problems they face and become a fan-favorite trading platform adopted by millions of traders worldwide. This platform will be a borderless, hybrid DEX built on the Ethereum blockchain that will implement the best features of CEXs: high liquidity and access to numerous asset classes while also providing a fully private trading environment.
Tradecurve will allow users to trade all derivatives from one account without sign-up KYC checks. All that will be needed is to create an account (email only), connect it to a crypto wallet, and make a single deposit. Unlike Binance or Coinbase, Tradecurve will present a way for individuals to trade multiple asset classes while remaining 100% anonymous. Users of Tradecurve will be able to take advantage of many features, such as automated trading, 500:1 leverage, metaverse trading academy, and copy trading (in which users pay a subscription fee to successful traders to duplicate their trading decisions).
Being Ethereum-based will also lower trading fees, as no third-party mediators will be involved. Plus, all users will fully control their assets and keys – a true mark of decentralization.
Investors interested in backing this potential top three exchange now have the opportunity to do so by purchasing its utility token, TCRV, at the current price of $0.012 while it is still in Stage 2 of its presale. Furthermore, according to analysts, the token will provide its holders 50x gains before its introduction on tier-1 CEXs and Uniswap, when it will increase by an additional 100x.
And if we compare this ICO with one from its rivals, such as Huobi, which began in 2018 for $1.52 but had an all-time high of $39.66, it could be heading down that same path due to its solid fundamentals and foundation. Tradecurve has incredible long-term growth potential and will challenge established players such as Binance and Kraken.
For more information about TCRV presale tokens:
Website: https://tradecurve.io/ 
Buy presale: https://app.tradecurve.io/sign-up 
Twitter: https://twitter.com/Tradecurveapp 
Telegram: https://t.me/tradecurve_official 
Disclosure: This is a sponsored press release. Please do your research before buying any cryptocurrency or investing in any projects. Read the full disclosure here.