Chainlink (LINK) has been on a remarkable ascent, experiencing a substantial 30% increase in its value over the past five weeks. However, it's not just the price surge that's making headlines; it's the behavior of large LINK holders that is capturing attention.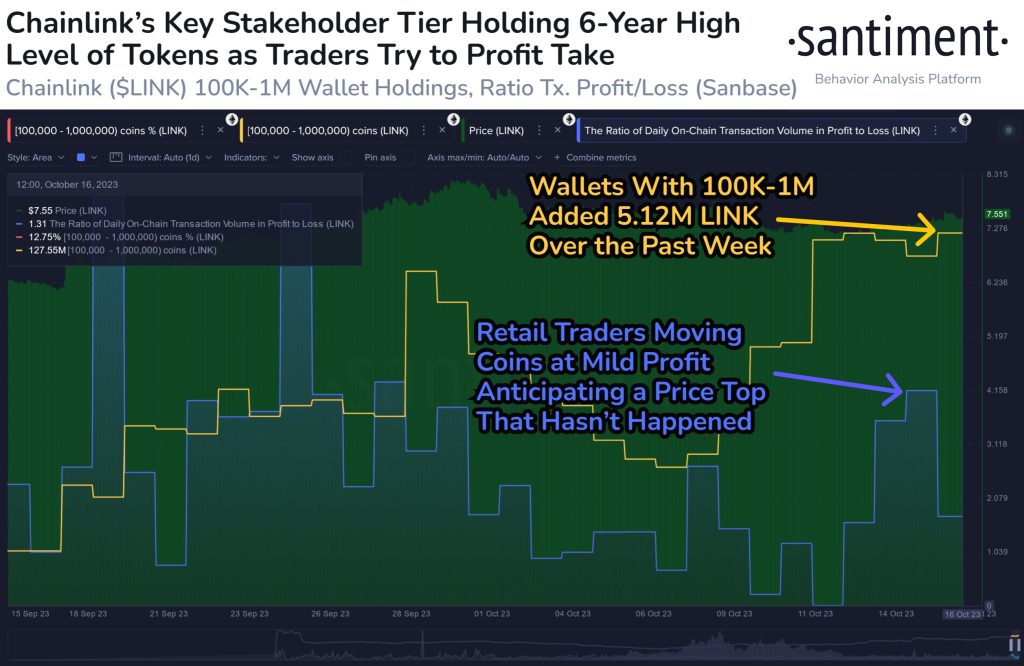 In recent weeks, wallets holding between 100,000 and 1,000,000 LINK have been aggressively accumulating this cryptocurrency. Their actions are not only substantial but also influential, and here's why.
Whales on the Move
These large LINK holders, often referred to as "whales" in the cryptocurrency world, have been actively accumulating LINK tokens. In the past week alone, these whales added a staggering $38.5 million worth of LINK to their holdings. Such pronounced moves by major players in the market have significant implications.
Influence over Small Retail Traders
The significance of these large-scale LINK acquisitions lies in the influence they wield over the cryptocurrency's market dynamics. When whales make significant moves, they often set the tone for the market, influencing trends and sentiment. This sway is more relevant than small retail traders taking profits, as it can drive the overall market sentiment and direction.
Market Sentiment and Future Trends
When whales accumulate, it's often seen as a vote of confidence in the cryptocurrency. Their actions can boost market sentiment, attract more investors, and drive up the price. It's a signal that these influential players believe in the long-term potential of LINK.
What's Driving Whale Accumulation?
The reasons behind the whales' aggressive LINK accumulation can vary. It might be based on their analysis of the project's fundamentals, anticipation of future adoption and use cases, or a reaction to broader market trends. For example, if they perceive LINK as undervalued or believe in its utility for decentralized finance (DeFi) applications, they may choose to accumulate.
The Takeaway
Chainlink's impressive price surge is a notable development, but the actions of large LINK holders are equally significant. Their accumulation speaks volumes about their confidence in the cryptocurrency's future and its role in the broader blockchain ecosystem.
As with any market movement, it's essential to exercise caution and conduct thorough research. While whale accumulation can be a positive indicator, it's also crucial to stay informed about the broader cryptocurrency landscape, including market trends, news, and developments, to make informed investment decisions in this dynamic space.
Disclosure: This is not trading or investment advice. Always do your research before buying any cryptocurrency or investing in any services.
Follow us on Twitter @nulltxnews to stay updated with the latest Crypto, NFT, AI, Cybersecurity, Distributed Computing, and Metaverse news!
Image Source:rastudio/123RF // Image Effects by Colorcinch