October has proven to be a lucrative month for investors and traders in the world of Render Network (RNDR). Not only has the project yielded substantial profits, but there has also been a significant accumulation of RNDR tokens by large-scale holders. These developments coincide with a notable trend – a reduction in RNDR supply on exchanges, marking the lowest levels in 2023.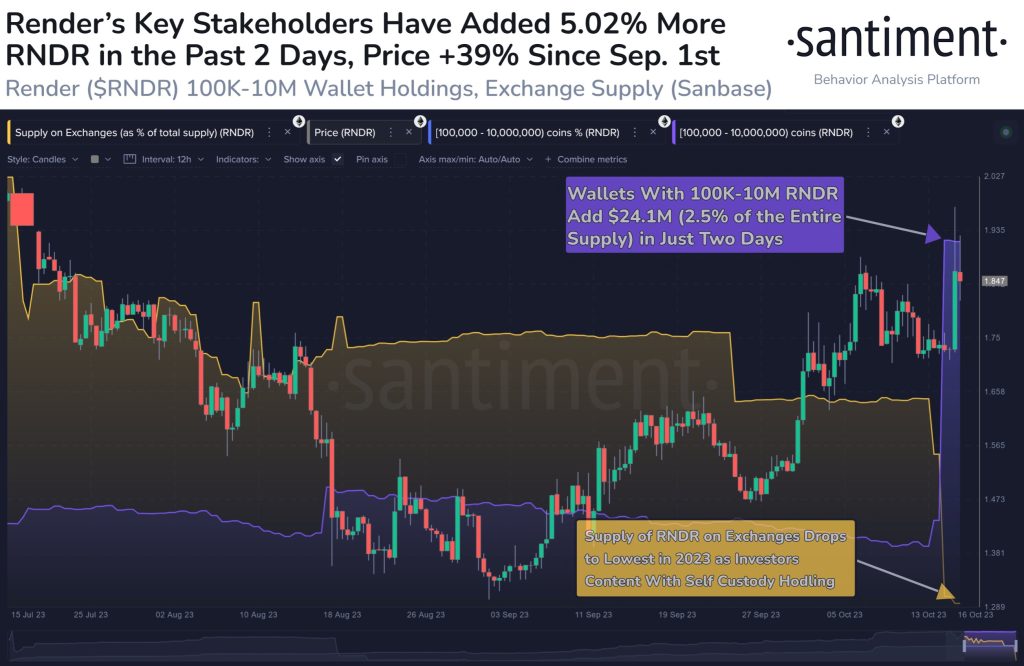 Render Network's Profitable Streak
The team at Render Network has orchestrated a series of successful moves, resulting in substantial profits for those who have invested in or traded RNDR. The month of October has seen an upswing in RNDR's performance, capturing the attention of crypto enthusiasts and investors.
Accumulation by Whales
A standout feature of this recent RNDR activity is the aggressive accumulation by large-scale token holders. Wallets holding between 100,000 and 10,000,000 RNDR tokens have been actively accumulating over the past two days. The accumulation amounts to a remarkable $24.1 million in RNDR tokens.
The Influence of Large Holders
The actions of these sizable RNDR holders, commonly referred to as "whales" in the crypto space, carry substantial influence. Their moves can set the tone for market sentiment and trends. In this context, their significant accumulation of RNDR tokens suggests a strong vote of confidence in the project's future potential.
Impact on Exchange Supply
The reduction in RNDR supply on exchanges is another noteworthy development. As the number of tokens held on exchanges drops to the lowest levels observed in 2023, it indicates a shift in token distribution and usage. This can be interpreted as a sign of reduced speculative trading and a growing interest in holding RNDR for the long term.
What Drives Whale Accumulation?
The reasons behind whale accumulation can vary. It might be rooted in a belief in Render Network's technology and its role in the blockchain ecosystem. As Render Network aims to revolutionize cloud rendering with blockchain technology, it has garnered attention in the digital content creation and entertainment industries.
Final Thoughts
Render Network's performance in October is undeniably impressive, with substantial profits and whale accumulation making headlines. These developments reflect growing confidence in the project and its potential to disrupt the cloud rendering landscape. While market dynamics can be influenced by whale actions, it's crucial for all participants to stay informed about market trends, news, and developments when navigating the ever-evolving cryptocurrency space.
Disclosure: This is not trading or investment advice. Always do your research before buying any cryptocurrency or investing in any services.
Follow us on Twitter @nulltxnews to stay updated with the latest Crypto, NFT, AI, Cybersecurity, Distributed Computing, and Metaverse news!
Image Source:rastudio/123RF // Image Effects by Colorcinch