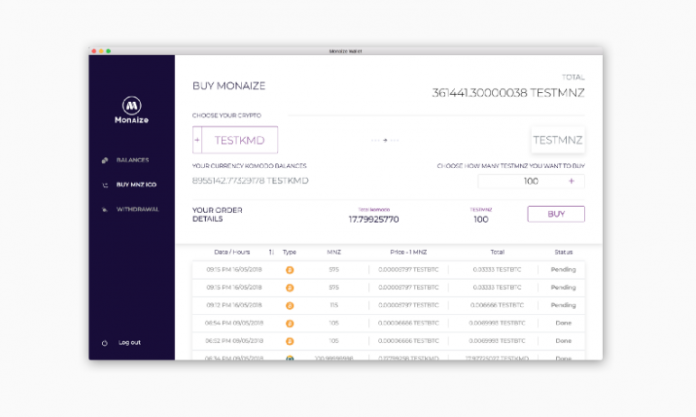 Some of our readers who were around in the crypto space at the end of 2017 may remember Monaize, an e-banking platform for freelancers and SMEs. Since then they have developed their in-house blockchain technology for their ICO and a crypto wallet for their ICO investors. These are the first steps of the "Banking meets Blockchain" journey.
Disclosure: This is a Sponsored Article
Open, Collaborative Banking.
Monaize was founded in January of 2017 with a focus on using innovative technologies to empower entrepreneurs by making business banking seamless. At its core, Monaize is a business current account which comes with a Black Business Mastercard (currently available to owners of registered businesses in France).
However with their open ethos, the platform will articulate around 4 key pillars; payment solutions, financing, collaborative & ethical investments, and business insurance. This will be done through integrations with third party service providers in order to facilitate the lives of entrepreneurs. Business owners are able to open an account with Monaize in under 5 minutes using their smartphone (application available for iOS and Android).   
Blockchain Technology and Expertise Insourced
After originally focusing on improving the legacy banking infrastructure, the team at Monaize set out on its journey into the world of blockchain when realizing that it was impossible to go a single day in Fintech without hearing about the enormous impact that the technology was going to have on the industry.
The design and development team at Monaize worked closely together in the first half of this year to build a crypto wallet that is "sleek, rapid and easy to use" and after intensive, successful testing with their community of supporters, a MainNet version of the "MNZ Wallet" was released last month. This is a light, Electrum-based, cross platform wallet which allows users to send and receive funds. It also has a "Buy" functionality built in, allowing users to purchase MNZ tokens from directly within the app.
The MainNet version of the wallet is available for Mac, Windows and Linux as a native client and is currently being shared exclusively with private token sale participants as part of Monaize's pre-ICO funding round.
TestNet versions of the wallet can be downloaded directly from Monaize's GitLab:
https://gitlab.com/monaize-mnz/mnz-wallet/tags
Becoming a Truly Hybrid FinTech Player.
CTO, Guillaume Derivery, and his team of developers felt that bringing blockchain technology and expertise in-house was critical to their long term goal of becoming a truly hybrid FinTech player – able to function within both legacy banking and blockchain to prepare for the transition from fiat to crypto in the coming years.
The desktop-based native wallet and token distribution platform is just the first of Monaize's blockchain applications as their White Paper outlines plans for an integrated crypto wallet in the Monaize banking application, a loyalty rewards system for MNZ token holders based on Monaize's user growth, a MNZ Perk and Referrals Program and many more blockchain-based applications designed to spur growth whilst ensuring that everyone in the Monaize ecosystem benefits.
Pre-ICO Stage
The team at Komodo Platform continues to work closely with Monaize in their personal mission of "empowering developers to build freely and participate in creating the largest open blockchain network".
The MNZ asset chain which was created in September of 2017 before being handed over to Monaize's development team, and remains an integral part of the Komodo ecosystem as transactions continue to benefit from Komodo notary node processing and the extra layer of security provided by their delayed proof of work (dPOW) mechanism.
Monaize have been selling MNZ tokens for the past few weeks as part of a private sale in which they plan to raise $4 million. Funds will be used to accelerate user growth on the French market as well as launching the UK market in order to demonstrate their ability to scale quickly, internationally thanks to their open banking platform.
A date has not yet been set for the public ICO but this can be expected towards the end of Q3.
Anyone interested in Monaize's private token sale is encouraged to get in contact with Robert Miller, Blockchain Innovation Strategist: [email protected]
Image(s): Shutterstock.com