After the UST depegging earlier this month, which caused LUNA to drop over 99% in price, the community behind the token passed a revival plan proposal that will fork the old chain, creating a new token and blockchain without the stablecoin. The new chain is scheduled to launch tomorrow, May 27th, and the old chain will be called Terra Classic. CoinMarketCap updated the original LUNA token's name to be called Terra Classic and added the upcoming LUNA coin to its list of cryptocurrencies in anticipation of the fork.
CoinMarketCap Adds Terra Classic and Terra 2.0
Since the proposal to fork Terra Luna passed a few days ago, the fork is inevitable. As such, CoinMarketCap updated the name for Terra Luna (LUNA) to Terra Classic (LUNA).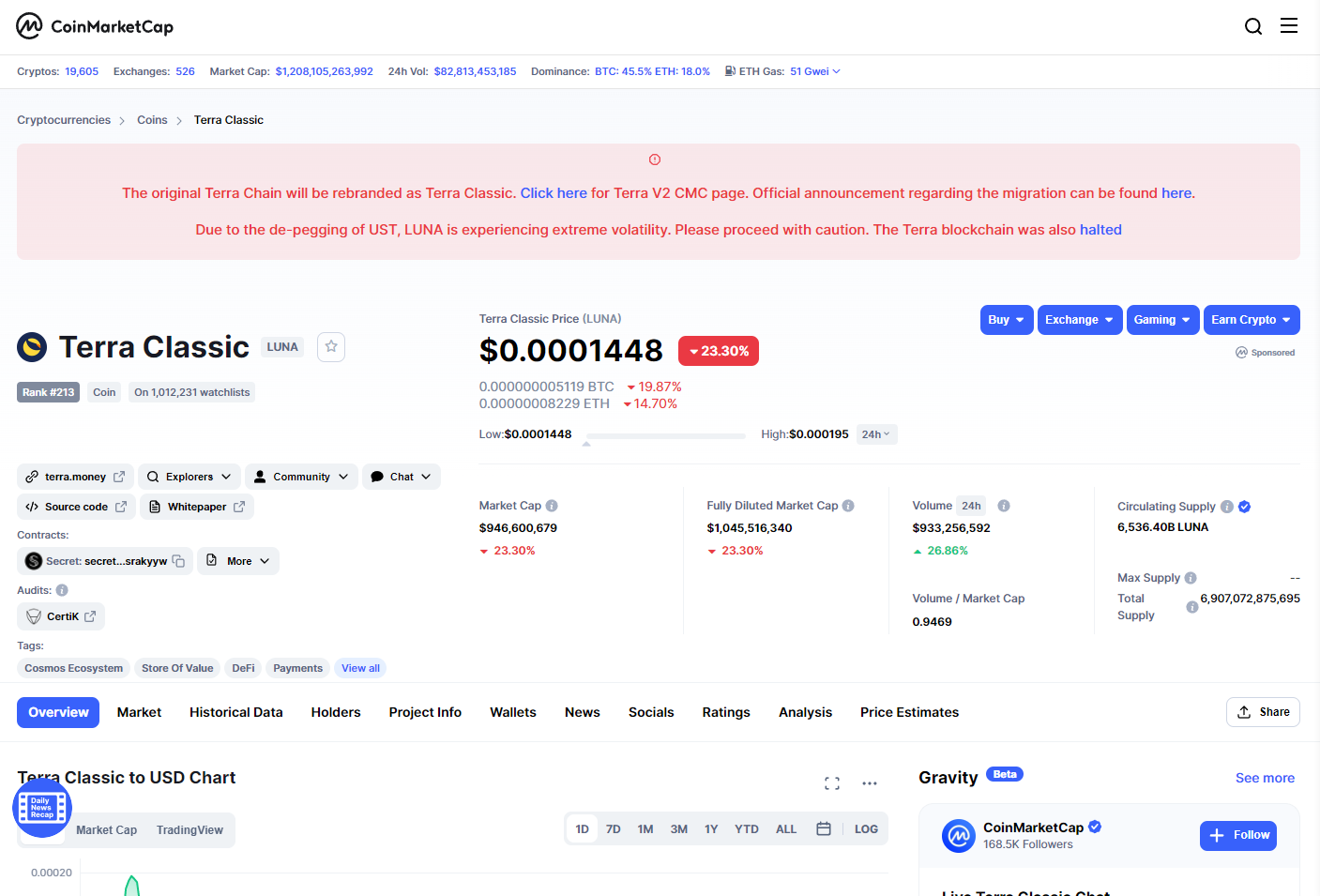 While the name of the cryptocurrency has been updated to Terra Classic, the token itself is still called LUNA. According to the recently passed proposal, the old token's name will be LUNC (Luna Classic), while the new token will be called LUNA.
The chances are that once the fork occurs, CoinMarketCap will also update the name of the old token to LUNC to avoid confusion for traders.
In addition, CoinMarketCap created a page for Terra 2.0 titled Terra Luna V2. The token is already on 458 users' watchlists as the cryptocurrency is currently featured as an "Untracked Listing."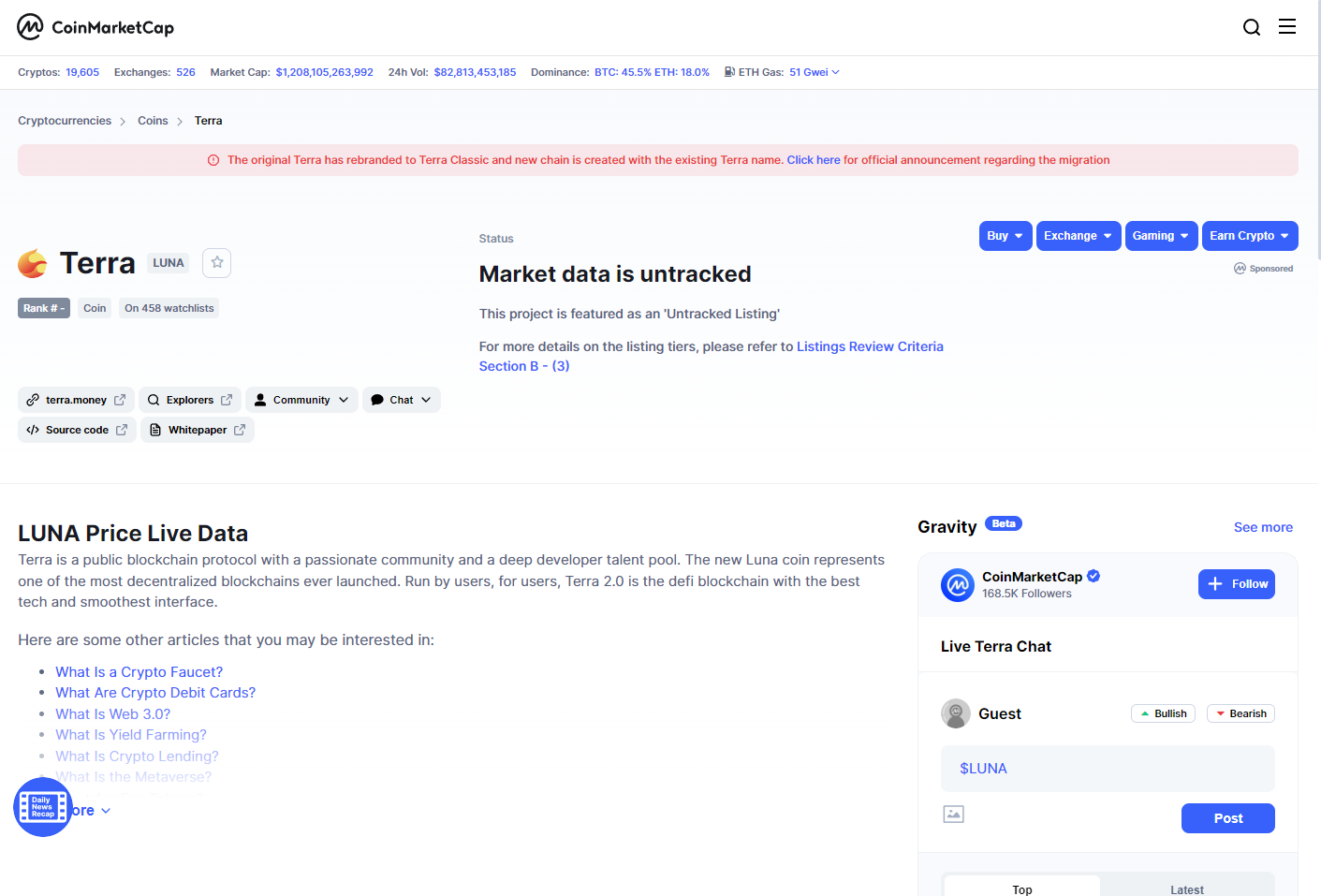 As you may notice, Terra Luna V2 has a redesigned logo to differentiate it from the old LUNA project. While the old logo featured a blue circle with yellow accents, the new logo includes a yellow circle covered in half with fire, quite an upgrade and rebrand from the original design.
Exchanges Prepare for Terra 2.0 Launch
In anticipation of the fork tomorrow, several exchanges are already adding support for the new protocol. So far, LBank, Bitfinex, Bybit, KuCoin, Gate.io, FTX, Bitrue, and Huobi have published official announcements supporting the airdrop and launch of LUNA 2.0 on May 27th.
In addition, the new Terra ecosystem is starting to welcome its new applications with Soil Protocol launching an NFT infrastructure layer built for Terra 2.0. Soil Protocol's APIs enable developers to deploy NFT projects without writing smart contract code, supporting artists, creators, and builders with a range of dev tools.
1/ To nurture projects with nutrients and organic matter that together, support life and build the ecosystem. 🌱

Soil Protocol is the NFT infrastructure layer built for Terra 2.0. Our APIs allow devs to develop NFT projects without writing smart contract code. pic.twitter.com/H19spBq2w6

— Soil Protocol (@Soil_Protocol) May 26, 2022
When it comes to the airdrop, if you're looking to receive LUNA tokens, you still have time until May 27th to purchase LUNA, which will be snapshotted tomorrow to create a genesis file for the new launch.
Keep in mind that it also might be cheaper to wait for the new LUNA token listings to hit exchanges and stabilize in price before purchasing them, as chances are a significant number of users will dump their airdropped tokens for profit.
Terra Classic is currently trading at $0.000148, down 21% in the past 24 hours. Its market cap is $974 billion, with a 24-hour trading volume of $921 million. The circulating supply of Terra Classic remains at 6.5 trillion tokens.
Disclosure: This is not trading or investment advice. Always do your research before buying any cryptocurrency.
Follow us on Twitter @nulltxnews to stay updated with the latest Metaverse news!
Image Source: kviztln/123RF