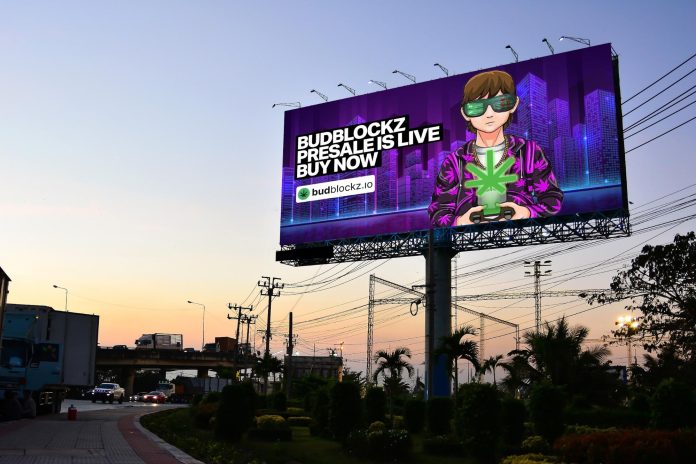 Investors have a keen eye on two promising crypto platforms; Cosmos (ATOM), primarily an interoperable blockchain platform that allows users to connect with other blockchains. The other one is BudBlockz, a massively popular and high-performing cannabis crypto and NFT platform. There are some good reasons blockchain experts and investors speculate that these two projects have a powerful potential to fetch high ROI in 2023.
Why Should You Consider Investing in Cosmos (ATOM)?
Cosmos is a forward-thinking blockchain project that aims to help users use (ATOM) as more of a utility token to achieve maximum scalability and interoperability between different blockchain networks. In addition, the project is designed to offer blockchain developers the ability to build PoS (Proof-of-Stake) protocols on different blockchains. 
Cosmos is often dubbed the "internet of blockchains" that will provide users with seamless interaction, especially in achieving faster and more transparent blockchain transactions. In addition, crypto analysts also speculate that ATOM will continue to experience a consistent climb in value in the coming years, especially in 2023, thanks to its cutting-edge portfolio and use cases. 
How BudBlockz is Primed for Continued Success and Why You Should Jump On The $BLUNT Bandwagon
There is no question the global market for legal marijuana and cannabis products is exponentially growing. And experts claim that the CBD market will reach the $27 billion mark towards the start of 2023. Why? Well, this is mainly because a lot of countries are now embracing the use of both recreational and medicinal marijuana. And many governments will likely legalize cannabis in the coming year. 
BudBlockz has proven to massively capitalize on this opportunity as the platform aims to unite cannabis users and businesses by bringing them to one interoperable, transparent, and DeFi platform. In addition, BudBlockz will offer businesses and users powerful opportunities to conduct seamless transactions, allowing users to access global marijuana markets to buy and sell top-quality cannabis products. 
Another reason why BudBlockz is getting so popular is because the company is helping users be more informed on how the CBD industry works. In addition, it aims to educate people on various laws and regulations around marijuana and CBD products. 
BudBlockz's native crypto, $BLUNT, will allow users to buy and sell products on the BudBlockz platform. Token holders will be the main participants that will fuel the platform's growth. It ensures that BudBlockz will be an authentic and secure platform to buy and sell CBD products throughout the globe. 
The Popularity of Ganja Guruz
There is no doubt that BudBlockz's NFT collection, Ganja Guruz, is currently surpassing some very popular names in the NFT marketplace, and with good reason. You see, one of the best things about being a Ganja Guruz owner is that BudBlockz will provide you with the chance to become a certified stakeholder in various CBD and legal marijuana companies on its platform. It means you'll receive dividends every month. 
Furthermore, BudBlockz's NFT holders will also have unique access to exclusive CBD brands on the platform. In addition, NFT holders will also be given frequent discounts and promotional offers, allowing them to buy their favorite products at attractive prices.
To mint your own BudBlockz Ganja Guruz NFT visit: https://budblockz.io/nfts
Once on the page click the "Mint Now" button and connect your ERC20 compatible wallet. You will be able to mint your Ganja Guruz NFT for 0.09 ETH.
Purchase or learn more about BudBlockz (BLUNT) at the links below:
Official Website: https://budblockz.io/
Presale Registration:: https://app.budblockz.io/sign-up 
BudBlockz Community Links: https://linktr.ee/budblockz
Disclosure: This is a sponsored press release. Please do your research before buying any cryptocurrency or investing in any projects. Read the full disclosure here.
Follow us on Twitter @nulltxnews to stay updated with the latest Crypto, NFT, AI, Cybersecurity, Distributed Computing, and Metaverse news!