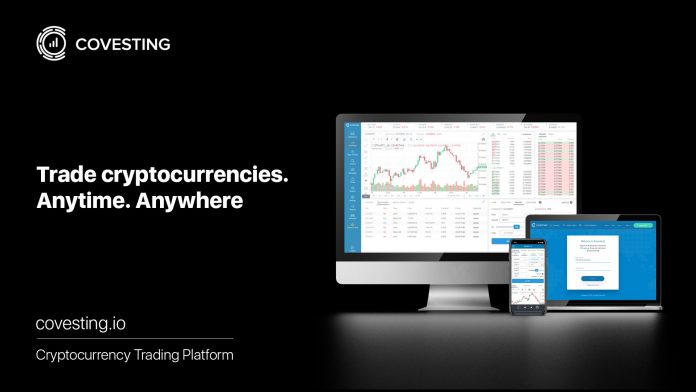 Times are hard for crypto at the moment: governmental and institutional bans, lots of scam and frequent hacks have come as a hard blow to the reputation of the industry, spurring active discussions about the future of the digital assets.
Disclosure: This is a Sponsored Article
Covesting, an ardent supporter of the blockchain technology, is ready to take on the challenge. A cryptocurrency startup has been launched by former Saxo Bank traders, and the team was quick to recognise benefits of the new technology as soon as it emerged. Covesting has decided it will stand out among numerous adopters by setting strict standards and raising the bar on security and user experience, and this approach has proved effective.
So far, Covesting has not missed a single deadline when it comes to rolling out its products. It launched its educational and informational initiative Crypto Intelligence Portal early this year, while Phase 1 of beta testing started in April, even earlier than expected.
Covesting proudly says the beta testing was a huge success: 200 beta testers selected among professional cryptocurrency traders participated in the testing process, actively reporting bugs and helping the Covesting team considerably improve platform features. To make the improvement process even more efficient, Covesting launched 24/7 multilingual support as early as at the beta testing stage, which is rarely done by startup companies.
Now, finally, Covesting is ready to let everyone interested in advanced technologies test the features of the platform. The platform already includes a fully functional exchange, a ranking of traders according to their performance, and many other options. Such features as copy-trading and algorithmic trading are now being developed by the team and will soon be added to the platform.
The official launch of the platform is due to be held very soon, in about two months. Covesting is using this short pre-launch period to tighten up security with the help of independent security audit companies and white hat hackers. What is more, Covesting is at the final stage of obtaining a DLT license from Gibtaltar, one of the most friendly jurisdictions for blockchain companies with a strict set of standards in terms of risk management, protection of client assets, and IT controls. It is expected Gibtaltar's GFSC will grant Covesting the license this summer.
Covesting is confident that cryptocurrencies will be widely adopted in the financial industry, while the company's commitment to high standards in the area of user experience and protection of client assets will contribute to a considerable improvement of the reputation of this important technology.
Learn more and your free account at covesting.io
Image(s): Shutterstock.com