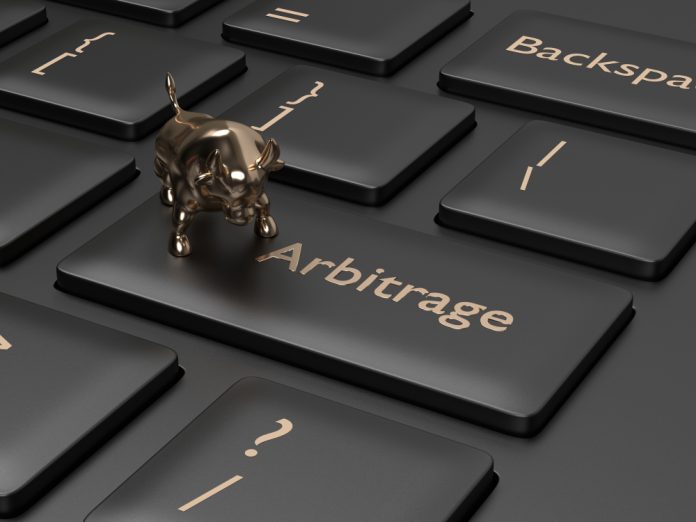 Regardless of what the overall cryptocurrency market momentum may bring to the table, there will always be arbitrage opportunities to take advantage of. That is also what makes these markets so interesting to watch at any given time. The following six opportunities will allow traders to make some money by exploiting existing and potentially growing price differences between trading platforms.
Bitcoin Gold (Koineks / Bitfinex)
It seems there is at least one Bitcoin Gold-related arbitrage opportunity per week. This week is no different in that regard, as there is a notable, albeit minor, price difference between Koineks and Bitfinex. Buying BTG on the former platform lets users flip it on Bitfinex for a gain of 0.98%. Not a bad trade to start off the day, although there will undoubtedly be more appealing opportunities as the day progresses.
Bitcoin Cash (KuCoin / Vebitcoin)
It is always refreshing to see direct arbitrage opportunities which do not involve HitBTC, Livecoin, or EXMO these days. For those who want to explore a 1.6% price gap between KuCoin and VeBitcoin, flipping Bitcoin Cash will quickly become one of the more lucrative options throughout the day. Although the pair may still be labeled as BCHABC on these platforms, it is the Bitcoin Cash chain, thus sending funds over should not pose any real problems.
Stellar Lumens (Binance / Bitexen / HitBTC)
There are two major arbitrage opportunities involving Stellar Lumens or XLM. The price on Bitexen is lower than HitBTC, which makes for an easy 1.28% flip. However, the price on Bitexen is higher than both Kraken and Binance, thus one could flip XLM for profit between those exchanges as well. Going directly from Kraken or Binance to HitBTC will yield the highest profit of 2.55%.
Tron (Koineks / KuCoin / OKEx)
Similar to XLm, the TRX direct arbitrage opportunities are rather numerous as of right now. Koineks maintains a lower price compared to HitBTC, OKEx, Gate, Bitfinex, and Binance. Profits for these markets can be as high as 4.4%. There is also a lower price on Binance and KuCoin when compared to Bitfinex and HitBTC. Another 2.6% profit can be pocketed from exploring these price gaps.
XRP (Kraken / Binance / EXMO)
Given the most recent XRP price surge, it is only normal most exchanges cannot keep up with the global average right now. Buying XRP on OKEx, Kraken, Bittrex, or Binance lets users sell it on EXMO for an average profit of 1.05%. Buying on Sistemkoin, Kraken, Bitexen, Bittrex, or Binance to sell on HitBTC will yield an average profit of 2.7%. All of these opportunities can be quite profitable to explore, assuming the gaps remain in place for some time to come.
Dash (Koineks / Vebitcoin / HitBTC)
A few interesting options to explore comes in the form of Dash. There are numerous price gaps between HitBTC and a growing assortment of other exchanges. Prices on Koineks, VeBitcoin, Bittrex and Kraken are all significantly lower. Potential profits from these arbitrage gaps add up to a maximum of 2.64%, with the average being closer to 1.6%.
---
Information provided by Arbing Tool.
Disclaimer: This is not trading or investment advice. The above article is for entertainment and education purposes only. Please do your own research before purchasing or investing into any cryptocurrency.
Image(s): Shutterstock.com