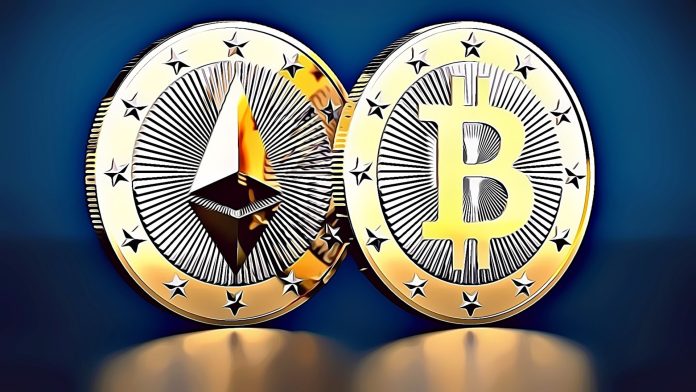 Cryptocurrency markets are retracing this Friday slightly as Bitcoin and Ethereum prices test new support levels. BTC is trading at $23.8k after rising to a high of $24.8k, while Ethereum is trading at $1.8k after peaking at $1.9k on Thursday. As expected during the weekend, the 24-hour trading volume for both crypto assets also slightly declined.
Crypto Market Update
Let's look at relevant cryptocurrency market news which could be affecting the price during the next several days:
BlackRock Launches Bitcoin Trust
In a blog post on August 11th, BlackRock announced that it's launching a private Bitcoin trust for its clients. The news comes after the asset management company's announcement last week of a partnership with cryptocurrency exchange Coinbase, providing additional exposure for institutional and retail investors to crypto markets.
With the recent news, BlackRock is shifting its focus on crypto markets, which could potentially catapult Bitcoin and Ethereum to new heights as the bear market trend reverses and institutional investors decide to start opening long-term positions in various crypto assets.
July's CPI Data Fuels This Week's Bull Run
On August 10th, July's CPI data revealed a net-zero increase, marking the first time prices remained steady this year. According to the report:
"The gasoline index fell 7.7 percent in July and offset increases in the food and shelter indexes, resulting in the all items index being unchanged over the month. The energy index fell 4.6 percent over the month as the indexes for gasoline and natural gas declined, but the index for electricity increased. The food index continued to rise, increasing 1.1 percent over the month as the food at home index rose 1.3 percent."
We could start seeing inflation decrease in the following months as the Fed's monetary policy seems to have curbed rising prices. July's CPI data caused a significant upside for stocks and cryptocurrencies, which could push through next week.
Bitfinex Under Investigation Once Again
Bitfinex can't avoid investigations over its operations in the U.S. as the company is again facing an inquiry about its userbase. According to Twitter user @oleh86, Bitfinex is in legal proceedings with the U.S. as the DOJ (Department of Justice) denied his Freedom of Information request about BitFinex because it could impair court proceedings. The user published the FOIA denial on Twitter which can be viewed below:
Looks like #Bitfinex is in legal proceedings in the US – the DOJ denied my FOIA request on grounds of Section b(7)(A) aimed at preventing pretrial publicity that could impair a court proceeding@Bitfinexed @Frances_Coppola @realPaulSantos @CasPiancey @BennettTomlin @vhranger pic.twitter.com/NMZJuXZypq

— oleh86 (@oleh86) August 10, 2022
Despite the potential ongoing investigation and legal battle with the government, Tether remains pegged at $1. This isn't the first time Bitfinex has been under investigation from U.S. authorities, as the company faced extensive legal trouble in 2021 when the Attorney General required Bitfinex to end all activity in New York, citing:
"The Office of the Attorney General (OAG) found that iFinex — the operator of Bitfinex — and Tether made false statements about the backing of the "tether" stablecoin, and about the movement of hundreds of millions of dollars between the two companies to cover up the truth about massive losses by Bitfinex."
Bitcoin and Ethereum Price Prediction
Cryptocurrency markets remain healthy and continue to trade above the $1 trillion market cap. We're likely to see Bitcoin and Ethereum attempt to test support at current levels and trading volume to decline over the weekend.
The next move will likely come on Monday, when BTC and ETH could attempt to establish momentum for a new rally once again, with BTC pushing towards $25k and ETH trying to break its three-month high of $2k.
Disclosure: This is not trading or investment advice. Always do your research before buying any cryptocurrency or investing in any stocks.
Follow us on Twitter @nulltxnews to stay updated with the latest Crypto, NFT, AI, Cybersecurity, Distributed Computing, and Metaverse news!
Image Source: lightboxx/123RF // Image Effects by Colorcinch