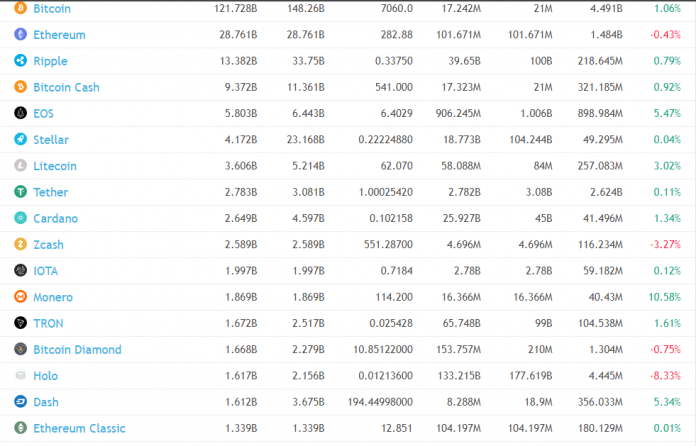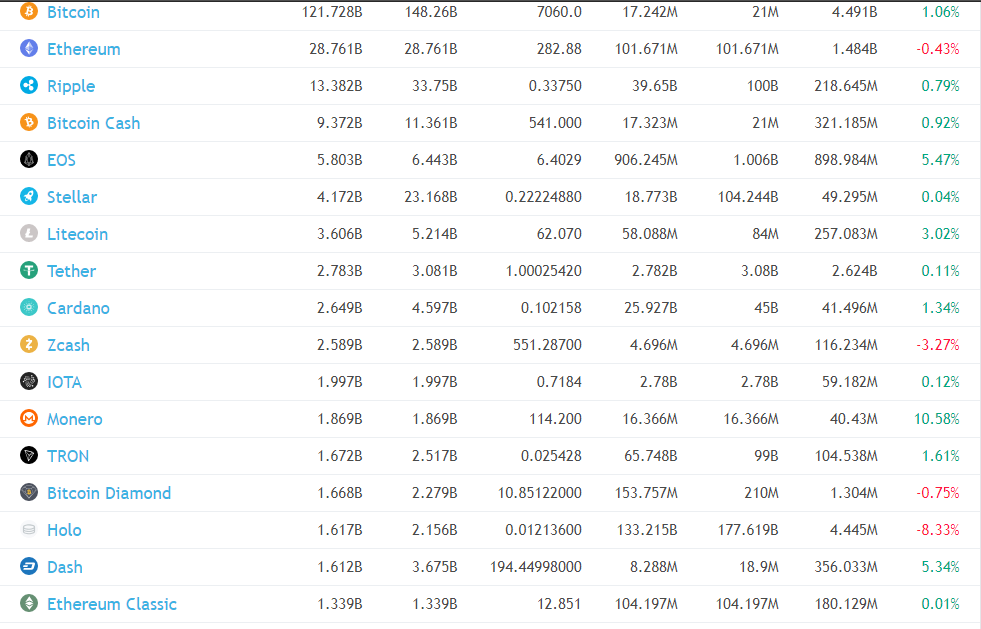 Bitcoin (BTC)
At press time, bitcoin is trading for about $6,985. This is a significant rise from yesterday's fall to $6,800, and bitcoin is once again expected to strike the $7,000 mark.
The Satis Group – which advises businesses on initial coin offerings (ICOs) – just released a new report that suggests bitcoin could surge to $96,000 within the next five years. In addition, it states that the cryptocurrency market will reach $3.6 trillion, and that specific altcoins – like Monero and Decred – will spike to unprecedented numbers.
Representatives claim:
"Currency and privacy networks will be the largest beneficiaries, as the most fundamental value will stem from a store of value use cases."
Ethereum (ETH)
Ethereum is currently trading for about $283. This is nine dollars more than where it stood yesterday afternoon.
The biggest story in the Ethereum space comes by way of CBOE, which states it will launch Ethereum futures by the end of the year. The only thing the team is waiting on is further clarification by way of the Commodity Futures Trading Commission (CFTC). To help expedite the process, CBOE is basing all upcoming ether futures on a platform offered by Gemini, the New York-based digital exchange brought to fruition by Cameron and Tyler Winklevoss.
CBOE president Chris Concannon has often said that the company would not stop at bitcoin, and that it would add further cryptocurrencies such as Ethereum and bitcoin cash.
Ripple (XRP)
Ripple is currently trading for about 33 cents. This is roughly one cent less than where it stood just a few days ago.
Satis Group – which predicted a massive boom for bitcoin in the next five years – believes that Ripple's XRP is due for a monster crash, and that the currency will be trading for one cent by the year 2023.
Satis Group cites three distinct problems with Ripple's infrastructure that could bring the price down. Authors of the latest report say that XRP is marketed in a misleading manner; that it is not needed within its own network and is a centralized currency.
Bitcoin Cash (BCH)
Bitcoin cash is trading for about $545. That's roughly $12 higher than where it stood last week.
Digital currency payment platform Bitpay has recently made it possible for merchants to receive payments and settlements in BCH. Customers can take advantage of this new system by utilizing their built-in wallets on the Bitpay platform.

Litecoin (LTC)
Litecoin is trading for $61. Last week, LTC was stuck hovering at the $55 mark, and its break of the $60 line is seen as a positive sign of maturity.
Litecoin founder Charlie Lee says that during bear markets, it's always smart to purchase a little crypto for one's portfolio using money you can "afford to lose." He comments:
"With the price depressed, I think it's a good time for people to sit and have their heads down and work and get stuff done, and that's what I've seen in the past few bear markets, actually."
Image(s): Shutterstock.com