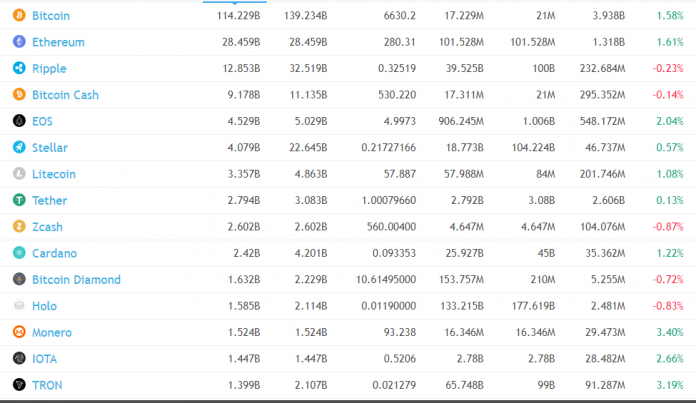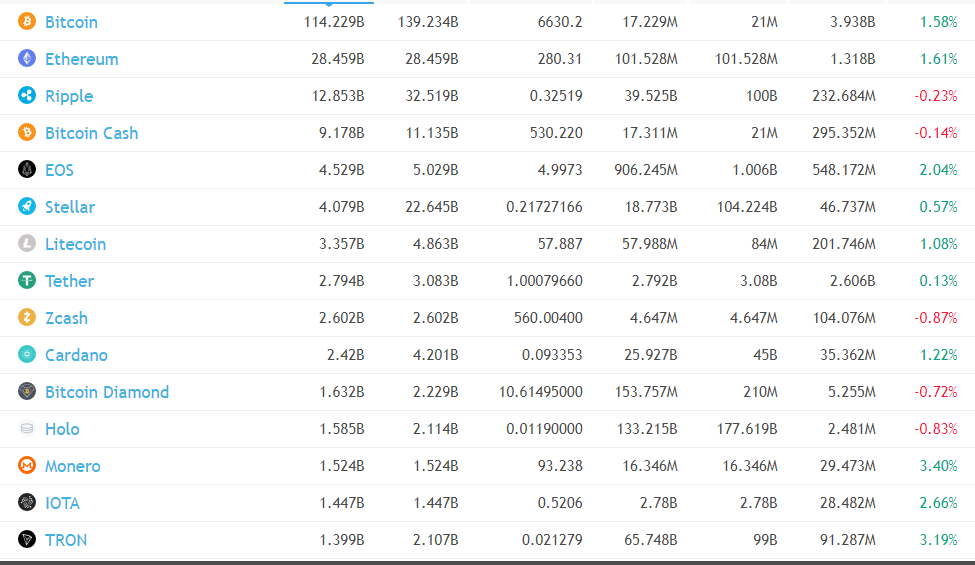 Bitcoin (BTC)
The father of cryptocurrency is up at press time by nearly $200. It is now trading for over $6,600 – a solid spike from yesterday's $6,400, which is where it's been hanging around for the past few days. Clearly, bitcoin has managed to break current resistance and boost its support.
It has been a wacky week for bitcoin, indeed. Despite hanging in the $6,400 section for most of it, the currency did experience a $400 spike roughly 48 hours ago within a 20-minute span. However, for one reason or another, this didn't last particularly long. It ultimately fell back down its previous level but is now witnessing steadier jumps in its price. It was trading for $6,500 early this morning, and now has an additional $100 to brag about.
Ethereum (ETH)
Ethereum – the second-largest cryptocurrency by market cap and the number one competitor to bitcoin – has experienced similar movement. While the head honcho BTC has undoubtedly shown the most fluctuation and price behavior (after all, it's the largest one out there), Ethereum has encountered several slumps throughout the week that saw it trading between $270 and $279, where it presently stands. This is about three dollars higher than yesterday's afternoon price of $276.
It's a small spike, but comparable to that of bitcoin. Being the larger coin, BTC's rise is more noticeable, but it's still small beans when compared to its overall size and market cap. Ethereum's three-dollar spike is more respective to its smaller market cap.
Ripple (XRP)
Presently, the third-largest cryptocurrency – Ripple – is trading for about 32 cents. This is about two cents less than where it stood earlier in the week.
Recently, the company's chief technology officer David Schwartz was asked about the limitations of the XRP ledger. He responded with:
"We expect that this will not be a winner take all outcome, but instead several digital assets can survive for specific use cases. Today, for example, Ethereum provides a "programmable money" function that the XRP Ledger cannot. Adding this capability to the XRP Ledger would have huge costs that reduce XRP's suitability for payments. You can't have everything."
Bitcoin Cash (BCH)
Bitcoin cash is trading for about $532, which means it remains relatively unchanged since last week.
Overall, bitcoin cash has performed far worse than most other cryptocurrencies. At the time of writing, it has lost nearly 90 percent of its total value since last January. However, it was originally slated to be more powerful than bitcoin, offering lesser fees and faster transaction times. Sadly, the coin has yet to convince followers of its complete prowess.
Litecoin (LTC)
Litecoin is currently trading for about $57, which means it's up by about two dollars from the beginning of the week.

Despite the crazy ups-and-downs endured by the sixth-largest cryptocurrency, some sources still claim Litecoin is one of the top-growing altcoins in the crypto arena.
Image(s): Shutterstock.com