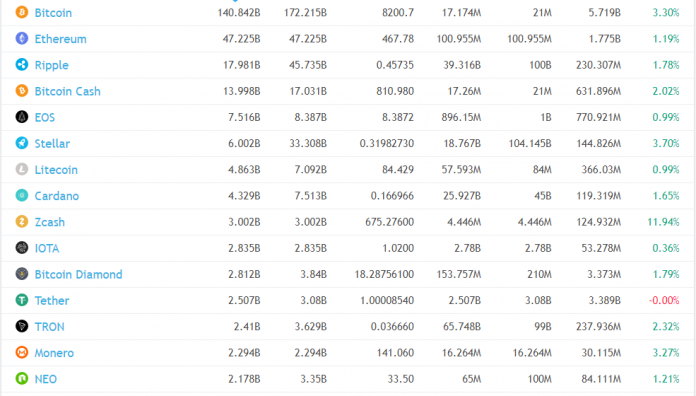 Bitcoin (BTC)
The father of crypto is currently trading for roughly $8,170. The currency has managed to stay above $8,000 all week, though we've witnessed marginal rises and drops between $8,000 and $8,300.
Recently, the Winklevoss Twins' application for a bitcoin ETF was rejected. The SEC has been relatively mixed when considering bitcoin ETFs. After releasing the application of bitcoin trust VanEck SolidX to the public for comment, many believed the organization would be more open to the notion of a bitcoin ETF, though the body has also delayed decisions on five additional applications.
Ethereum (ETH)
The second-largest cryptocurrency by market cap and the number one competitor to bitcoin is trading for $466 at press time.
The currency has been marred by Ponzi scheme-like games built on the Ethereum network, along with investor rejections over the past few days, which may be causing the currency to move up and down so consistently. Ethereum can't seem to make up its mind regarding where it wants to be and has often moved between the $450 and $470 ranges.
Ripple (XRP)
Ripple's XRP is trading for 45 cents, about three cents down since the beginning of the week.
The company's chief marketing strategist Cory Johnson recently commented, "Bitcoin's slow… Ether is slow. XRP moves really, really fast just because its technology is a little bit different."
Sadly, his comments have done little to push the currency forward, which according to one source, is losing as much as 2.7 percent each day.
Bitcoin Cash (BCH)
Bitcoin cash is down slightly from $833 a few days ago to $817. Recently, Coinbase cleared itself of potential insider trading dating back to December when bitcoin cash was first added to its trading platform. The price skyrocketed days before it was set to be added, which caused many customers to accuse Coinbase employees of purchasing vast amounts of the coin to boost its price before it was released.
Two national law firms have looked at the matter and have allegedly found no evidence of wrongdoing. Coinbase, however, is still facing a class action lawsuit surrounding the accusations.
Litecoin (LTC)
Litecoin has remained relatively still since the beginning of the week and is currently trading for about $84.

Recently, founder Charlie Lee sold his entire Litecoin stash, causing many to debate what would spur such a decision. Lee says he feels Litecoin is undervalued when compared to bitcoin. Getting rid of his funds was a relief, and he's looking forward to losing his bias and spending time further developing the Litecoin arena.
"LTC is trading four times faster than bitcoin (BTC), but bitcoin is more used. At present, the user base of bitcoin and Litecoin is relatively close. Many people use bitcoin and Litecoin at the same time."
Image(s): Shutterstock.com