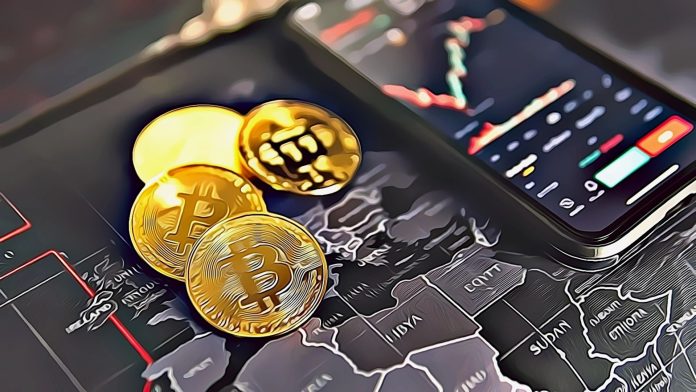 In 2023, the landscape of cryptocurrency trading within the world's biggest banks is showing signs of evolution. While 74% of the top 50 global banks by assets under management have embraced crypto trading by connecting to regulated exchanges like Binance and Coinbase, they have yet to support retail crypto trading or on-ramping from their native platforms. This cautious approach is primarily due to several factors that have slowed down the adoption of blockchain-based solutions within the banking sector.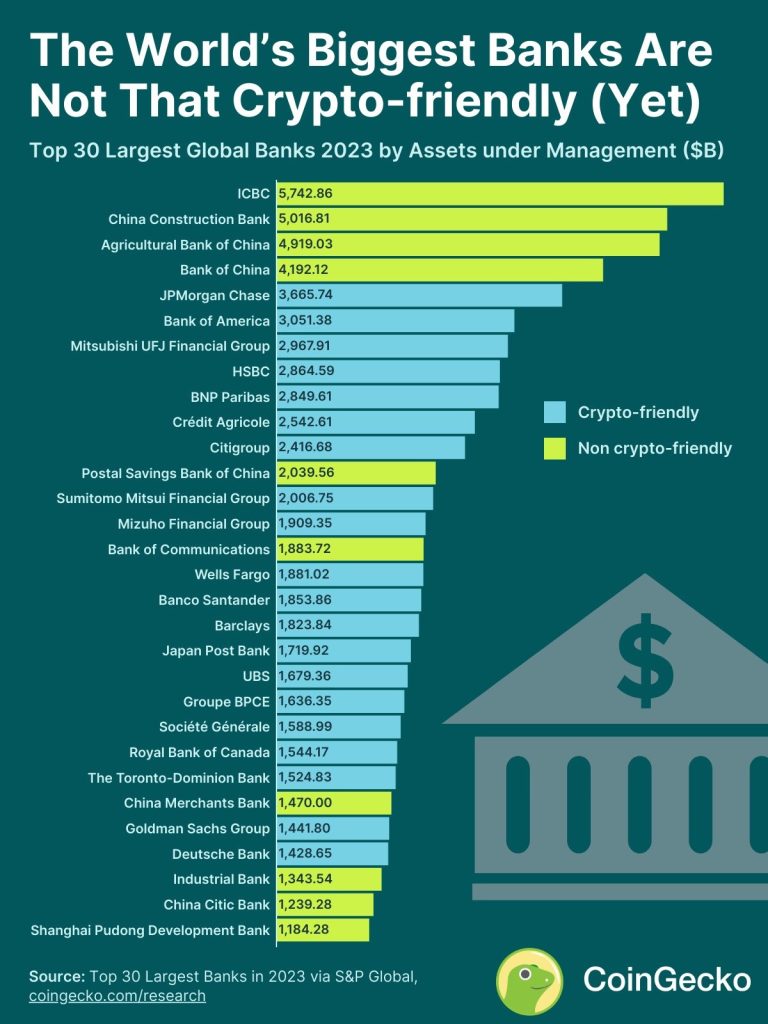 Stringent Regulatory Environment
One significant barrier to full-scale integration is the stringent regulatory environment surrounding cryptocurrencies. Governments and financial authorities have been grappling with how to effectively regulate this new asset class, given its inherent volatility and potential for misuse in illegal activities. Consequently, banks are wary of diving headlong into retail crypto trading, as they want to avoid any possible regulatory backlash or legal complications.
FTX Crypto Crash
The recent high-profile failures of cryptocurrency exchanges, such as the FTX incident, have also left banks apprehensive. These failures highlight the risks associated with crypto trading and raise concerns about the safety and security of investors' funds. Big banks, with their reputation at stake, are understandably cautious about exposing their customers to such risks.
China and US Banks Dominance
Moreover, the dominance of US and Chinese banks in the list of top 50 banks reflects the conservative approach of major economies towards cryptocurrencies. China, for instance, has maintained strict regulations on cryptocurrencies, while the US is still grappling with finding the right balance between innovation and investor protection. This lack of regulatory clarity in major economies has held back the integration of cryptocurrencies within banks' platforms. However, China has been making moves into supporting cryptocurrency again and it's already eyeing Web3 investments and startups and the growing adoption and awareness in the area and neighboring countries as well. 
Crypto Friendly Banks
Here are some of the top 50 global banks known for their crypto-friendly approach, amounting to 74% of the total number. Major global banks such as JPMorgan Chase, Bank of America, Mitsubishi UFJ Financial Group, HSBC, BNP Paribas, Crédit Agricole, Citigroup, Sumitomo Mitsui Financial Group, Mizuho Financial Group, Wells Fargo, Banco Santander, Barclays, Japan Post Bank, UBS, Groupe BPCE, Société Générale, Royal Bank of Canada, and The Toronto-Dominion Bank have shown a friendly attitude towards cryptocurrencies.
Final Thoughts
Lastly, while the majority of the world's biggest banks have connected to regulated crypto exchanges, the integration of cryptocurrency trading within their native platforms is still hindered by strict regulations, concerns over market volatility, and high-profile exchange failures. The dominance of US and Chinese banks further reflects the cautious approach of major economies towards cryptocurrencies. However, as the regulatory environment matures and banks develop robust risk management measures, the future holds the potential for a more widespread adoption of cryptocurrencies within the banking sector.
Disclosure: This is not trading or investment advice. Always do your research before buying any cryptocurrency or investing in any services.
Follow us on Twitter @nulltxnews to stay updated with the latest Crypto, NFT, AI, Cybersecurity, Distributed Computing, and Metaverse news!
Image Source: releon003/123RF // Image Effects by Colorcinch