Cryptocurrency markets have been quite bullish the past week. Let's take a look at a few markets and go over some key levels and speculate on the future of their prices.
NEO Price Analysis
NEO has been exhibiting a bullish outlook in the last 24hrs, despite having begun trading at $17.20 (A), it consolidated between $17.47 and $17.11 for a period of time.
 A downtrend is later on seen at 22:00 due to the emergence of a trend reversal patter, which dipped the price down to a low of $16.16 (B).
 At 04:00, a bullish divergence pattern emerged and shifted the price up to $17.57 (C).  Since the bulls had the upper hand they further moved the price up to a high of $18.45. 
This was followed by rejection of higher prices thus placed NEO at $18.06 that is the current price.  Increase in NEO market price has therefore, led to positive impact upon investors. This also shows that investors are holding their asset in anticipation for better price.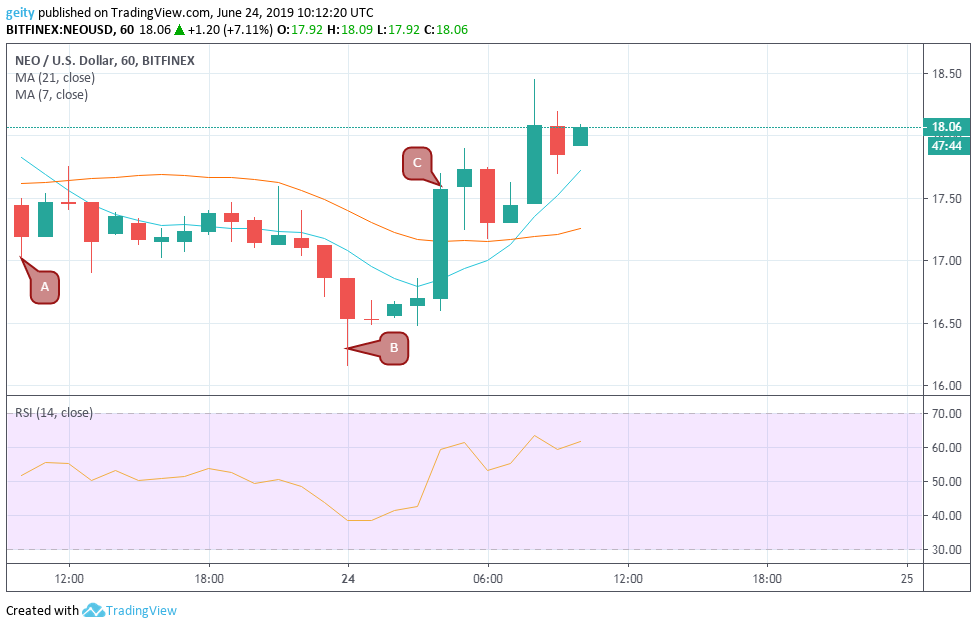 NEO Price Prediction
There is a high chance of a bullish momentum in the coming few hours as indicated by the 7 day MA that is above the 21 day MA.  The RSI is also heading north, reflecting increase in price momentum. New support should be therefore, placed at $17.85.
Monero Price Analysis
XMR/USD pair has been trading on a ragging market in the last 24hrs.  The coin has generally lacked market momentum. XMR began trading at $115.350 (A) that was followed by a strong buying pressure that shifted the price up to $119.820 (B). 
As at 21:00 on 23 June, a bearish accumulation pattern was encountered that led to a downtrend that dipped the price down to a low of $112.090 (C).
A trend reversal pattern is later seen at around 02:00 that change the momentum to the upward direction.  XMR is currently trading at $116.520.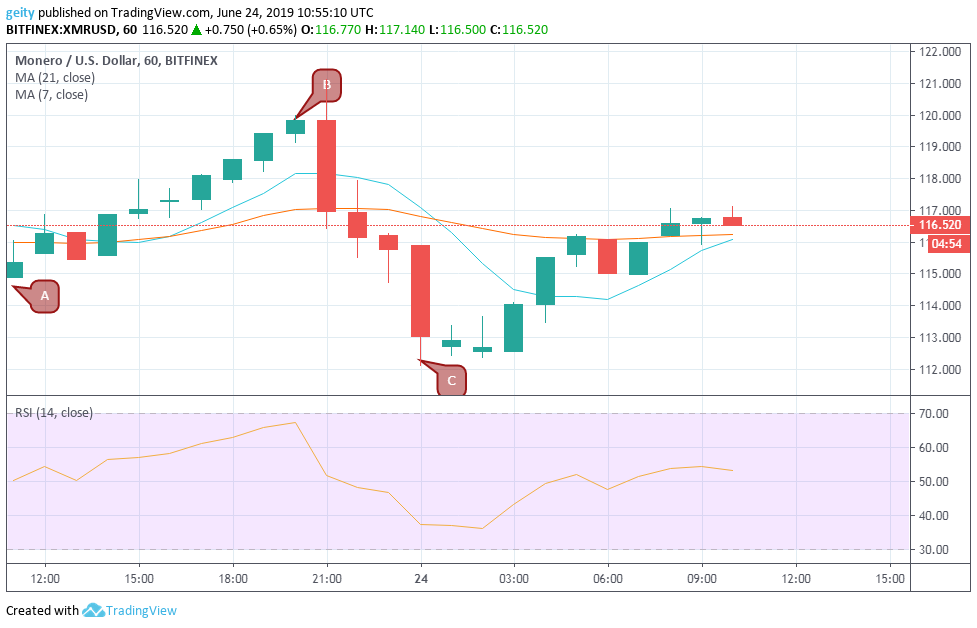 Monero Price Prediction
A sideways price movement is likely to seen in the next few hours since the RSI indicator is currently trading flat thus indicating lack of dominance from either buyers or sellers.  New support level should be set at $115.000
Bitcoin Price Analysis
Just like XMR, BTC has been trading on a sideways trend.  BTC/USD began trading at $10674.01 (A) and is currently trading at $10834.64 thus is up by $1.5%.
BTC therefore began with a strong pressure coming from buyers that resulting to an upward price rally, which pushed the price up to a high of $10750 (B).  Price rejection later followed that dipped the price momentum to a low of $10556.00 (C).
Presence of a Doji pattern is later seen indicating indecision in the market at around 01:00.  This was followed by a bullish engulfing pattern that pushed the price up to close at $10753.13 (D); further price increase is later seen that placed BTC to its current price of $10834.64.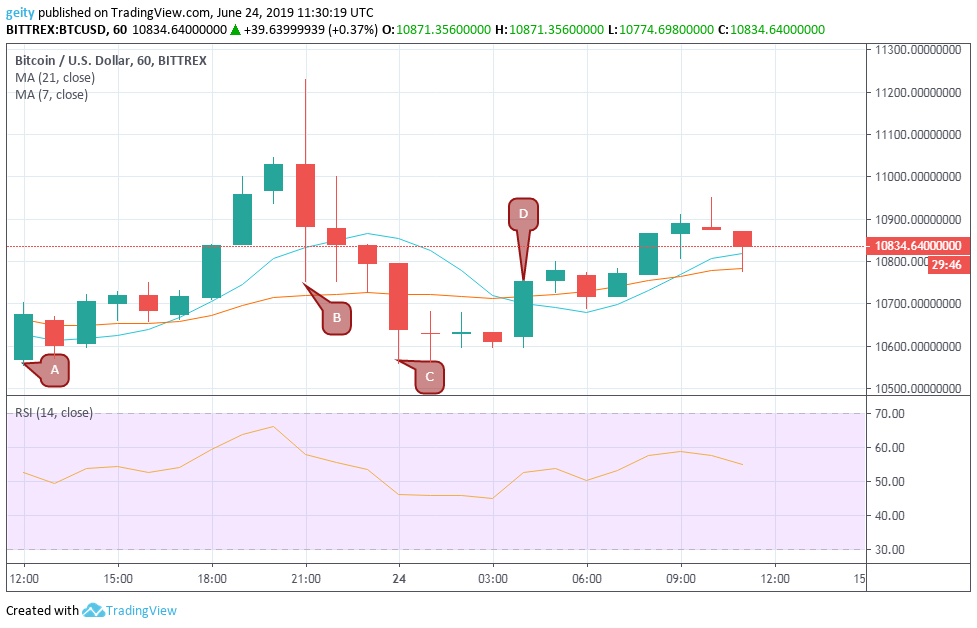 Bitcoin Price Prediction
During the last hour the 7 day MA is seen above the 21 day MA indicating that a bullish signal is likely to occur in the next few hours.  New target should be therefore set at $10933.87 and a stop-loss to be set slightly below the target in case of a breakdown.
---
Disclaimer: This is not trading or investment advice. The above article is for entertainment and education purposes only. Please do your own research before purchasing or investing into any cryptocurrency or digital currency.
Cryptocurrency Charts by Tradingview

Image(s): Shutterstock.com