Bitcoin price recently formed a golden cross which has historically been very bullish. Despite the bullish indicator being triggered, Bitcoin has fallen sharply. The last 24HR BTC has dropped -5% and the last 7 days, Bitcoin price has sold-off nearly -7%. Why could the sell-off be considered normal price action?
Bitcoin Price Shocking Many Analysts 
As we mentioned in a previous price analysis, the golden cross has only been confirmed by bitcoin twice on the yearly charts since 2015. It's historically been a very bullish indicator whether we assess cryptocurrency markets or traditional markets. Bitcoin recently confirmed the cross ( 50 day moving average crossing above the 200 day moving average ) , but it was followed by a bitcoin sell-off. At the time of the cross, Bitcoin was trading around $10,000 and some thought the price would continue surging. At the time of this report, Bitcoin is trading at $9,563 which signifies a drop of nearly $500.
Bitcoin Price Drop  
The drop in price can be considered "normal price action" unless it falls below crucial support levels. During a previous report, we mentioned that in order to manage risk, we would take a look at the potential downside of Bitcoin price as well. $9,400 was outlined as being a key support level. Even with the recent sell-off for BTC, it's still managed to stay above crucial support which is positive.
The fact that many people thought BTC would surge higher is the very reason it's selling off. Not all golden cross formations result in instant rallies. As a matter of fact, most tend to experience a short pull back before going full throttle. At the time of this writing, that seems to be the narrative with BTC price right now.
The $9,400 support region is actually really important. If you take a look at the chart below, you will see that Bitcoin has sold-off and used this support level to re-fuel. In the last two scenarios where Bitcoin tested the $9,400 support level, it ended up rallying pretty hard. You could very well see $9,400 being tested before golden cross technicals get unleashed. In a scenario where $9,400 is tested and rejected, Bitcoin could very well head to $8,600 levels. In a scenario where Bitcoin price follows price action and bounces north of the support level, you could see $10,000 followed by the $11,000 test.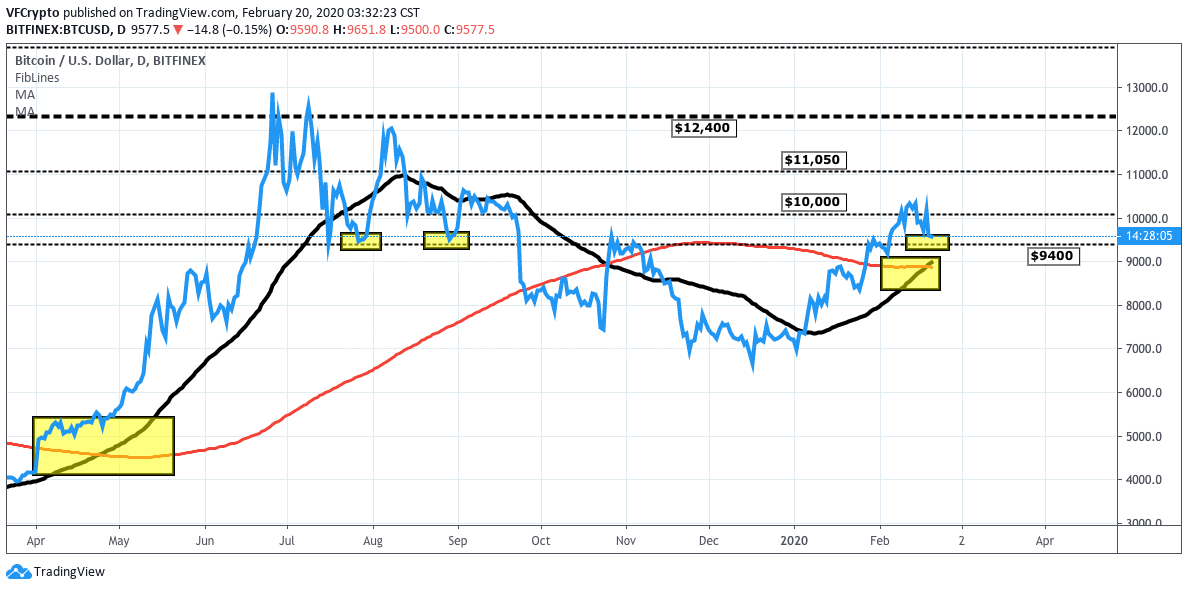 Image Source: Pixabay
The information has been obtained from sources we believe to be reliable; however no guarantee is made or implied with respect to its accuracy, timeliness, or completeness. This material has been prepared for informational purposes only. This Article was sourced from Visionary Financial . Visionary Financial and its affiliates do not provide investment, tax, legal or accounting advice.