After the Fed raised interest rates to unprecedented levels last week, the stock and crypto markets experienced significant losses. This week, Bitcoin, Ethereum, XRP, Solana, and other major cryptocurrencies showed double-digit percent price losses. However, after bottoming out at $29k on May 9th, Bitcoin shows signs of life as the cryptocurrency is currently trading above the $32k level. Let's take a closer look at the current state of the market and see what the future may hold.
Why are Bitcoin, Ethereum, XRP, and Solana prices dropping?
As stock prices fell this week since Bitcoin has been following traditional markets and major altcoins follow Bitcoin's price movements, the stock market and cryptocurrency markets showed their worst days this year.
Moreover, according to alternative.me, the current Fear & Greed index is at an all-time low of 10. The last time the market was in such extreme fear was in January 2022.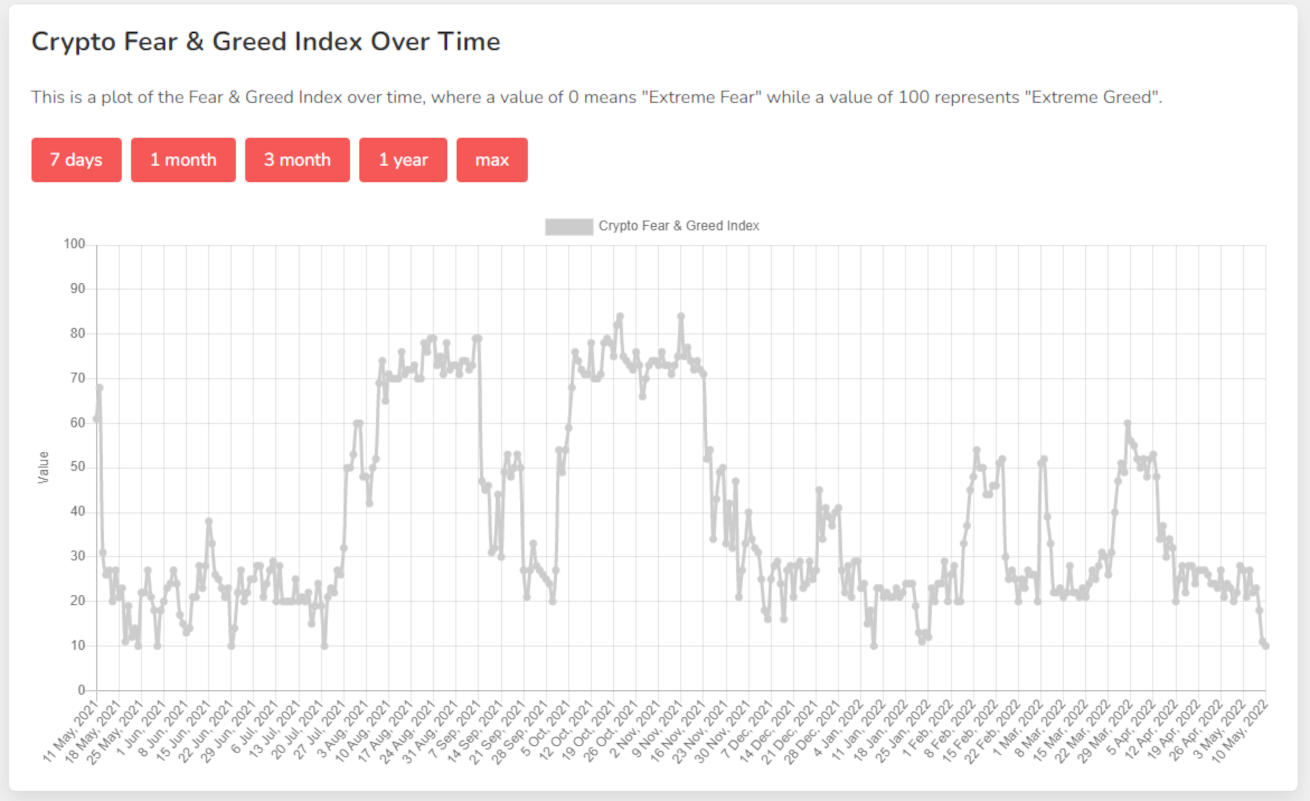 The good news is that the market usually experiences significant rebounds after such a Fear & Greed index, meaning that cryptocurrency prices could start rebounding.
Is this the bottom for Bitcoin, Ethereum, XRP, and Solana prices?
The common consensus among analysts and traders is that Bitcoin and Ethereum, the two most influential cryptocurrencies when it comes to dictating the prices of other altcoins, are increasing their correlation with traditional stock market action. Specifically, the NASDAQ, one of the largest and most impactful stock exchanges in the United States.
Similar to how altcoins show exaggerated price action following Bitcoin and Ethereum, the leading cryptos follow exaggerated movements for the NASDAQ.
Because of the close correlation that crypto currently has with the stock market, to answer whether this is the bottom for Bitcoin, Ethereum, XRP, and Solana prices, we have to look at whether this is the bottom for stocks.
According to a report published yesterday by MarketWatch, Wall Street's fear gauge is still not signaling a stock-market bottom. Similar to how Bitcoin has a fear and greed index, the stock market features the VIX, also referred to as Wall Street's fear gauge. Unfortunately, VIX is still in no man's land, and analysts look for higher levels before calling it a bottom.
There's strong support at the $32k level when it comes to Bitcoin's price, but since the cryptocurrency has only been trading at that level for several hours, it's still too early to tell.
Should You Buy The Dip?
Another common question regarding current price action is whether or not you should buy the dip.
Buying the dip is best in bull markets where the asset shows short-term gains. It's much riskier to attempt and time the bottom during a prolonged bear market similar to what we're experiencing now. A much safer in a short-term bear market where traders expect long-term gains is Dollar-Cost Averaging.
Increasing your Dollar-Cost Averaging investments can significantly reduce your overall cost basis during such volatile times, setting your positions up for more significant long-term gains.
According to multiple reports by Finder released last week, the long-term outlook for Bitcoin, Ethereum, and XRP is still extremely bullish.
Disclosure: This is not trading or investment advice. Always do your research before buying any cryptocurrency.
Follow us on Twitter @nulltxnews to stay updated with the latest Metaverse news!
Image Source: designer491/123RF