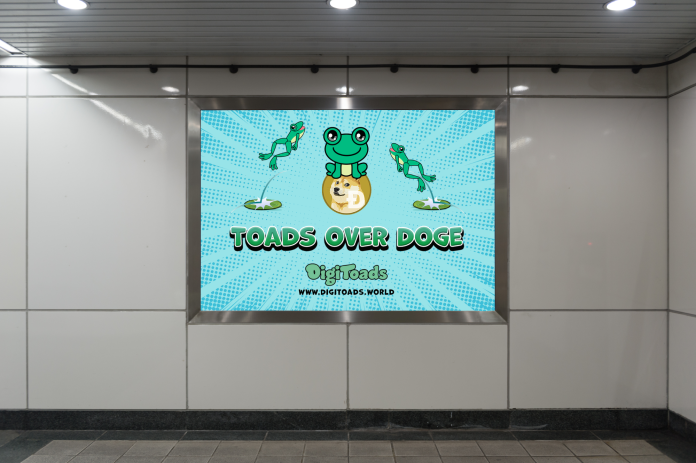 The crypto landscape is a hub for excitement and speculation, owing largely to its volatility and dynamism. Amidst this, memecoins have taken center stage, with the spotlight shifting to them in recent times. While Dogecoin is widely regarded as the pioneering meme coin, it is losing some of its shine as DigiToads, an emerging meme coin, steals the spotlight.
In this article, we will explore the rise and growing popularity of DigiToads and why investors are favoring it over Dogecoin.
DigiToads (TOADS) steal the spotlight to become a favorite memecoin
DigiToads' rise to prominence has been a revelation in the crypto space. Its allure lies in its fresh and creative approach to combining different niches in the crypto ecosystem to create a unique token and platform. DigiToads combines the fun and charm of memecoins with the innovation and appeal of NFTs and P2E, propelling it to raise $6.2 million in presales.
DigiToads' unique approach has seen it attract seasoned investors as well as enthusiasts as they aim to explore novel dimensions in the world of memecoin. Its thrilling blockchain-based game will allow enthusiasts and early adopters to gather, nurture, and battle DigiToads. These DigiToads are digital companions that gamers will use to earn rewards on the platform. This will serve as passive income for players, making the project appealing.
Furthermore, DigiToads will have an NFT collection, which will comprise 3,500 rare and highly sought-after NFTs. Early entry can afford investors an advantage in acquiring these valuable digital collectibles, which will likely soar in the coming months after launch. The NFTs can also be staked on the platform for residual income from the staking pool.
DigiToads' advanced tokenomics further sets it apart from many meme tokens. It has a low supply of 585 million tokens, and a vast amount of it—about 70%—will be sold to the public. Other significant chunks of the token supply are reserved for bonuses, rewards, and protection against rugpulls.
Furthermore, as a deflationary token, DigiToads is perceived as valuable, which builds on its already impressive tokenomics. A token burn mechanism is built into the project, which immediately creates a deflationary token. This will convert the maximum supply into a constantly decreasing circulating supply, thereby having a positive price impact.
DigiToads' presale is ongoing, and analysts have predicted immense growth, by as much as 20x before the end of the year. The current price as of press time is $0.05 per token, with the token launch scheduled for August 21. Major coins are accepted as payment, and you can participate in the presale via the link below.

Dogecoin (DOGE): The leading memecoin faces challenges as it declines
As the pioneering and most popular meme coin, Dogecoin holds not only financial value but also sentimental value within the crypto space. After starting as a playful joke, Dogecoin has risen to become a world phenomenon. With its strong community, which includes celebrities and other meme enthusiasts, Dogecoin was propelled to unimaginable heights to become the leading meme coin.
However, intense competition has made it challenging for Dogecoin to maintain its momentum. So many reasons have been postulated for the hampering of its sustainability, but they revolve around its lack of tangible use cases. Also, the emergence of new and innovative meme coins like DigiToads has contributed to the decline in hype around Dogecoin, thereby diverting attention and investment away from it.
Final Thoughts
The cryptocurrency market is changing rapidly, and the memecoin sector is changing even faster. The shift from Dogecoin to DigiToads highlights the dynamism and change in preference. DigiToads, for its innovative approach and blend of memes and utility, has won the hearts of investors and enthusiasts alike. With the presale still ongoing, we suggest taking a look via the link below.
Disclosure: This is a sponsored press release. Please do your research before buying any cryptocurrency or investing in any projects. Read the full disclosure here.