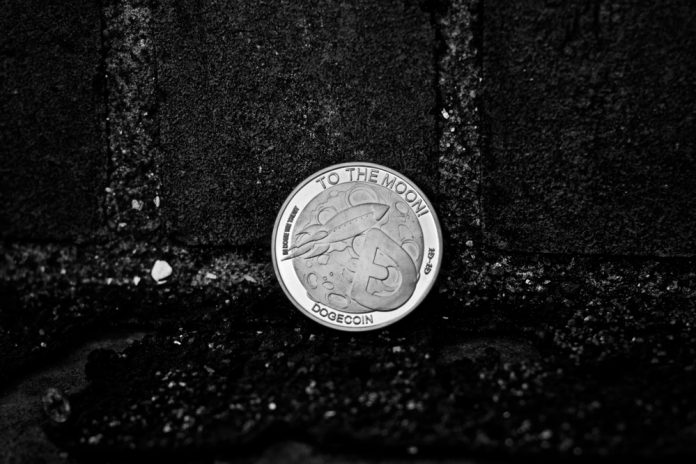 Most cryptocurrencies markets have dipped in the red again after what appeared to be a strong outing yesterday. As is usually the case, Dogecoin is doing its own thing, primarily because it has gone in the green despite overwhelming negative market momentum. This is a very interesting trend to keep an eye on, which could hint at further DOGE gains waiting to materialize.
Dogecoin Price is Making its Move
Albeit the current DOGE momentum is anything but spectacular, there is a good chance the momentum will intensify as the pace picks up. With this minute gain in both USD and BTC value, Dogecoin is one of the first top 20 cryptocurrencies to go in the green again. It may be a sign of things to come for the industry as a whole, although it is too early to draw any conclusions.
One thing that tends to work in Dogecoin's favor is how the relatively low trading volume does not hinder the market liquidity too much. For most altcoins, low volume is nefast for their future gains, but DOGE is inching in the green with just $15m worth of trades. Most of the volume originates from Gate.io and ZB.COM, as their USDT trading pairs are competing with one another for the top spot.
Dogecoin wouldn't be the meme currency people know it as without having some good memes to go around. The following Tweet is not necessarily a traditional meme, albeit that shibe sure looks rather appealing. It is a bit unclear what this will be used for exactly, albeit it shows the appeal of DOGE is far from dead.
Much love! Just fun! #dogeforprez #dogecoin pic.twitter.com/4oJG8hN2Mt

— Painted Texture (@PaintedTextures) October 5, 2018
Paying homage to the best Dogecoin meme artist is direly needed at this stage. According to the official Dogecoin Memes account, Zimo is the one the world should thank for all the shibes and wows. It is evident there is still a bright future ahead for Dogecoin when it comes to memes and online content, albeit it remains to be seen how all of this pan out exactly.
Shout out to one of the most wow Dogecoin memes creator out there, please show @zimonitrome some love and we might get even more awesome Dogecoin meme videos one day, much wow 🌜🐶https://t.co/DVpNozVJUA#Dogecoin #memes #crypto #cryptocurrency #doge #tothemoon #moonsoon

— Dogecoin Memes (@DogecoinMemes) October 5, 2018
On the technical analysis front, it seems Dogecoin is entering a very bullish territory as of right now. Although this doesn't necessarily mean the value per DOGE will rise significantly, it is not entirely abnormal the altcoin is noting some minor gains as of right now. How high the price will go, is anybody's guess, for the time being.
$DOGE! Bullish Harami Cross on daily, right above VPVR's Node. #DOGEcoin doesn't want to give up easy. I never recommend to hold, but hold while we are above EMA26 which is ~56. $btc #bitcoin #btc $ltc #litecoin $eth #ethereum $crypto $bch $bcash $cc #etf #stock #cme $tsla pic.twitter.com/C8vw24arvz

— IceMan (@_crypto_iceman) October 4, 2018
Regardless of which direction the price goes in, the Dogecoin value will always be of great interest to the cryptocurrency industry. So far, DOGE has proven to be one of the most stable cryptocurrencies in the industry to date, resulting in far less volatility than people would have expected. It is not a stablecoin by any means, albeit it seems to achieve a similar goal without even trying.
Image(s): Shutterstock.com