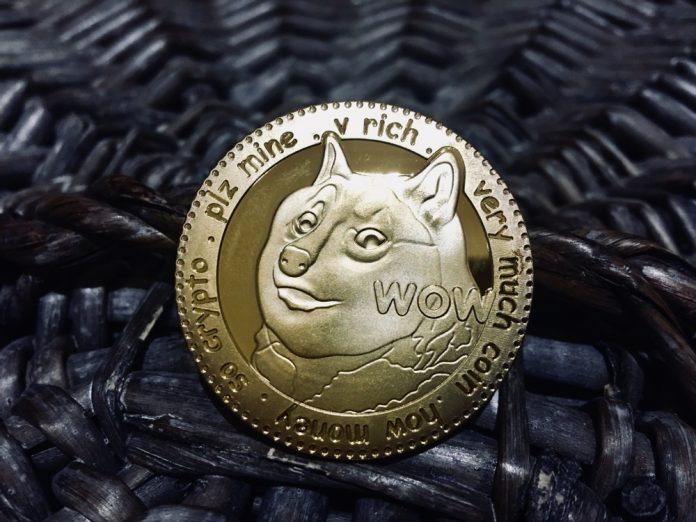 Although it seemed as if Dogecoin would not benefit too much from this recent bullish trend in the crypto industry, it seems that assumption is no longer correct. Similar to some other markets, the Dogecoin price has turned incredibly bullish in rather quick succession. Sustaining this level of growth is always difficult, but Dogecoin wouldn't be Dogecoin without some surprising momentum.
Dogecoin Price Goes off the Rails
As was somewhat to be expected when it comes to the alternative markets, sustaining any real gains is not all that easy when Bitcoin rises in value. Most markets tend to lose BTC value, which can easily negate some of the USD-based gains in the process. As far as Dogecoin is concerned, it would appear things are not looking all that bad after all. It has taken a while for this momentum to materialize, but things are looking up for the meme currency of the internet.
Over the past 24 hours, the Dogecoin price has risen by 30.8% in USD value and 26% in TBC value. Following these surprisingly big gains, one DOGE is now priced at $0.003323, or 67 Satoshi. Especially this latter aspect will please a lot of holders and traders, primarily because there haven't been any notable DOGE/BTC gains in the months prior to this uptrend. A very interesting turn of events at this time, albeit this momentum can remain in place for some time.
It is evident this most recent Dogecoin surge has made plenty of people good money in the process. Gaza Boss, for example, has made a lot of money in the past week of buying Dogecoin, which shows this market should never be overlooked by any means. Dogecoin isn't the most appealing market among traders, which also explains why its trading volume still sits below $90m right now. That is not necessarily a problem, but it can be a bit bothersome further down the line.
@dogecoin looking like it was wise move on my part to get in very early, And that 400 was just from last week #dogecoin pic.twitter.com/T8w2TVIflE

— Gaza Boss🇯🇲 (@GazaaBoss) April 3, 2019
The recent April Fool's Joke claiming how Elon Musk decided to become the CEO of Dogecoin got a surprising amount of good attention. It is evident this was clearly a joke first and foremost, although many people see it as the catalyst which sent DOGE in an upward spiral. While Elon Musk seemingly likes Dogecoin, it is rather unlikely he will ever actively get involved in this cryptocurrency.
@elonmusk actually responded to a public poll to become the #CEO of #Dogecoin 😂 the meme crypto pic.twitter.com/RsbEAI8yD2

— Plato (@leung_plato) April 3, 2019
The big question is how long the DOGE price can remain at this level, and if so, where it will head next. Me Harkness isn't too convinced there is much to get excited about, as the downtrend line still hasn't been broken in a convincing manner. However, there is a chance things will continue to improve from here on out, which would effectively make DOGE a bull market like Bitcoin and others. The coming days will offer more clarity on this front, as a lot of unknown factors remain in play at this time.
its my opinion that unless we break this downtrend line, no amount of #ElonMusk tweets are gonna help #dogecoin repeat its historic pumps from this high range we where already in pre-pump. its getting very close though, ill be watching it carefully like you all are pic.twitter.com/09VAUzWCm5

— Me Harkness! (@ThyHarkness) April 3, 2019
All of the current market signs seem to indicate Dogecoin's price run is far from over. The lack of real trading volume is still problematic, primarily because the current figures may not be sufficient to keep things going for much longer. Compared to other markets DOGE generates far less trading volume than it should, which can have a negative effect on the price as well. However, as long as Bitcoin remains bullish, Dogecoin will most likely see very similar momentum.
---
Disclaimer: This is not trading or investment advice. The above article is for entertainment and education purposes only. Please do your own research before purchasing or investing into any cryptocurrency.
Image(s): Shutterstock.com