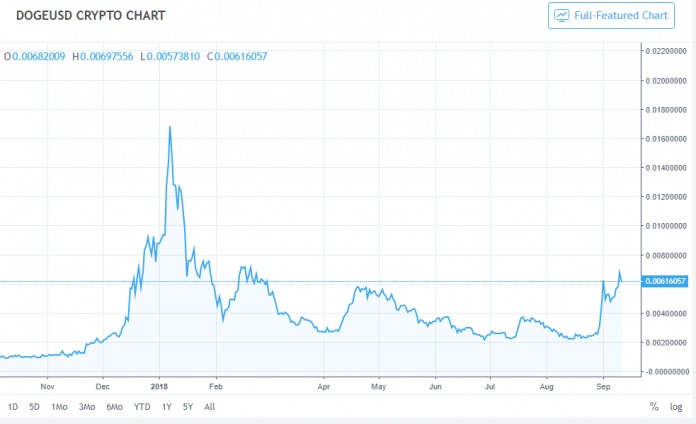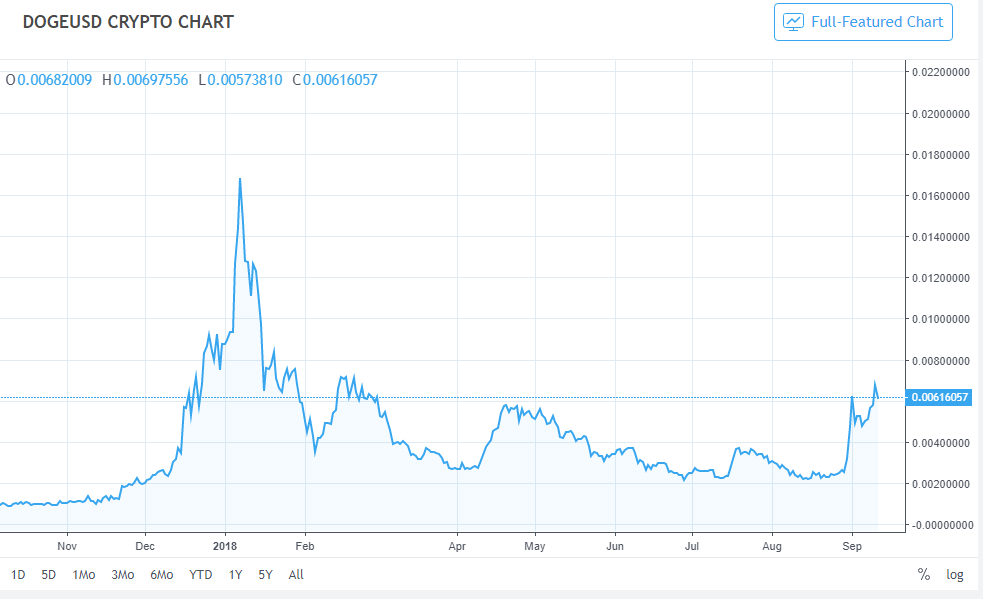 Dogecoin may have started out as a joke at the end of 2013, but it's now one of the strongest coins the market has to offer. The currency has remained relatively silent for the past few months, but in August, executives released plans to build and launch the Dogethereum project, where tokens could be exchanged between both Dogecoin and Ethereum-based digital platforms.
The project went live six days ago on September 5 and has been doing remarkably well. Dogecoin continues to grow despite drops in several altcoin prices. It is now doing better than entities such as Zcash and Dash in terms of market value, and it is currently the 19th-largest currency, with a market cap of roughly $800 million and an average daily trading volume of just over $71 million.
Recently, the currency jumped from $0.0033 on August 15 to about $0.0065. On his Twitter page, Canadian cryptocurrency researcher Kevin Rooke writes:
"Dogecoin may have started as a joke, but the community is now the envy of the crypto world."
Over the past few weeks, the currency has recovered more than half of its previous overall value. While Dogecoin did reach a new high of roughly $0.0070396 during a prior trading session, it has fallen a bit to its present $0.0065 position. That's a loss of about 15 percent, though short-term trends do remain bullish granted support can hold at $0.00440.
However, resistance does stand at $0.007040, which means Dogecoin will have to work extra hard to break the barrier that has seemingly been up since mid-August. Once this position is surpassed, the currency could reach $0.0080, $0.00870 and $0.0100 respectively.
One source now describes Dogecoin as a completely decentralized coin. This would put it up there with entities like Ethereum, which can cut out middlemen and give more control to the coin holders in question. Author Clem Chambers describes the currency as follows:
"Dogecoin is a pure decentralized cryptocurrency. It is out there, and no one controls it. It is as valid a blockchain currency as bitcoin, Monero or Dash, and is impervious and nigh on indestructible as a digital entity… The reason Dogecoin could spike like this is it is a pure crypto, supported by a community with talented developers, and there is no spider in the middle of the web sizing up your fiat to pay for its dreams of a super yacht."
Clearly a fan of the currency, he does warn investors to remain careful in their financial dealings:
"What happened to Dogecoin in the last few days perfectly shows the potential of pure play cryptocurrencies in the top tier. Just don't be greedy. Invest your chump change and let nature take its course."
Dogecoin Charts by TradingView
Image(s): Shutterstock.com