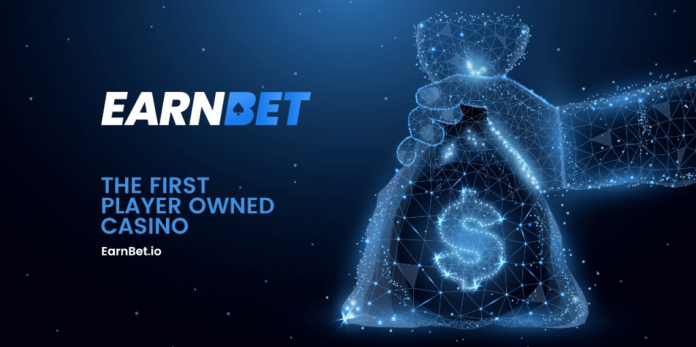 The world's first licensed on-chain casino, EarnBetio, has left no stone unturned in a bid to seal its place as a game-changer in the decentralized application (Dapp) market. The platform, previously known as EOSBet and built on EOSIO blockchain, is now positioned to compete in the thriving Dapp markets. It continues to lead the industry on the road ahead through innovation and superior operational performance.
A brand change and the resulting preparatory work to achieve more than its competitors in a field thriving with countless Dapps is only part of their vision. EarnBet is set to take a bigger share of the multi-billion dollar blockchain casino, where it is experiencing fast-paced growth by delivering top-notch gaming experiences built on transparency, security, and fairness.
Fairness plays a big role in EarnBet services, and as such, the platform has ensured that all profits earned from its games are 100% distributed among BET token holders. Now, anyone holding BET tokens is eligible to receive daily dividends directly into their account, proportionate to the amount of supply they hold. Currently, over $4 million has been shared from the first year to date.
Since EarnBet's creation in March 2018, it has become a very popular Dapp among crypto casino players. Within the first month of release, EarnBet overshadowed the transaction volumes of every single Ethereum Dapp, while far outpacing that of the whole Bitcoin network. So far, over 27 million bets have been recorded during that short time, with an estimated $377 million paid out to winners. 
Not stopping there, EarnBet.io is currently pushing for expansion into other cryptocurrency beyond its own EOS ecosystem. The platform will allow players to bet in a series of cryptocurrency including ETH, BTC, BCH, and LTC. A recent listing of its native token on Binance DEX and Newdex has also opened more doors to encourage the adoption of its unique BET token. 
EarnBet's overall functionality aims to deliver a seamless way to play casino games without losing anything to fees, and without losing control of your own funds. Thanks to EarnBet, enjoying the benefits of fair, transparent and rewarding blockchain gaming is only a few clicks away
EarnBet's instant transaction systems mean no more waiting, and non-custodial means funds never need to leave your wallet if they're not used. This eliminates the need for transaction fees, wallet or a 3rd party. With EarnBet, players are guaranteed smooth operation in a stress-free environment where they can keep track of their referral payouts. 
A full marketing campaign is currently underway after marking a very remarkable first year. The campaign will promote several exciting services packed into one, such as two new upcoming games scheduled for the end of the year. And now, with added functionality to BET Token being explored, alongside an additional revenue program to increase rewards for token holders, the future is looking bright for EarnBet. BET holders can also feel motivated by the perpetual buyback program that has already destroyed 1.5% of circulating BET supply.
Join EarnBet's promotion for new users and earn 50 free BET just for signing up.
Disclosure: This is a sponsored article