By Dmitriy Gurkovskiy, Chief Analyst at RoboForex
On Friday, September 6th, the EOS remains in a narrow flat, chiefly trading around $3.30.
On the daily timeframe, the EOS demonstrates the continuation of a downtrend, but the speed of falling has decreased. If it keeps declining, one of the critical aims is likely to be at $1.55. However, as long as there is a convergence forming on the MACD, a pullback to the resistance at $3.80 or even higher should not be excluded either.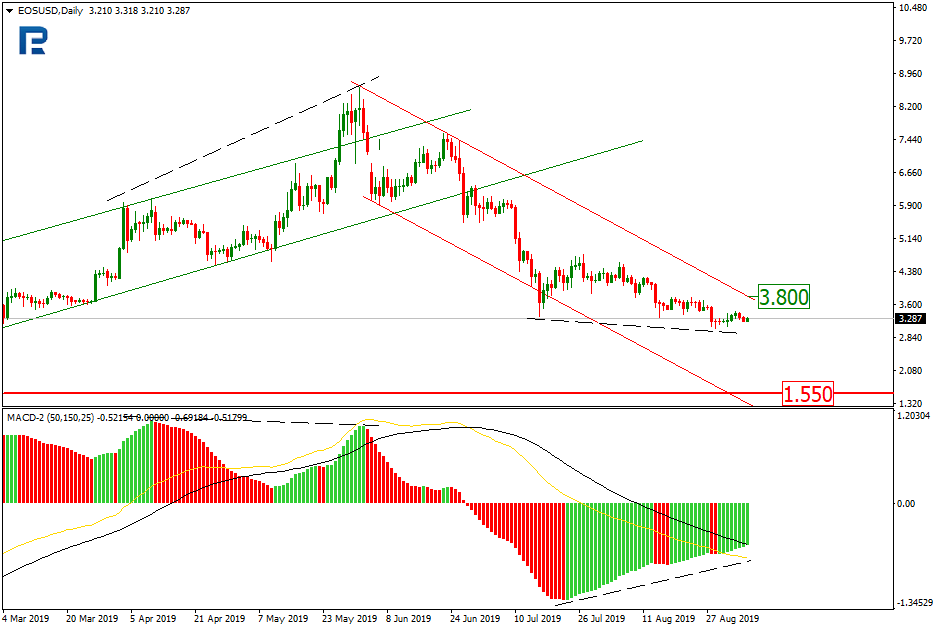 On H1, there is a new wave of correctional growth forming after a declining impulse. The Gold Cross on the Stochastic sent the quotations up to the resistance level and $3.50. The support line is at $3.16.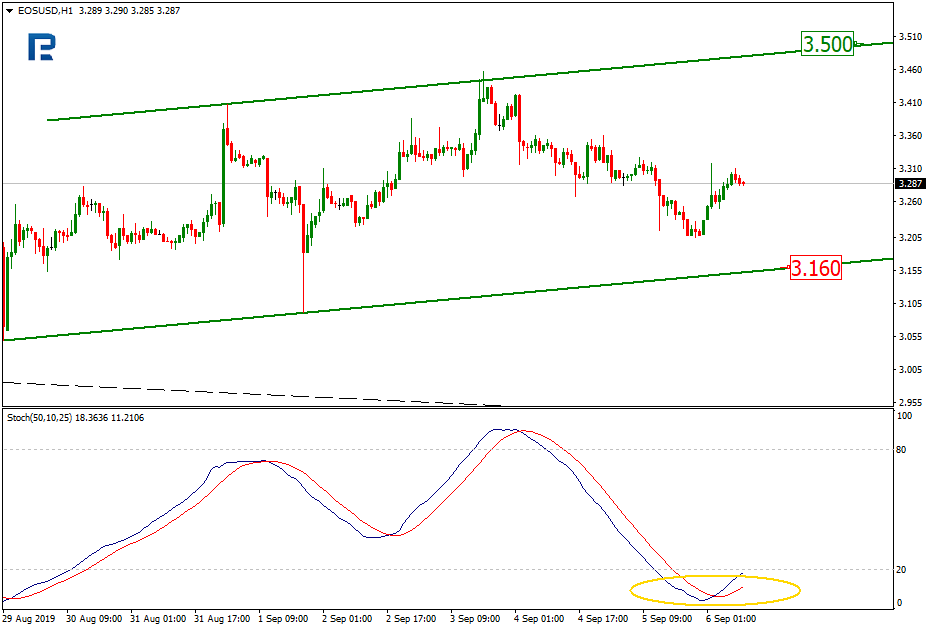 This summer, the capitalization of the EOS has shrunk by $4 billion. The volume of trades has also reduced. The users turned out to be unhappy with the technical characteristics of the network and criticized the developers sharply.
After the investigation of the ANChain revealed that some 75% of all transactions in the dApps EOS network were carried out by bots, the coin started declining. The investors were genuinely disappointed when the supervisers proved that about 51% of all unique accounts in the network belonged to bots. Practically, bots carried out operations for $6 billion a day.
The dApps EOS ecosystem, as they say in the ANChain, has lots of weak points. It is also noted that due to the lack of commission fees for transactions the network may be prone to frequent spam attacks.
We cannot continue to build dapps on EOS if the network is de facto centralized in the hands of the Chinese.

I've been making noise internally at EP about this since I learned about it earlier this summer.

Sorry, but it can't go on much longer, as far as I'm concerned. https://t.co/oUe2qvcjQM

— Larry Sanger (@lsanger) August 22, 2019
Another blow for the EOS was Larry Sanger's statement that the EOS was controlled by a group of people and had nothing in common with a decentralized network. The users of the crypto world who value privacy and safety over anything else took the news very badly.
Currently, the EOS is on the 8th line in the Coinmarketcap rating of the most stable cryptocurrencies in terms of capitalization.
Disclaimer
Any predictions contained herein are based on the authors' particular opinion. This analysis shall not be treated as trading advice. RoboForex shall not be held liable for the results of the trades arising from relying upon trading recommendations and reviews contained herein.
Image(s): Shutterstock.com