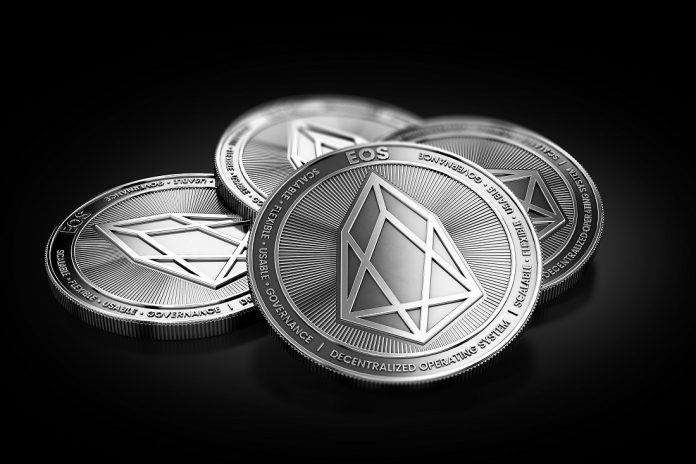 It would appear none of the top crypto market is capable of maintaining its position today. That is not entirely uncommon during the weekend, especially when Bitcoin is losing value in quick succession. As far as the EOS price is concerned, the momentum isn't looking too promising either. It will be interesting to see if the $3.5 level can act as support in the coming hours and days.
EOS Price Pressure Grows Steadily
It should not come as much of a surprise to see all alternative markets under pressure when Bitcoin turns bearish. As is usually the case when things had in this direction the altcoins lose more value than BTC, primarily because the individual ratio to Bitcoin comes under a lot of pressure. EOS is no exception in this regard, which won't please too many speculators.
Over the past 24 hours, the combined damage to the EOS price is quite severe. More specifically, there is the 4.2% decline in USD value, pushing the price down to $3.51. There is also a 3.46% decrease in EOS/BTC, which drives that ratio down to 91,065 Satoshi. So far, nothing irreversible has happened, but the overall trend simply isn't what most people had hoped for.
There appears to be a serious debate going on on social media right now. When it comes to gauging the development of the EOS ecosystem, opinions are all over the place. Rami James expects some major media outlets – both in crypto and MSM – to effectively rectify their reports. Whether or not that will happen, is up in the air. An interesting discussion worth keeping an eye on.
The real pace of development of #EOS. We urge @crypto_miso to update their methodology, and for @CryptoCoinsNews and @YahooFinance to issue retractions. @eosnewyork https://t.co/RC1CDrDfHa

— rami james (@ramijames) March 2, 2019
Collar Crypto always tries to make the best of the current situation. Stating how EOS is undervalued and Ethereum is overvalued, will undoubtedly irk a lot of people. However, there is a case to be made if the user thinks he is in the right. It will be interesting to see how all markets evolve in the coming months. If the bearish momentum were to return in full force, being undervalued or overvalued will not matter that much.
$EOS is undervalued right now. In my opinion, $ETH should be worth about $90 and #EOS about $150. Also, $TRON and $ADA are likely undervalued at the moment as well. #CryptoNews #bitcoin #EOSIO #eoscafe #blockchain

— 🌈 Collar Crypto (@CollarCrypto) March 2, 2019
The tweet by Crypto and Chile is rather amusing, for many different reasons. Warren Buffet is a very interesting individual in correlation with cryptocurrencies. It seems highly unlikely he would appreciate EOS or anything else in this industry, simply because it is a cryptocurrency. Crypto enthusiasts muse about the strangest things sometimes, but it makes for an interesting read.
I think Warren Buffet would like #EOS.. just sayin.. it's not speculative because it's pretty clear what the tokens are for and on top of that you can actually use it for something. Just sayin.. EOS just needs more time to gain a solid reputation.

— Crypto And Chile 💘 (@CryptowAndChill) March 2, 2019
While most people hope to see some more positive momentum for all markets come tomorrow, it seems rather unlikely that will happen. However, there are several precedents where all markets turned bullish on a Sunday for no apparent reason. That could happen again, although it seems no major bump will materialize for EOS just yet.
---
Disclaimer: This is not trading or investment advice. The above article is for entertainment and education purposes only. Please do your own research before purchasing or investing into any cryptocurrency.
Image(s): Shutterstock.com