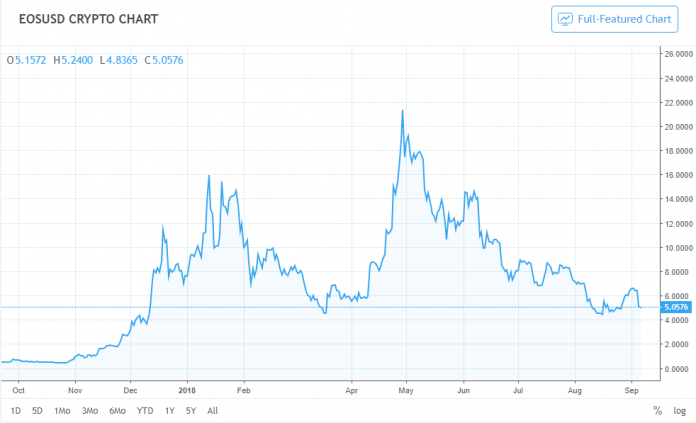 At press time, the sixth-largest cryptocurrency by market cap is trading for about $5.07. Overall, EOS seems to be down by roughly 15 percent over the last 24 hours, making it one of the largest single-day losses over the past week. The currency presently has a market cap of about $4.55 billion and a daily trading volume of about $1.07 billion. At its highest, EOS had a market cap of approximately $17.53 billion.
The entire cryptocurrency market seems to be in the hands of the bears once again. Bitcoin, for example, just repeated the same pathetic behavior it exhibited back in July, only this time on a considerably weaker scale. During mid-July, bitcoin was trapped in the $6,000 range. It suddenly graced the $8,300 mark and stayed in the $8,000 range for about two weeks before succumbing to bearish trends and falling back down again. This time, the bull run lasted only one week and went to $7,300 – about $1,000 less than where it traveled two months ago.
For all the recent talk about long-term bullish behavior and bitcoin reaching $10,000 by November, it's becoming clearer and clearer that analysts have no idea what they're talking about, and it's nearly impossible to predict where cryptocurrencies will go considering they are all still too vulnerable to outside news and influence.
For instance, one of the reasons behind the drops in both EOS and assorted altcoins could be the recent announcement by way of Wall Street giant Goldman Sachs. The company stated that it was backing away from its alleged cryptocurrency trading desk that it previously claimed would arrive during the summer, and it should come as no surprise that regulatory uncertainty is the reason why.
Some are claiming that the news is likely to keep bitcoin and cryptocurrency down for good – that this was the highlight of digital money's journey towards legitimacy, and the barricades will be too much to handle without Goldman Sachs' help.
Stephen Innes – head of APAC trading with Oanda – states:
"A lot of retail investors' hopes for a bigger institutional presence were really being driven by Goldman Sachs."
And with Goldman's refusal to continue with the trading desk, a lot of hopes and dreams are again being dashed to the ground. In addition, cryptocurrencies are also the objects of further speculation and suspicion in Europe after Belgium's financial regulator warned investors to steer clear of digital trading platforms, saying they were "fraudulent."
Image(s): Shutterstock.com