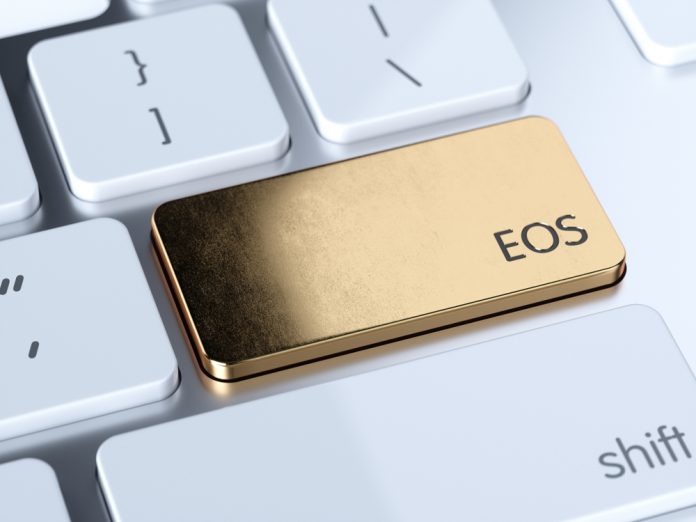 In a tweet, one member of an online cryptocurrency community revealed that EOS has instructed block producers to censor transactions from 27 accounts without specific reasons.
The instructions read:
"Pursuant to Section 3.5 of the EOS Core Arbitration Forum (ECAF) Rules of Dispute Resolution, the Emergency Arbitrator appointed to review claims (the accounts in question) finds credible evidence to support: the refusal to process transactions of any kind for the affected EOS account names and/or public keys, pending further review of the claims by an arbitrator.
It is hereby ordered that the EOS Block Producers refuse to process transactions for the following accounts and keys indefinitely."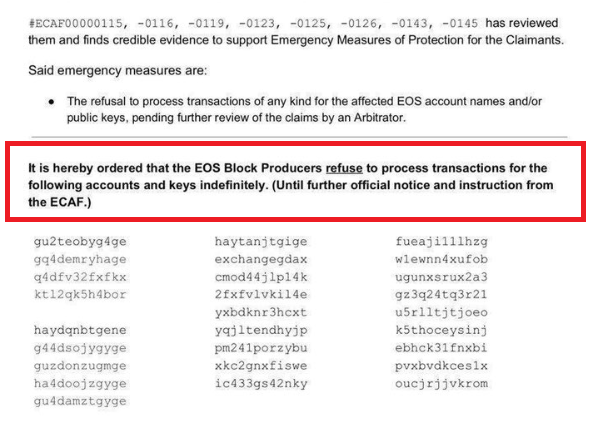 How EOS Is Able to Censor Accounts
On public blockchain networks and protocols like Bitcoin and Ethereum, it is not possible to have a group of centralized individuals and authorities dictate which accounts can and cannot process transactions, because they exist peer-to-peer. All users and individuals on the Bitcoin and Ethereum networks have equal authority and power that is limited to their own private and public keys.
The same is the case with other major blockchain networks like NEM; when Coincheck, formerly Japan's biggest cryptocurrency exchange, suffered a $500 million hacking attack that led to the loss of over $500 million worth of NEM in its hot wallet, NEM could not censor the accounts of the hackers and prevent those accounts from processing transactions.
Instead, the NEM developers tagged the accounts to prevent cryptocurrency exchanges from accepting deposits from the NEM hackers' accounts. At the time, NEM's developers emphasized that they could not reverse or suspend the accounts of the hackers, because of the decentralized and public nature of the NEM blockchain.
"To some, the only solution to return the stolen XEMs is to execute a hard fork. In simple terms, a hard fork is the splitting of a single cryptocurrency into two. In the case of Coincheck's hacking, this is not an option. Why? Simply because it was not NEM's fault. It was a security breach caused by weak security measures of Coincheck," the NEM team said.
But, unlike most major public blockchain networks, EOS has been able to censor accounts and stop user accounts from sending and receiving payments due to its proof-of-stake consensus algorithm.
On the EOS network, miners that leverage computing power to solve mathematical problems do not exist. Instead, block producers that have stake in the EOS protocol process data and transactions.
Based on the document sent out by the EOS team and its Core Arbitration Forum, block producers have the authority to stop certain EOS accounts from sending and receiving payments, in some cases without specific reasons.
The latter part of the ECAF document read:
"This Arbitrator Order is retroactive to the time of the Block Producers' first actual refusal to process transactions for the listed EOS accounts and public keys. The logic and reasoning for this order will be posted at a later date."
Lack of Decentralization
Considering the power of a centralized group of individuals within the EOS team to censor accounts, it is possible that government authorities could ask EOS to censor accounts that are suspected to have settled transactions utilized in illicit operations.
With Bitcoin, Ethereum, and other cryptocurrencies that are truly decentralized, because there exists no centralized group of individuals that can censor accounts, it is not possible for government authorities to place pressure on project operators.
Even block producers including EOS New York, a leading block producer candidate for the EOS network, has said that the control EOS has over user accounts is not appropriate. Rick Schlesinger, the co-founder of EOS New York, said:
"I do think the community is going to scrutinize [Article XV] closely (as they should). This is why we're here – to experiment with this nascent technology and learn about how a governed blockchain can respond to the community's will."
Image(s): Shutterstock.com